January 12, 2021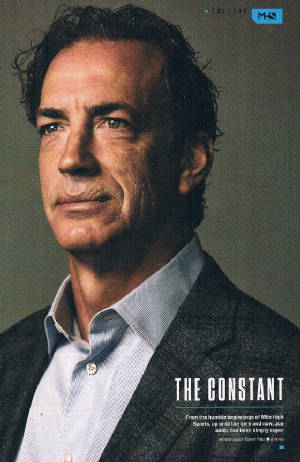 Mile High Sports Magazine
Does the Avalanche have to win the Stanley Cup ... or feel shame? (Then go free.)
In our recent omnibus conversation for the cover story of Mile High Sports Magazine's 200th issue, Joe Sakic and I talked about him playing on teams with lofty expectations and a Cup-or-bust mentality.
Essentially: Win the Cup or fail.
That led to a perception, even within the front office and often the dressing room, that the Avalanche could have or should have added at least one more title to those earned in 1996 and 2001.
Even Sakic noted, "It's like we left a couple on the table."
To me, subjecting the Avalanche, or any team, to that kind of standard is a huge compliment.
So with the Avs among the fashionable picks to win the Cup in 2021 -- yes, they're mine, too -- I asked Sakic on his Tuesday Zoom call appearance with the media whether this team truly has reached the point where it's just that.
A complete Cup or Bust situation?
"Well, you know what I like is that's the way our players feel," Sakic said on the eve of the season opener against the Blues at the P ... Ball Arena. "We feel we have as good of a shot as anybody else in the league. And like I said, you don't just step on the ice and win games. You have to get better as the year (goes) on.
"But I like where our players' mentality is, their expectations. It's good to be in a position where your players feel like that. That's their expecation, and it is for all of us. I'd much rather be in that position than a few years ago when you're just trying to get better and rebuilding and getting into the playoffs. We have expectations. As a player, you want to come to the rink every day with that expectation. I think it brings out the best in everybody."
The Avalanche will be commemorating its 25th anniversary season beginning Wednesday night, and it appropriately will include uniform patches and a moment of silence saluting Pierre Lacroix, who died last month. If you missed it, here's my tribute. Of course, it can be tricky without fans in the building, but he can be honored regardless of where we are, prompted on the radio or television broadcasts. (I'll leave that alone here, but to recap...)
Yes, I covered the NHL and the Avalanche from its first game on ... but that comes with a qualifier. I covered that 1995-96 opener, a 3-2 Colorado win over the Red Wings on October 6, 1995 at McNichols Sports Arena. It was a return to the arena where I covered the Colorado Rockies for five seasons and, after the Rockies' exit to New Jersey, the Denver Nuggets for two as a young beat writer. Then it was on to the "national" beat at the Post for two more years before I went to the Oregonian and then The Sporting News as (mostly) a national football writer. And I was with the St. Louis-based national magazine, but living back in Denver, when the Nordiques moved to Denver and when they started that next season.
After the opener, I wrote a short, "bright" story about the NHL's return to Denver. Given my travel schedule at the time, it was a bit surprising that I even was in Denver for the game. And that was going to be it. If I returned to Avalanche games, it would be as a fan. But over the next month, as the Post (even with my input on the search) didn't hire an NHL writer to join Avs beat writer Adrian Dater (what happened to that guy?), it essentially became: What about you?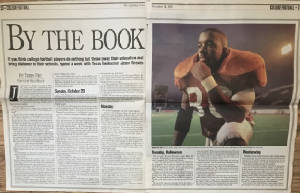 I agreed to return to the Post in a hybrid role.
Actually, I finished the Saban story after returning to the Post and as part of the deal, I continued to be called back a few times a year for TSN stories and NFL coverage when they needed me. (Highlights of my TSN work can be seen here.)
I vividly remember that my first phone conversation with Avalanche public relations director/executive Jean Martineau (whatever happened to that guy?) came when I was in Columbus. Eventually, my first story for the Post was a Claude Lemieux profile.
And the rest is ... I guess you'd call it history. But there's some still to be written.