February 27, 2021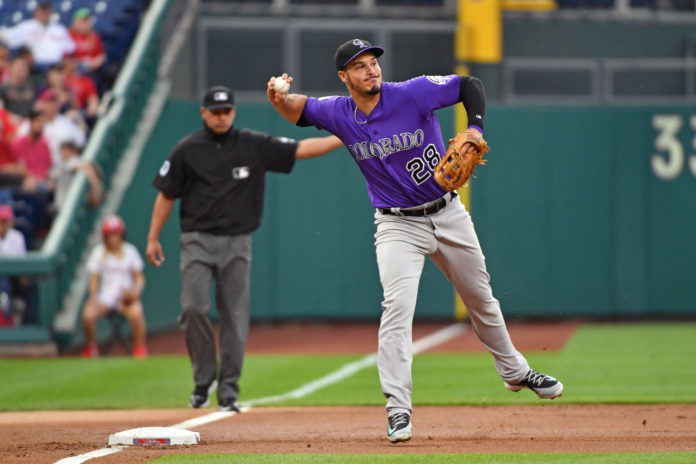 Here's one guy who won't return to Coors Field ... except with the Cardinals.
(Update: In early March, two weeks after this was posted, the state modified the variance, increasing the number of fans that will be allowed in Coors Field for Rockies games at the start of the season from 12,500 to 21,000. This has been updated to reflect that.)
I'll cut right to the questions.
If we take advantage of the opportunity to return to Coors Field in limited numbers this season, are we saps?
In the wake of the bizarre and disconcerting Nolan Arenado trade, are we more than ever before enabling the Rockies' in-over-its-head Monfort ownership? And at least implicitly putting up with general manager Jeff Bridich's ineptitude, even if he's cut some slack for not having complete freedom to set and follow a coherent course?
Are we deserving of scorn from those who argue that loving baseball and going to a great ballpark to see it in is a fool's errand -- at least in Denver?
This follows the Colorado Department of Public Health and Environment telling the Rockies they could allow as many as 21,000 fans per game in Coors Field, at least at the start of the season and subject to re-evaluation. That's roughly 40 percent of capacity.
The refrains have been familiar. Here are just a few of them: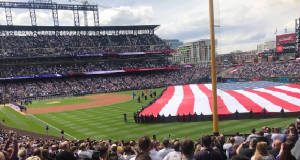 Colorado baseball fans -- or at least Coors Field customers -- don't sufficiently hold the ownership and front office accountable. They head to the party deck, the roller coaster and the ferris wheel. They snap up deep-fried corn on the cob at concession stands. And they sometimes don't even know what WAR, WHIP, RISP and OPS stand for! The shame! The ignominy! They just keep showing up.
The Rockies are like a widget company putting out bad or, worse, defective widgets, but having no incentive to clean up its act -- because the darned widgets just keep selling.
If you're going to the park, even under the capped-crowd and limited-revenue 2021 conditions, and making it clear you'll be among those in attendance when all seats can be sold, you're a major contributor to the problem!
There's more, of course, but they're variations on that theme.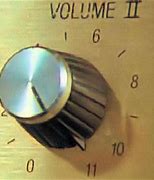 What's different now after Arenado's exit is that the volume knobs -- previously turned all the way up to 10 -- are at 11 on new boxes.
In the classic baseball novel, The Southpaw, by one-time University of Denver professor Mark Harris, young New York Mammoths pitcher (and title character) Henry Wiggen admits he told his wife, Holly, that his first thought was to dedicate his book to "the 100,000,000 boobs and flatheads that swallowed down whole the lies of Krazy Kress in his column of September 30, 1952. The main reason I wrote this book was for their benefit in the first place, so they would have my side of the story..." (Spoiler alert: Kress, the prominent New York scribe, had written that Henry was an unpatriotic, ungrateful spoiled brat.)
Henry's wife vetoed that.
I'll rephrase it to honor Wiggen and tip my cap to baseball as the inspiration for so many revered works of literature, plus biography and other non-fiction. The Southpaw's sequel, Bang the Drum Slowly, is better known, in part because it became a 1956 "U.S. Steel Hour" teleplay starring Paul Newman and Albert Salmi; an underrated and terrific 1973 movie starring Robert DeNiro, Michael Moriarty and Vincent Guardenia; and a stage play.
Are we boobs and flatheads for going to the park here?
No.
Going to Coors Field shouldn't be a guilt trip -- at least not until you tally the debit-card toll of the four-hour, 20-minute game, plus perhaps the warmup and post-game stops.
Most frequent customers at Coors Field and Colorado fans can separate the Rockies' foibles from the enjoyment of the baseball experience. They aren't there for the sideshows, the amusement park atmosphere. They're there for the game itself, the atmosphere, the enjoyment. It all intertwines, in different proportions for every fan. Which leads to this: If they are among those there for something other than every-pitch immersion ... SO WHAT?
That mix is what Major League baseball is.
The biggest misconceptions in the knock-Rockies-fans narratives is that fans in, say, Milwaukee, Baltimore, Los Angeles, Houston, Boston, or St. Louis all are keeping score or following every pitch with their eyes both on the field and cell phones, debating whether to hit and run, and maybe even spending 10 minutes wondering why right-handed pitchers aren't called "northpaws." I vented about all of that in this 2018 Mile High Sports column.
Look, after the Arenado trade, I joined the chorus, saying it was a tipping point. I still don't get why the ownerhip, which also is tied to the adjacent McGregor Square project, doesn't sell, accept the huge profit, and move on. Looking back on the trade coverage and reaction, I now think that the "disrespected" argument -- that Bridich hadn't been properly deferential in his relationship with Arenado -- was a bit overplayed. And even silly. The Rockies signed him to an eight-year, $260-million contract. That's respect. Bridich was short-sighted and ham-handed in his dealings with his star, and there's no excusing that. But it's preposterous to bring social niceties and poor-Nolan thin skin into this.
After all these years of limited (see: Rocktober) success and bumbling, yet with a surprising number of elite or close-to-elite players who have passed through, this underscored more than ever before that limited-ambition ownership coupled with inept management is a toxic mix. It's worse every year -- and that's even before you factor in the loss of gate receipts and ballpark income in 2020 and again, to a point, in 2021.
You can nod about all that as you're making individual consumer decisions. Boycott, especially if COVID concerns about being part of a crowd -- and even 12,500 scattered in a ballpark is a crowd -- linger through the season? That's your call. Go back to the park, to the extent possible? Up to you, too. (And by the way, the Rockies getting clearance to allow 12,500 in an outdoor stadium involves completely different factors than those in play for decisions about when Nuggets and Avalanche fans should be able to return, in whatever numbers, to an indoor venue.)
The 12,500 crowd-cap period -- however long it lasts -- won't really be a referendum on the Monfort ownership.
Those tickets will be claimed and those seats largely filled.
As long as the 25-percent limit is in place, the Rockies will draw what they're allowed to draw.
With the degree depending on the opponent, a significant slice of that 25 percent will be Dodgers, Giants, Brewers, or (fill in the blank) fans. You know, the folks who always end up sitting next to you.
The bona fide test will come later, when every seat can be sold. When a good night is a sellout of 50,445, and a bad night is, oh, 23,422. The gray between those two will be the accounting of fandom's reaction. When it opens up again, the most common vote might be to cut back on the number of games attended, not staying away.
Make your choice. And let others make theirs, minus accusations of baseball ignorance, consumer stupidity ... and general sapdom.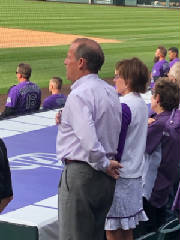 Dick and Karen Monfort at the 2018 home opener
at Coors Field.