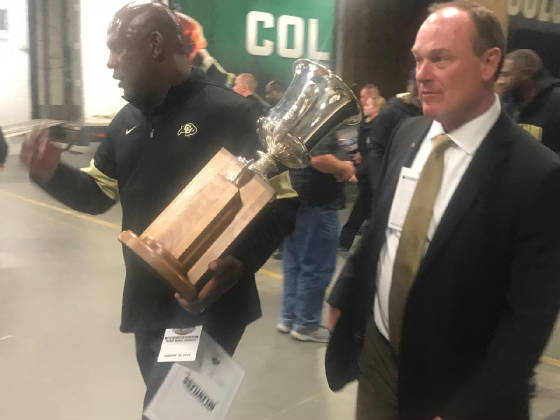 Mel Tucker got to carry around the Centennial Cup after last year's Rocky Mountain Showdown. Athletic director Rick George was with him. Remember how simple things were then?
Let's see if I can do the math.
Colorado has a sudden vacancy on its football schedule Saturday because of schedule opponent Arizona State's COVID-19 issues.
Plus, Colorado State has a sudden vacancy on its football schedule because of schedule opponent Nevada-Las Vegas' COVID-19 issues.
Put that together and you get ...
Nothing.
Wait. There's more! Wyoming also had a sudden opening on its football schedule because of scheduled opponent Fresno State's COVID-19 issues.
There will be no quickly arranged CU-CSU, CU-Wyoming, or even a CSU-Wyoming rematch on Saturday.
All three are idle.
There's some nuance necessary here, of course, in these unprecedented times. The need for erring on the side of caution is obvious, especially given the latest spike in COVID-19 cases. But the programs -- plus the Pac-12 and Mountain West -- formulated a plan to play shortened seasons, scrupulously following both their own and each area's protocols. And if circumstances allowed it each week, to get on the field.
The Pac-12 originally was adamant that only in-league games would be played, in part because of its arrogance that Pac-12 protocols were uniform, strict and models others could or should follow.
Then on Thursday, the league announced that non-league games would be allowed if the non-league opponent could be shown to be following protocols in line with those in place for the Pac-12, if the game was at the Pac-12 site, and would be televised by one of the league's broadcast partners.
But the point here is that we've learned the need for flexibility is massive, and making up the scrubbed September 5 Rocky Mountain Showdown -- yes, at Canvas Stadium -- makes the most sense. CSU had a home game scheduled, anyway. With no (or family-only) fans, preparations were relatively limited, anyway, and putting the Buffaloes on five or six buses for the trip north to Fort Collins was more than manageable.
CU athletic director Rick George Thursday noted the Pac-12 policy change, but added the Buffs would not fill the weekend slot with a non-league opponent -- CSU or anyone else -- and would point to the Nov. 28 game against USC.
When the New Msxico at CSU game was canceled in the mountain West's opening week, there was some musing out of Fort Collins about the Rams facing CU instead. At that point, it wasn't a viable option for several reasons, including because the Buffs would have had only five practices in pads going into that game. So it never was a bona fide possiblity that week. But it did plant the tought in the minds of many to keeo a reinstated RMS open as a possibility later in the season if both teams had open dates. I proposed also thinking aboout a Dec. 19 CU-CSU game, the weekend after the Mountain West is done and replacing or pushing back the Buffs' Pac-12 "crossover" game. But now that there's a chance CU could be in the conference championship game that weekend, it changes the picture.
With the Pac-12 willing to back off its in-conference only stance, it wasn't a huge stretch to add a bit more flexibility and allow the Buffs to head to Fort Collins and play on the CSU campus for the first time in 63 years. The Mountain West already allowed Boise State (Nov. 6) and San Diego State (Dec. 12) to schedule independent Brigham Young.
Is it too late for CU-CSU now?