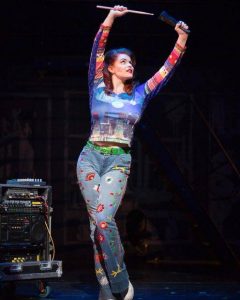 The timing was interesting. Less than a week after Fox TV broadcast an ill-fated "live" — or, more accurately, "kinda live" — stage production of "Rent," the iconic Broadway show's 20th Anniversary Tour passed through Greeley for a single show Saturday night.
The non-Equity tour — think Class AAA baseball, including with future stars getting experience — has been on the road since 2016 and literally has been all over the world, including to China, where some of the more "gritty" elements of the story had to be toned down, and Japan.
The cast has almost entirely turned over since the show passed through Denver for eight days in November 2017, with only two holdovers in the same roles — Lyndie Moe as Maureen Johnson and Marcus John as Benjamin Coffin III.
Moe, 21, the granddaughter of former Nuggets coach Doug Moe, and Joshua Bess, who played singer-songwriter Roger Davis, had the local ties.
Both are headed for stardom.
Bess was raised in Littleton, attended Columbine High and was part of Lakewood's Performance Now Theatre Company before moving to New York.
I'll concede that it has been 15 months since I saw the 20th anniversary production in Denver and memory can be selective. Yet I walked out of the Monfort Concert Hall Saturday night thinking this reconfigured cast, with Moe remaining in and Bess moving into lead roles, is much more effective.
In the Denver run, Moe was fairly new in the role, joining the company after he freshman year at Rider College. She's still in it, and she's gotten even better as the energetic and manipulative Maureen.
Her parents, David — himself a former head coach at Emporia State University in Kansas and an assistant at the University of Colorado — and Cristi, plus Lyndie's younger brother Tommy, came in from their home in Delaware for the Colorado stop. Cristi estimated this was going to be about the 30th time she saw the tour production, and she and David even went to China when the tour went there.
Saturday night, the Moes were part of a family-and-friends caravan that came up from Denver, and Lyndie had a quick reunion with the group. She didn't have much time, as I'll explain in a minute.
Without getting into painstaking comparisons with either the Broadway or Equity tour casts of the past, or the Fox telecast, let's just say this cast can hold its heads high.
The Fox show fell victim to a few instances of gimmick casting that didn't work, and to bad luck — the broken foot Brennin Hunt, playing Roger, suffered in dress rehearsal, forcing a cobbling together of taped dress rehearsal footage and a final live scene with a seated Hunt wearing a cast. Without an understudy, they were in big trouble. (I realize the staging was different and even complicated, but I'd almost rather have seen Adam Pascal, the original Roger, or any of the many past Rogers, somehow wing it. Live. Now that would have been going without a net.)
The point?
I'm all for the much-ballyhooed "live" television productions of musicals, including "Grease," "Jesus Christ Superstar," "The Sound of Music," and "Hairspray." They're intriguing, they're fun, they're different. But trying to make part of the attraction the notion that they're doing this without the ability to do retakes, is just ridiculous. Why? That's comparing these productions to taped/filmed shows, where you can just keep doing it, or splicing it together, until you get it right. The comparison here is live theatre, the contagious energy, the electricity of knowing there are no retakes here. They do it without a net eight times a week. There's nothing like being there. Whether "there" is a high school auditorium, the Music Box Theatre in New York … or the Monfort Concert Hall. At "Rent," we were around young people genuinely excited to be there and luxuriating in the experience.
And this energetic cast for the most part was terrific, especially when you take into consideration they were coming off a Friday night performance at Fort Hays State University in Kansas, then a bus ride to Greeley and a sound check in the afternoon. And from Greeley, they were leaving right after the show for Cheyenne and a Sunday matinee designed to avoid competing with the Super Bowl. It made me tired, just typing that. That's not all this company does, with recent multiple-week runs in Cincinnati and Detroit, but these kinds of single-night or short runs are mixed in.
Bess had moved up from the secondary role of Gordon and as the Roger understudy. He was strong, whether on the plaintive "One Song Glory" or the darkly clever "Light My Candle," with Deri'Andra Tucker as Mimi Marquez.
The most daunting challenge of appearing in "Rent" now is that the Original Broadway cast was the gold standard, and its performances — while nearly a decade after the show opened on Broadway — are preserved in the 2005 film, which cast almost all the original stage stars. That's especially true of Idina Menzel (Maureen), Anthony Rapp (Mark), Pascal and Jesse L. Martin (Tom Collins). I saw the original cast a couple of times in New York — covering the National Hockey League has its advantages — and went to Equity tour productions in Denver. I even saw Rapp and Pascal open the Lone Tree Center for the Performing Arts, where they performed a couple of "Rent" numbers during their concert.
But this was in the same league.
For one night in Greeley, it was as if we should have headed somewhere after on Eighth Avenue — New York's Eighth Avenue or Greeley's Eighth Avenue — for cheesecake.
But the cast had to get on the bus and head to Cheyenne.