August 8, 2021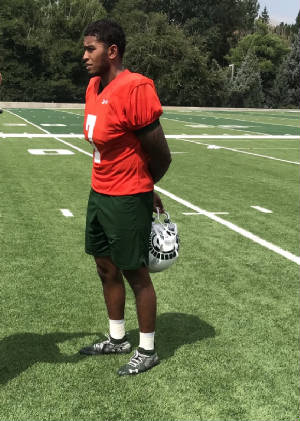 Previous on CSU: LB Dequan Jackson, speaking up for juvenile justice
FORT COLLINS -- Steve Addazio's announcement going into spring ball that Todd Centeio was his starting quarterback wasn't a shocking choice.
Yet it was a bit surprising that the second-year CSU coach was so decisive, avoiding any rhetoric about an open competition with Centeio only the top name on the depth chart as the Rams started spring practices.
"We have a definite starter going into spring and that's Toddy," Addazio said then.
Of course, part of it was pragmatism...or a process of elimination.
Patrick O'Brien -- the starter in three of the Rams' four games last season after holding down the job for most of 2019 after Collin Hill's latest knee injury -- had departed. Through the transfer portal, O'Brien landed at his third collegiate stop, somewhat surprisingly joining the Washington Huskies. (A sheepish admission: O'Brien announced he was heading to the Pac-12 program at Seattle roughly 10 minutes after I told a friend I doubted a third major program would take him on.)
O'Brien, who started his college career at Nebraska, and the Addazio staff never seemed a comfortable fit, including when Centeio -- himself a transfer who played three seasons at Temple -- surprisingly started the 2020 opener at Fresno State ahead of O'Brien.
Then former Palmer Ridge standout Luke McAllister, a touted Addazio staff recruit, left the program after participating in spring ball, additionally thinning the quarterback ranks and making it obvious he didn't feel comfortable, either. That leaves Centeio and two other transfers -- Jonah O'Brien from Eastern Illinois and Matt Valecce from Boston College -- and true freshmen Giles Pooler and Evan Olaes. And at this point, Centeio is the starter. Period. Essentially unchallenged. For better or worse.
So is this more about Centeio being only the best of an unproven or mediocre bunch than it is a case of him assertively claiming the job?
I guess we'll find out.
Unless Bradlee Van Pelt, Moses Moreno or Garrett Grayson are awarded another year of eligibility, it seems unlikely the Rams will get elite quarterbacking this season.
If they have a rebound season, it likely will be with Centeio fulfilling Addazio's faith and showing he at the very least is capable of looking better than he did in his three-game body of work in 2020. He was 14-for-36 passing for 206 yards and one touchdown, and rushed for 92 yards on 25 carries.
"I love coach Addazio," Centeio said after Friday's practice, the Rams' second of pre-season camp. "Coach Addazio's a real guy. You know what you're going to get from him. The faith he has in me gives me a certain level, a great amount of confidence. In the spring, I think I took ownership of it. Now this is the last stage before the season, so I have to fine-tune everything, fine-tune my reads, fine-tune my protections and go out there and be a leader and compete."
The Rams, under first-year offensive coordinator Jon Budmayr, will need to fine-tune, too. Or maybe the term should be "adapt," as in tinkering to take advantage of Centeio's strengths -- his mobility and running ability -- and minimize at least what to this point has been his suspect passing.
"Everybody doesn't think I'm accurate," he said. "But I believe I'm accurate. With the new kind of passing game we have. I feel like it's going to show that. We're going to be more efficient. I love coach Budmayr."
Budmayr is a former quarterback, student assistant and quarterbacks coach at Wisconsin, lured away from Madison by the chance to add an offensive coordinator line to the resume of an upwardly mobile young coach.
Last spring, Budmayr told reporters of Centeio: "The one thing that really jumped out at me when I first saw him was Russell Wilson."
(Aside: The comment was misportrayed in some quarters as Budmayr having coached Wilson. He didn't. He was a Wilson teammate. It gets a bit tricky, though. Wlson played a single season at Wisconsin, in 2011, as a graduate student / redshirt senior after transferring in from North Carolina State. Budmayr's coaching bio -- both at Wisconsin and CSU -- says his own Badger playing career ended after the 2010 season because of injury, which is technically correct. Yet he was on the Badgers' 2011 roster, listed as a redshirt sophomore. In fact, he was considered the Badgers' starter coming out of spring drills, before Wilson arrived and Budmayr developed a nerve problem in his elbow during preseason camp that required surgery and kept him out the entire season. As the Badgers prepared for a Rose Bowl date with Oregon, and looking ahead to the 2012 season, coach Brent Bielema said Budmayr had been able to start throwing again under strict supervision and "pitch counts" when a different nerve in the same elbow began giving him problems. The elbow issues ultimately ended his career prematurely and he became a Badgers student assistant in 2012 and 2013.)
Budmayr has expanded on the Wilson / Centeio comment since, citing Centeio's improvisational skill and, yes, his throwing mechanics.
I ran that comparison by Centeio and asked if he, like Wilson, could play second base. After all, if Wilson, the former Rockies prospect and minor leaguer, could hit a curve ball, he might be turning double plays with Trevor Story.
Centeio politely laughed.
"No, I've never played baseball," he said. "I've played football all my life. I've always said I want to be like Russell Wilson, even before (Budmayr) said that. We kind of have the same playing style and body type, and I feel like he's done it at the highest level. He's won a Super Bowl. That's where I want to be. That's my goal."
Centeio maintains the CSU constituency didn't see the real Todd Centeio last season.
"I played with some injuries," he said. "I don't think I prepared as well as I should have. COVID. It was a weird year. With not having a season, then having a season, I didn't put enough in the bank. I wasn't confident enough to go out there and showcase my talent."