August 6, 2021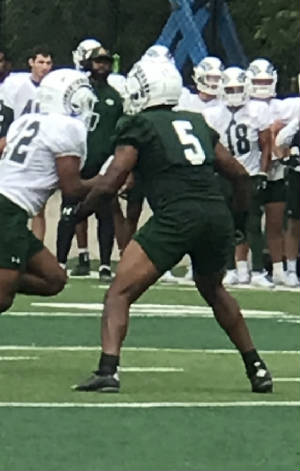 Dequan Jackson (5) working with the "1s" on Friday at CSU's second pre-season practice.
FORT COLLINS -- Dequan Jackson, the stalwart senior linebacker asserting leadership on the Colorado State practice fields Friday, five years ago was pictured and his story was told on the front page of The New York Times' print edition. That's the front page on August 31, 2016, not an inside section front.
Jackson was 16, about to begin his junior year at Jacksonville's Robert E. Lee High. He still was trying to cope with being charged with battery when he was 13, pleading guilty and getting assurances that if he behaved himself through a year of probation, the charge would be reduced to a misdemeanor.
In short, he did behave ... and it wasn't reduced. And that was just part of it.
The Times headline provided a hint of the travesty that journalist Erik Eckholm documented in his story:
Court Costs Entrap Nonwhite, Poor
Juvenile Offenders
Two weeks after the story ran, Jackson was among panelists who appeared and spoke in Washington D.C. at a Congressional briefing at the Russell Senate Office building on the need for juvenile justice system reform. Remember ... he still was 16 at the time.
More on that later, but on Friday, Jackson displayed that leader's demeanor on the practice fields adjacent to Canvas Stadium.
With apologies to the late Supreme Court Justice Potter Stewart, leadership is one of those "its." You know it when you see it. He's got "it."
Jackson was a near-4.0 student at Robert E. Lee High. (Unsurprisingly, the name this summer was changed to Riverside High). At CSU, he has been named to all-academic teams of various varieties, involving the state, Mountain West and region.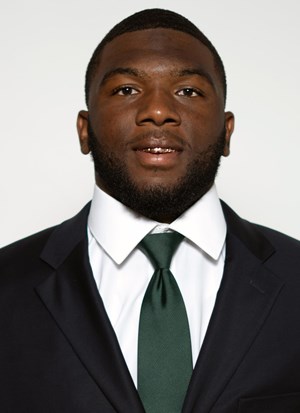 On the field, he's far from intimidating. He's listed at 6-foot-2 and 230 pounds, and that might be fudging it a bit. Yet he's effective. He was the Rams' second-leading tackler in 2019, then their leader last year, with 40 tackles in the truncated four-game season.
Now, with Steve Addazio going into his second season at CSU -- and hoping for a complete one this time -- he's counting on Jackson, a holdover Mike Bobo staff recruit, to step up even more as a leader.
"It means a lot to me," Jackson told me after practice Friday. "No, actually, it means the world to me. Guys look up to me. I've got influence on the team. I have to lead. I have to go first. I have to set the example. I have to encourage guys. I have to set a standard and hold everybody to it. There are a lot of leaders out here, so it's not just me and it's not hard. But I love the role. I've accepted it and I think it's a great thing when you can be a leader and bring other guys with you."
His is a heartening story, even if aspects of it are maddening and exasperating. I'm treating this as a sidebar/supplement, so I suggest attempting to read the full Times story -- it's linked below, subject to a possible paywall for non-Times subscribers -- if you want to fill in the gaps. Also keep in mind that shortly before the story ran, the Philadelphia-based Juvenile Law Center issued a report citing problems and unfairness built into the system. In a sense, the report apparently was a major factor in triggering the Times story that provided anecdotal evidence for the inequities.
Here's the basic outline of what Eckholm pieced together:
The battery charge against the 13-year-old Jackson, the journalist wrote, came "for banging into a teacher while horsing around in a hallway." The charge wasn't reduced as promised after that year of probation, even though Jackson logged 40 hours working at a food bank, accepted anger management counseling, and obeyed an 8 p.m. curfew with exceptions for church and football. But because his mother, Shenna Jackson, and Dequan couldn't come up with $200 in court and public defender fees, the probation lasted 14 additional months -- until they finally raised the money. But additional fees piled up while he remained on probation, and in 2016, Dequan's mother showed Eckholm the bill for $868 from the Florida Department of Juvenile Justice's Cost of Care Recovery Unit.
At the time, Dequan told Eckholm: "You feel like you're drowning and you're trying to get some air, but people are just pouring more water into the pool."
The Times story laid out other examples of cases illustrating unfairness in the juvenile justice system, documenting how the deck can be stacked against -- as the headline noted -- nonwhite, poor, juvenile offenders. There can be hardship grounds for fee forgiveness built into the system, but the story noted that poor families minus legal help often don't know how the process works to bring that into play. In Dequan's case, the battery charge wasn't reduced to a misdemeanor until 2016. That year, his mother found a job as a cashier, but told Eckholm the family was living paycheck to paycheck.
In the wake of the Times story, Jackson received an outpouring of support. A go-fund-me administered by Bobby Thomson raised $5,210 for a legal and college fund for Dequan.
"It was good to note that somebody cared," Jackson said. "But during that time, I was still young and I had a lot going on. I was thankful for everybody who bought in and tried to help to make my life better. I'm appreciative of the story."
In Washington, he said, he felt his message had an impact. "I just told my story," he said. "They said they used it all to change some of the laws going forward for juveniles. Kids are young, they make mistakes."
He said he still is involved with the cause of juvenile justice. "I'm kind of away from it now," he said. "But I'll get back to it."
Near the end of his Times story, Ekholm wrote: "Dequan dreams of getting a football scholarship to college and has already received strong interest from two schools, he said.
CSU helped him fulfull that dream.
He said he ended up hearing from about 30 schools. Those who chart such things reported he received 14 scholarship offers.
"I'm at CSU now and that's what matters," he said.
Jackson said he often thinks of his father, Reggie Reed, who has Multiple Sclerosis and helped coach Dequan's youth football from his wheelchair; and for his half-brother, Jarvis Reed, who died of a rare form of cancer -- rhabdomyosarcoma -- in 2010, two years after leaving high school.
Jackson said he still plays for them "every down. I play for myself, too, to try and get to where I want to be in life. I love the game. But I've always got that in the back of my head. They loved the game too and unfortunately their opportunities got cut short. I feel like they live through me.
"My dad's doing great. You can't stop that guy. He's still coaching. He's a strong guy. He wakes up every day and he just attacks it. He doesn't feel sorry for himself and he doesn't want anyone to feel sorry for him. He just pushes forward. I love that about him. That gave me a work ethic."