August 5, 2020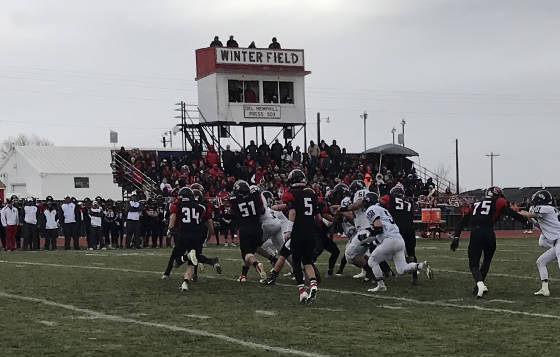 I attended the Colorado Class 1-A state championship game between Limon and Strasburg in Strasburg in late 2018 for a look at small-town high school football. The Strasburg Indians were despondent aftter the loss, below. Both schools, the traditonal powers among the smallest classification playing 11-man football, will have their seasons in the spring of 2021.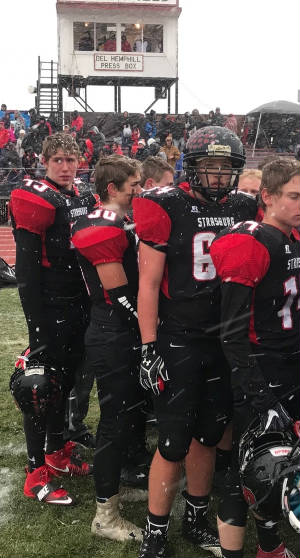 A seven-game high school football season in the spring?
Anybody have a better idea that could fly in the current pandemic?
I don't.
Especially given what would have been the prohibitive cost of frequent and pervasive COVID-19 testing, which is what it would have been required for high school football to have any chance of playing this fall, the Colorado High School Activities Association's alternative plan for 2020-21 sports seasons makes sense.
The plan, announced Tuesday, is laid out below.
I played high school sports, both in Oregon and Colorado. I covered them, mostly at the start of my career, but also throughout it -- not because of assignments, but because I enjoyed it ... and still do.
I know what high school sports were, are and can be.
This alternative 2020-21 academic year sports schedule is not ideal.
But it is pretty ingenious.
During the COVID-19 pandemic, the CHSAA had to go through about 27 agencies to get this plan approved after the restraints for anything remotely resembling normality would have been problematic.
'There is some grousing going on about the lack of football in the fall. But trying to plow on -- even before getting into the issue of getting clearance to do it -- would have been idiotic. Other states are realizing it, too, and the plan Oregon announced Wednesday, in fact, was strikingly similar to Colorado's. It's a trend for a reason. And those protesting the loudest seem to think the CHSAA should have just defied all the state agencies involved and went ahead and played in the fall. Yeah, right, that would have worked.
I believe that despite more resources, college football is far from a sure thing to go on under the modified schedules, and high school football would have irresponsible on many levels.
Plus, high school football is about much more than what happens on the field. It's pep rallies; jerseys in math class; Friday Night Lights; plus parents, family, friends and classmates in the stands and even play-calling second guessing at the diner on Main Street. Even if Colorado had found a way to play, with limited numbers and restrictions on spectators, it wouldn't have been high school football.
Here's what Gov. Jared Polis said of the plan Tuesday, after the CHSAA's announcement.
Among the highlights are softball moving to August 13-October 10; basketball to January 7-March 6; football to March 4-May 8; and baseball to April 29-June 6.
Remember, the Class of 2020 baseball baseball players didn't get a senior season, and while there a million other things higher on the list of priorities at this point, that was unfortunate.
In the announced schedule, there is some possible overlap there involving teams that go to the end of state championships, but not much.
It also calls for limited practice before games start, and that's especially glaring in baseball, where practice is scheduled to start only three days before games. In other words, the football-to-baseball transition will be difficult, and pitchers especially will have to find time to throw.
Among the potential pitfalls are the parameters of "voluntary" practices in advance of the official starts, if the districts involved even allow them; and how to select teams for the limited postseason fields.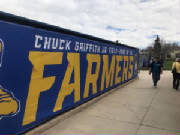 The Wheat Ridge Farmers, whose 2020 baseball season was scrubbed, now are scheduled to
open a two-month 2021 season on April 29, with their home games at Chuck Griffith Jr. Field.
Chuck was my Wheat Ridge classmate and fellow athlete, and also my college roommate.
The official calendar, via CHSAA
SEASON
SPORT
PRACTICE
FIRST COMPETITION
CHAMPIONSHIP (TENTATIVE)
MAX CONTESTS

Season A

Cross Country
8/12
8/15
10/17
7
Boys Golf
8/3
8/6
10/5 & 10/6
198 holes
Boys Tennis
8/10
8/13
9/25-9/26
See bulletin
Softball
8/10
8/13
10/10
16

Season B

Basketball
1/4
1/7
3/6
16 (4A/5A); 13 (1A-3A)
Ice Hockey
1/4
1/7
TBD
13
Skiing
1/4
1/7
2/26
See bulletin
Competitive Spirit
1/4
1/7
TBD
N/A
Sideline Spirit
1/4
N/A
N/A
N/A
Girls Swimming
1/4
1/7
TBD
7 + league
Wrestling
1/4
1/7
3/6
7 duals + 7 days

Season C

Field Hockey
3/1
3/4
TBD
10
Football
2/22
3/4
5/8
7
Gymnastics
3/1
3/4
TBD
8
Boys Soccer
3/1
3/4
TBD
10
Unified Bowling
3/1
3/4
TBD
6
Girls Volleyball
3/1
3/4
5/1
16

Season D

Baseball
4/26
4/29
6/26
16 (2A-5A); 13 (1A)
Girls Golf
4/26
4/29
TBD
198 holes
Boys Lacrosse
4/26
4/29
TBD
10
Girls Lacrosse
4/26
4/29
6/23
10
Girls Soccer
4/26
4/29
TBD
10
Boys Swimming
4/26
4/29
TBD
7 + league
Girls Tennis
4/26
4/29
6/11-12
See bulletin
Track and Field
4/26
4/29
TBD
8
Boys Volleyball
4/26
4/29
6/19
16

Activities

Student Leadership
Following a typical schedule.
Music
Following a typical schedule.
Speech - Festival
10/1
1/30
Speech - Tournament
11/1
3/20