September 13, 2020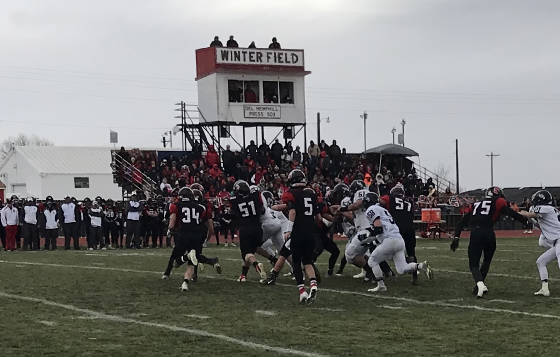 Limon at Strasburg in the Class A state championship game in 2018.This is prep football, too.
Colorado High School Activities Association commissioner Rhonda Blanford-Green got fed up Saturday.
She was bothered by the mischaracterization of the organization's actions tied to the possibility of prep football being played this fall, after all.
To her blunt Twitter post, she appended a July email she sent to a member of Governor Jared Polils' staff on variances and protocol seemingly proposed to make seasons feasible. In that e-mail, Blanford-Green mentioned a maximum of 50 participants per roster for outdoor sports -- e.g., football -- and 25-participant maximums for indoor sports. That, plus 50-percent max of facility capacity, including cheer teams and bands.
At the time, it seemed the only thing that might fit under an outline from the state was 8-man, one-platoon flag football with no officials (operating on the honor system), no coaches and no spectators. OK, I'm exaggerating. But not that much. I'm not disagreeing with that position, given the conditions at the time it was made.
But for more than a week, the CHSAA was operating under the assumption that those proposed July variance terms as outlined in that email were going to be part of the deal if the season was moved back to the fall. Then just before the CHSSAA board of directors met last Tuesday night, the governor's staff / pandemic advisors said that wasn't the case, and the board voted to stick with the current plan for an abbeviated football season in the spring and for the significantly shoved-back and compressed seasons in other sports as well. (Here's that 2020-21 sports schedule as it stands now.)
The board is made up of representatives from around the state, so this was a decision made by folks from locales large and small.
The especially curious thing was that a Polils tweet left the impression the variances had been granted.
It's clear that Blanford-Green and Polis have not been completely on the same page in discussions that likely will resume Monday. At this point, it's likely that fall football will be approved under whatever conditions are deemed possible, but there seems to be an unfortunate political component to this.
To summarize: Polis essentially put the onus on the CHSAA, saying schools prepared and able to play football this fall could go ahead. But the way it played out, it was as if the governor's office and others connected to it are saying, "Go ahead" pubicly. Then, "No, you can't do that" in more private discussions about the specific terms. If a fall prep football season has to be played -- or should be played -- under conditions that more closely resemble Rockies games than "Friday Night Lights," the schedule should remain as is.
The board's Tuesday vote dashed the hopes of many who had been heartened by the possibility that fall football might be reinstated. And those football proponents have been vocal in their criticism of the CHSAA, most notably citing what was perceived to be Polis' clearance.
The maneuvering stinks.
The other issue is whether this, with so much else for the state's governor to wrestle with and be concerned about, is whether he should be devoting so much time to this. I'm actually one of the many who believe the first-term governor has done a good job under trying (and that's putting it mildly) circumstances, especially taking into account the denialist attitude of so many who question his exercises of power. I'm not going to overstate this, but I get the impression many pushing for fall prep football here downplay the COIVID-19 threat -- and, implicitly, the 196,000 deaths -- and view wearing masks as an unacceptable infringement on personal liberty.
Plus, if the governor and his staff contradict each other in dealing with the CHSAA, that's unfortunate.
I'm not saying the governor's office shouldn't be part of the discussions and even have the final call, but it's a matter of prioritization. And Polis and his staff must communicate common messages.
Regardless, reinstating Colorado prep football to the fall would require the governor and his office to: 1, Grant significant variances. 2, Acknowledge them and stand behind them. 3, Stand up to those such as bar/business owners who question, "What about us?"
Then if season shuts down after three games, there can't be any finger pointing between Polis and the CHSAA.
I'm uneasy about changing plans and going back to a fall season. It has been almost comical to hear many who should know better talking as if the season could open next Friday once a decision is made. Teams would have to go through serious, full-scale pre-season practices. Schedules would have to be reconfigured for however long a season could be. All the ancillary planning that goes with a football season has to be done ... again. And that's before you even get to the COVID-19 issue and complications, including the protocols and testing necessary as part of the reboot.
Other states are doing it? Yes, they are, but they aren't restarting under these conditions, and anyone getting too cocky about it being the right decision to play in other states is off base. I hope it was the right decision, for a lot of obvious reaons. But I'm not certain it was.
Finally, this discussion should be devoid of the red herring that Colorado prep players need to have this fall season to enhance or lock up their scholarship opportunities. If that's marginally true for a small percentage of players, the bigger concern should be the fall football experience for players and classmates, rather than in a rushed and compact schedule in early 2021.
Bottom line? I believe Colorado would be better off sticking with its decision to put football in the spring. But I don't have mountains of current ata and information about how a fall season could be pulled off, either.
The decision should be made in a reasoned, straightforward process.