October 25, 2020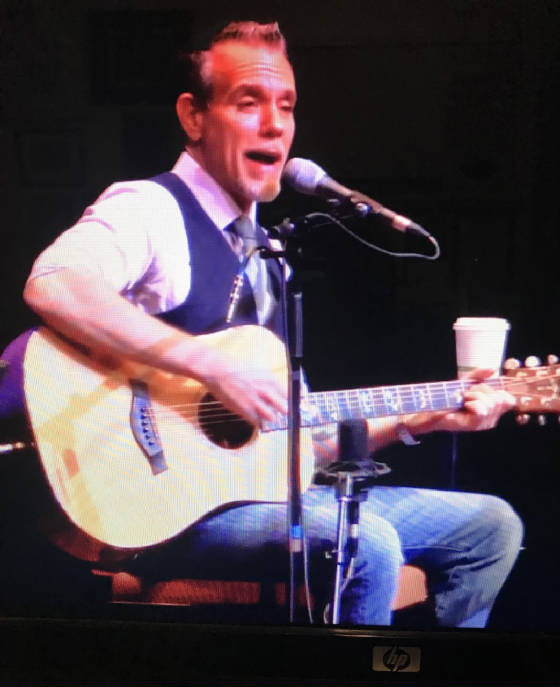 Adam Pascal onstage -- alone -- at the Lone Tree Arts Center Saturday night. (Livestream, screen shot)
This is the world we live in: When Broadway star Adam Pascal appeared in solo acoustic concerts Saturday afternoon and night at the Lone Tree Arts Center, on the south edge of suburban Denver, the crowds were limited to 150 in the 500-seat concert hall.
The evening show was livestreamed, at $25 per ticket.
That's how we watched what was billed as "Adam Pascal: So Far." It's essentially a narrative of his Broadway and theater career, starting with "Rent" and continuing through "Aida," "Memphis," "Cabaret," "Chess," "Chicago," "Disaster," "Something Rotten" and "Pretty Woman."
We were never shown the in-house crowd. I know of some live ticket-holders who backed away from attending because of the latest COVID-19 spike in the area and switched to the livestream.
The resulting atmosphere was both intimate and eerie, and required some getting used to. The acoustic format wasn't all that, well, theatrical. And regardless of how many curtain calls he has taken, he still is a Long Island garage band rock star at heart. His life changed when his friend, Idina Menzel, talked him into auditioning for an underfinanced, underdog off-Broadway show with a part (as Roger) that could have been -- even if it wasn't -- written for him.
(You can almost recreate the conversation, with Pascal saying: "Who ... me?" Then going in and singing U2's "Red Hill Mining Town," which isn't exactly "Some Enchanted Evening," at his first audition.)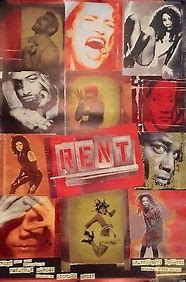 Original Broadway cast of "Rent." Adam Pascal, as Roger, is at top left. Idina Menzel is next to him.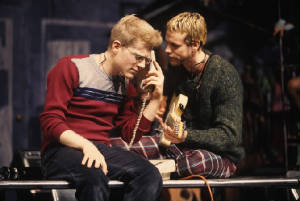 Anthony Rapp and Adam Pascal, whose joint concert appearance opened the Lone Tree
Arts Center in 2011, as the young leads in "Rent." (Joan Marcus)
In Lone Tree, Pascal at times seemed to be straining against the constraints and wanting to jump up, strut back and forth across the stage and let loose. The most jarring example of that was when he sang "Hard to be the Bard" from the hilarious "Something Rotten." He played Shakespeare both as Christian Borle's successor on Broadway and on the road, including in Denver. In the show, the Bard is funny and bombastic as he struts. Done seated and acoustically and minus context, the song loses something. But those examples weren't plentiful, and many watching probably were familiar with the show -- and the others -- and were able to supply their own backdrop.
His seemingly indestructible voice -- it's remarkable that he holds up singing a bit like Steven Tyler or his hero, Bono, for eight shows a week -- still was on display, if in that toned-down way. He opened with the iconic "Seasons of Love" from "Rent," and since that's performed by the entire cast in the show, the contrast served notice of the stylistic substance to come. He also did "One Song Glory," not taking advantage of an opportunity to end it with more of a flourish than in the show, where Roger just stops.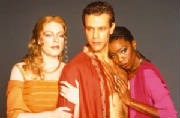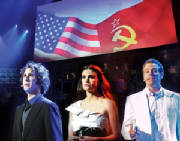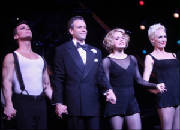 Left: Adam Pascal with Sherie Rene Scott and Heather Hadley in "Aida." He played Radames for over three years.
Center: Josh Groban, Idina Menzel and Pascal in "Chessat the Royal lbert Hall in London.
Right: Pascal as Billy Flynn in "Chicago." He was the 52nd Billy Flynn in the long-running revival.
On the eve of his 50th birthday -- he brought it up himself during the show -- he ultimately was terrific under the circumstances, working in anecdotes of the theatrical experience and evolution of his career. That included about what it was like to go from the scruffy "Rent," where the iconic costumes still used in the show actually were the performers' own clothes; to Disney's "Aida," with Elton John providing off-stage drama as the show's temperamental composer (who eventually apologized for his attitude). I'm certain Pascal could have put down the guitar and told stories for hours, and I could hear a book coming. Call it, I don't know, One Song Glory (with some irony), or From Rent to Riches. (OK, maybe not.)
It's jarring to think that Pascal (as I type) is 50. Roger. In Rent. Is 50, Ouch. We saw him play Roger early in he long run in New York and then here in Denver when he and Rapp appeared in essentially a farewell tour. Recently, when the non-Equity "20th Anniversary" tour came through Colorado several times, Columbine graduate Joshu Bess at one point was Roger and Lyndie Moe, granddaughter of former Nuggets coach Doug Moe, stole the show for two years as Maureen (Menzel's part).
Lyndie wasn't born when Rent opened on Broadway.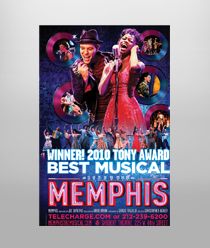 Pascal as Huey in "Memphis."
I wish I had seen Pascal in "Memphis," one of my favorite shows. As he noted, it pulled off the unlikely combination of winning the Tony for Best Musical (I believe Kramer was holding Raquel Welch's seat) while also being underappreciated. Pascal took over the role of Huey after the terrific Chad Kimball played it for the first two years.
Plus, Pascal did get around to talking about his involvement with "Chess," one of the theatre's most notorious cult favorites. He played Freddie, best described as a composite character of chess champion Bobby Fischer and John McEnroe. I saw it in 1988 in New York, as it was about to close, and like most who attended it, marveled about the score and the performances of leads David Carroll, Judy Kuhn, Marcia Mitzman and Phili[ Casnoff. But I also winced at the turgid Cold War-related plot that by the end betrayed and confused the audience.
As Pascal noted, waves of others, including even the Arvada Arts Center, have tried to "fix" it. But it hasn't broken through and a New York revival, even under normal circumstaances, is unlikely.
Pascal, Menzel and Josh Groban were part of a two-night concert version in London that at least mitigated, if not eliminated, the plot problems while highlighting the score written by ABBA's Benny Anderson and Bjorn Ulvaeus. (That London version is available on DVD and CD.)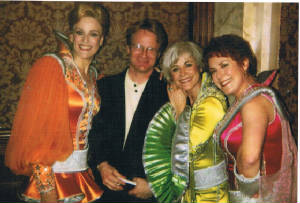 It was such a frustrating experience for the Swedes that they passed on trying to compose a show again, but as a consolation, allowed the use of their catalog of hits as the score for "Mamma Mia." That jukebox musical has made about a kazillion dollars. (At left, I'm with the original Broadway stars of "Mamma Mia" -- Karen Mason, Louise Pitre and Judy Kaye.)
Pascal didn't allude to it, but he had been at the Lone Tree Arts Center at least once before, when he and Rapp were the first show in the new facility. That night, Pascal talked about being on the verge of beginning rehearsals for "Memphis." At one point, as he and Rapp were singing, Pascal noticed a little girl near the aisle in about the third row. She was sound asleep. Rather than being offended, he pointed, left the stage, and started singing directly to her, waking her up. It was both funny and touching. The man isn't just in shows. He's a performer.
Even under the 2020 circumstancess, with Broadway dark.
With even the proven stars, Pascal and everyone else, unable to work, at least not in shows. The Coloradans in those stardom ranks include Eaglecrest High and UNC graduate Andy Kelso ("Kinky Boots" and "Mamma Mia"); my fellow Wheat Ridge High graduate, Annaleigh Ashford ("Kinky Boots," "Wicked," "Sunday in the Park with George"); and Castle Rock and UNC's Beth Malone ("Fun Home," "Unsinkable Molly Brown.")
With ensemble members and crew members wondering when their next check is coming.
With young talents and future stars like Lyndie Moe waiting and hoping.
Streaming is better than nothing.
As he was about to leave the stage, Pascal's farewell essentially was: Be Safe. Wear a mask. And he'd see us on the other side.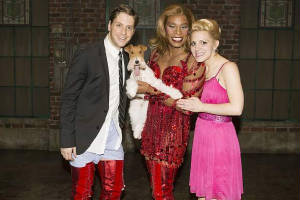 Two of the Coloradan Broadway stars, now waiting for the neon lights to become bright again. In 2014 and 2015, the Best in Show winner at the Westminster Kennel Club Dog Show was rewarded with a one-night, walk-on part in the Broadway musical "Kinky Boots.." Eaglecrest High and UNC grad Andy Kelso was playing Charlie Price both times. Here in 2014, he's at left, with Sky, the wire fox terrier and Best in Show; Billy Porter (Lola); and Wheat Ridge High graduate Annaleigh Ashford (Lauren). Kevin Thomas Garcia photo for "Kinky Boots."
Feedback:
terry@terryfrei.com