July 20, 2020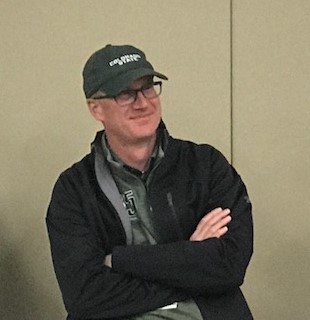 Joe Parker listening to then-CSU quarterback Nick Stevens' availability after a 2018 Rams win in Canvas Stadium.
While briefing media members and answering questions in a video conference Monday, CSU athletic director Joe Parker covered a lot of territory.
What struck me most was his reaction to the cancellation of the Sept. 5 Rocky Mountain Showdown, which would have been CU's first appearance on the CSU campus in 63 years. He also revealed that the area's programs on several levels are collaboratively discussing the feasibility of allowing crowds of up to 50 percent of stadium capacity. And he several times said the primary goal is to play a full eight-game Mountain West schedule and, if possible, go from there, including with the still-scheduled Sept. 19 home game against the Big Sky's Northern Colorado.
"Right now, I don't think any of us have limited the options," he said. "Our total focus right now is to play complete schedule, if we can climb back to that level. If not, we're focused on conference play within our current division format, determining (division champions) for the conference championship game. If for whatever reason, we're forced to think about things differently, I don't think there's anything that's been dismissed or off the table."
Parker continued to emphasize the moving-target uncertainty of the COVID-19 situation.
"We're still pushing forward," he said. "We've reviewed, like everyone, all kinds of scenarios about what a season might look like."
Parker did seem to make a point of defending CU AD Rick George about the Showdown cancellation, tied to the Pac-12's decision to play only in-conference games in football. That also cost CSU a game at Oregon State.
Last week, George said he regretted the loss of the CSU game, with its 50-mile travel each way for the Buffs, but also said he supported the Pac-12 decison.
Parker, though, Monday said it was his understanding that George proposed a plus-one exception for each team, taking into account geographic rivalries or other issues.
"That would be a very easy game or them to play as it relates to trying to negate any viral spread for their team, with only a bus ride," Parker said.
The Pac-12's stated reasoning for the all-conference schedule, also in several other fall sports, was to be ensured of uniform COVID-19 protocols through the league and schedule, while having little to to do with geography and proximity.
"If that was the Pac-12's rationalization, I don't agree with that," Parker said.
He brought up CSU's status as a Tier 1 research university, plus the numerous hospital and health care facilities in Northern Colorado. Parker said three athletes who have returned to campus -- none in football -- have tested positive, along with two staff members.
Indeed, the Pac-12 decision at least came off as arrogance and, also implicitly, putdowns of other schools on Pac-12 schedules.
While the Pac-12's academic credentials , with two private and 10 public universities, are generally unquestioned, the campus-area atmospheres in, say, Seattle, Berkeley, Los Angeles and Tempe/Phoenix, can be potentially problematic in these times, too.
Parker didn't say that.
I'm saying it.
But that's a secondary point now, and CSU has to move on ... or try to move on, if conditions allow for football at all.
"I'm not ruling anything out," Parker said. "We're looking at replacing those two lost games. There's some interest from some other schools, from schools that have been put in that same situation."
Other schools lost games against Pac-12 and Big Ten opponents. It's possible other leagues will follow the the intra-conference scheduling approach, leading to a domino-effect of additional decision-making, but CU still is scheduled to play at Vanderbilt of the SEC and the SEC's Texas A&M also lost a home game against CU. And with virtually all ideas being tossed around, such things as transforming the Air Force and Wyoming games into NFL-like home-and-home, two-game sets isn't out of the question. Neither is pushing back the season, even to the spring.
And what of fans?
"We're still trying to determine that right now," Parker said. "Probably at least a month ago, we put together a conversation that's been ongoing, where Air Force, CU, UNC and ourselves; and then we ultimately recruited the 10 schools in the RMAC ... We started to look at all we were going to do as it related to managing game days and put together kind of a comprehensive list of what we believe would be the best practices in managing game day from a social distancing perspective. From entering facilities, exiting facilities. access to amenities, concession services. How people would move from the stands to the restroom facilities. All those pieces.
"We're working right now with local pubic health care authorities and at the state level for reviewing action related to that. . . Our aspiration, where we still could maintain social distancing, is 50-percent venue capacity."
Which will lead to the question: Are the stands half full? Or half empty?