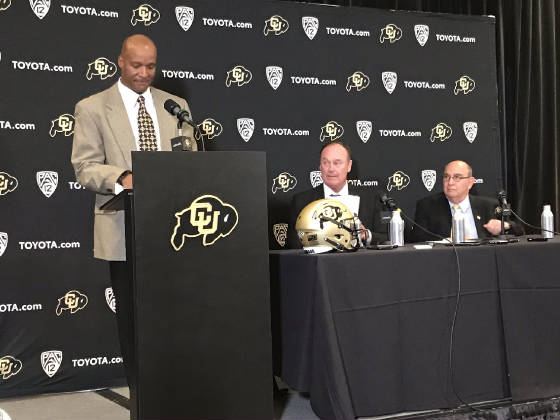 Karl Dorrell, Rick George and Phil DiStefano when Dorell was hired. It will turn out that he doesn't coach a game in 2020.
So 10 days ago, "The Players of the Pac-12" -- whose impact was watered down by the lack of names added as signatories to the original manifesto -- were threatening to opt out of the 2020 season in their demands weren't met. Some were reasonable, some were ridiculous loss leaders. (My commentary on that.)
Players from other leagues, primarily through social media, signed on to the cause and the sentiment. They argued a point that nobody disagreed with -- that player safety should be the first consideration.
The issue, of course, were whether the protocols created to back that up were sufficient. Plus, whether the desire to avoid athletic department financial catastrophe entered into the debates more than it should have. The nascent player movements highlighted that one of the financial perils were potential liability issues. It's not heartless to consider that in the decison-making process. It's realilsm.
So now, after the Pac-12 and Big Ten Tuesday announced they were scrapping fall sports, most notably football, players in many cases are turning up the volume on their "we want to play" movement.
Barring an unlikely reversal, the Colorado Buffaloes won't play again until 2021. (CU will hold a virtual news conference with, among others, AD Rick George, Karl Dorrell and Tad Boyle on Wednesday morning.)
In Colorado, we were already reacting to the news that the Mountain West was shutting down its fall seasons, meaning the troubled program at Colorado State and Air Force won't play in 2020, either. (My CSU commentary is here.) Also, a similar decision by the Big Sky meant Ed McCaffrey's Northern Colorado Bears are on hold until at least the spring, too. The weird thing is that CU, CSU and UNC all have new coaches who won't coach a single game in 2020.
I'm confused.
I realize "players" are not a single, homogeous body, and I am not in any way, sharp or form ascribing "blame" to them in this mess. But the messages were mixed. It's just that it all is part of a volatile, confusing mix of unfortunate circumstances stretching far beyond sports, and the college sports decision-makers -- in this case, mostly the university presidents and/or chancellors in league boards of directors -- faced wrenching choices. They were going to be second-guessed either way, of course, which goes with the pay grade. The backlash against those decisions, plus the heated discussions about whether the SEC, ACC and Big 12 will follow, has highlighted that.
This is going to be the weakness of this commentary: I admit I don't have the answers.
In many cases, leagues, institutions and athletic departments are being roasted fot their handling of the crisis. Flawless? No. But those doing the criticizing in many cases are doing so with 20-20 hinssight in an unprecedented, constantly changing situation. Especially when it was clickbait blasting CU or anyone else for at least weighing the viability of staying the course with a league-only schedule, that was ridiculous. The Pac-12 made the right call for its situation, I believe, but after full consideration of the options.
I do know that one of the reasons we're in this mess is that too many who don't know what they're talking about have either just loudly and relatively harmlessly turned up the volume switch, or actually had influence on public opinion and even policy.
I don't know how I would have reacted to what the university presidents heard, and the interesting thing is that while I assume the evidence, data and presentations have beem similar for each league, the reactions, inferences and decisions have been different.
So far.
In he latest disussions. the arguments for forging ahead unfortunately have by implication -- or in some cases, more than that -- included denialist arguments that only old people die from COVID-19, so what's the fuss all about? That, of course, ignores the carrier issue and the nature of trying to control a pandemic. I somehow get the feeling that many of the most ardent advocates of plowing on with college football in the fall have refused to wear masks and observe social distancing through all of this.
Another of the realities during the pandemic has been that if you voice an honest, regret-tinged view that trouble is ahead, whether unavoidably or because of shortcomings in the response, you're accused of rooting for that to happen so you can gloat. That's ridiculous, but it to a point has discouraged candor and encouraged denial. In sports, media members are getting used to the charges of hypocrisy for "rooting against" the endeavors that make their jobs possible if they argue for realism and caution. That's idiotic.
Where we -- meaning sports -- go from here is uncertain, to put it mildly. College football, for which bubble conditions are impossible, is a battle ground for unfortunate reasons, including because the reflex reactions tend to be predictable, reflecting the political and social divisions that have become so predictable.
My gut feeling is the Big Ten, Pac-12 and Mountain West made the right decisions. The ACC, Big 12 and SEC seem more willing to continue and step up the staggerng investments needed for testing and other protocols, but what few seem to be talking about is that their memberships are in states more prone to allow fans -- paying customers -- back in the stadiums, to whatever degree deemed possible, than in, for example, California, Colorado and Wisconsin.
But what the hell do I know?
UPDATE: In that aforementioned virtual news conference Wednesday, George said CU wasn't planning to drop sports in the aftermath of the financially devastating step of not playing football this fall.
"I told our student-athletes that," he said. "And number two, we're not cutting anything that impacts the experience for our student-athletes. All the support areas that I've mentioned — health, nutrition, academics, leadership — all those areas, we will not touch those areas. We have an obligation to provide a great experience for our student-athletes. We're not going to look at any of those areas, but we do have challenges.
"Will there be furloughs and layoffs? Probably. My leadership team and I have been working on that for a while now, but we've really ramped it up over the last few days. We'll make some decisions hopefully in the next seven to 10 days on what that will look like. Those are going to be tough. Those are gut-wrenching because it does involve people. But we won't eliminate any sports."
Dorrell, meanwhile, said he had been hoping to play right up to the announcement.
"I still wanted to play but I understood the reasoning if we didn't play," he said. "I think it's a good decision, yes, just because I know of what the issues are and really when it's all said and done, you want to do what's best for your student-athletes. I was in alignment with everyone else with doing what we thought was best for our conference."