November 2019: In observance of the 40th anniversary of Iran taking U.S. hostages
A version of this ran in the Greeley Tribune on March 18, 2018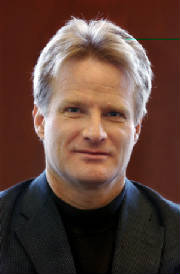 Terry Frei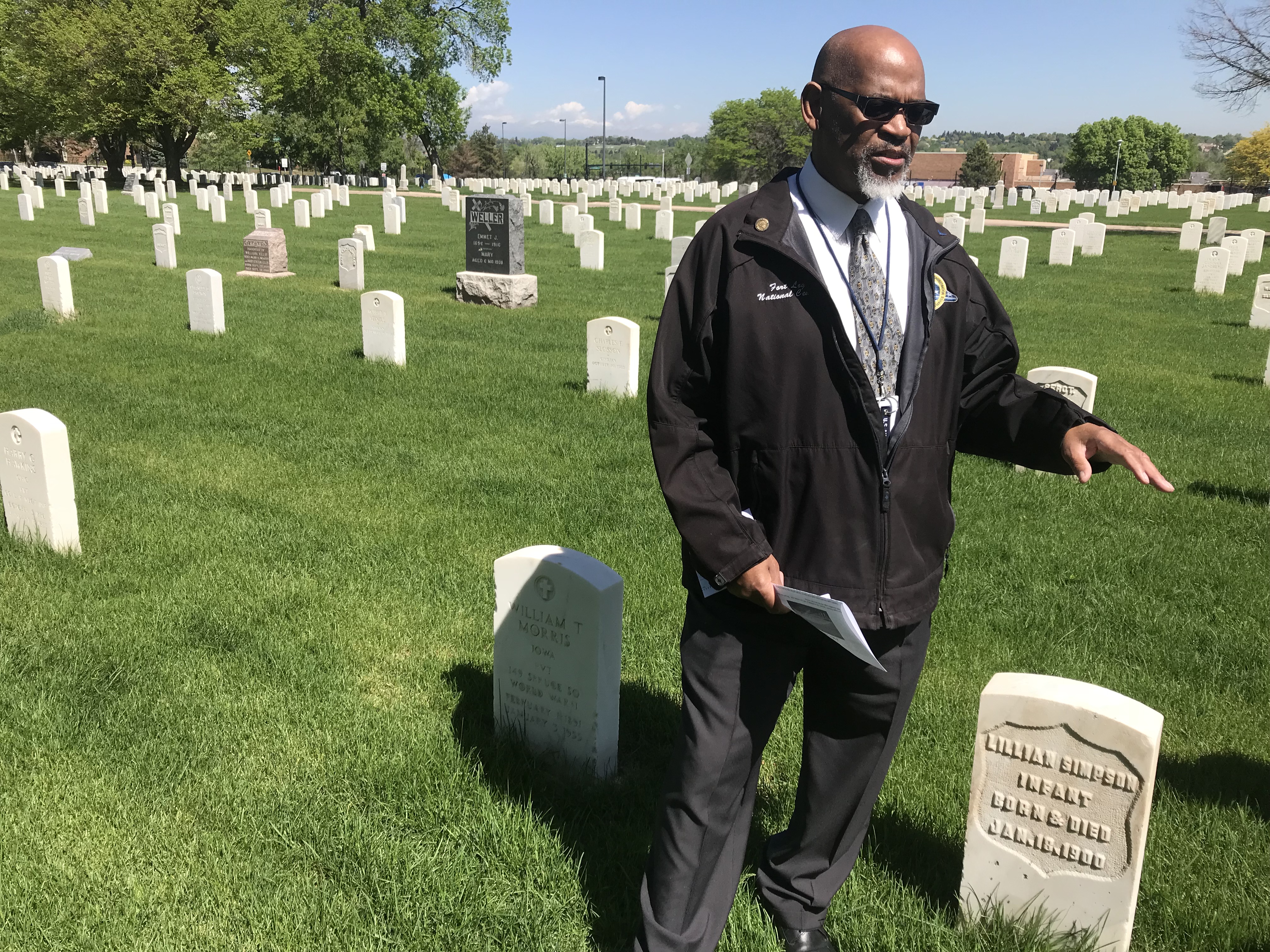 About this time as he spoke to the Greeeley group at Fort Logan National Cemetery, James O'Neal Hughes casually mentioned he had served in Vietnam and was a hostage in Iran.
In May 2018, shortly before Memorial Day, I joined a "Life After Loss" group of 11 mostly senior citizens from Greeley on their trip to Fort Logan National Cemetery in Denver.
It was going to be a nice little story about the group's tour of the national cemetery I had been to many times.
My parents -- Jerry, a World War II P-38 fighter pilot who flew 67 combat missions in the Pacific Theater; and mother, Marian, who worked during the war packing parachutes in Milwaukee -- are buried together at Fort Logan.
But this time, I was with a group on a trip put together by Greeley's Adamson Life Celebration Home and was planning to write about what the visitors from saw and heard on their official tour.
We rode down from Greeley in a van and met up at the administration building with our tour guide, a Fort Logan staff assistant.
He was introduced as "O'Neal."
Just O'Neal.
The word was, that's what he goes by on the job.
Just O'Neal.
His head was shaved, and his goatee was graying. At the start of the tour, his dark Fort Logan jacket was zipped just far enough to partially obscure the credentials on the end of the lanyard hanging around his neck. His dry sense of humor was part of his narration, so the Greeley contingent supplied a laugh track throughout.
The tour's second stop was in Section N, along Sheridan Boulevard in Fort Logan's northwest corner. There, "O'Neal" stood among the oldest graves on the 214-acre site, which date back to 1889, when Fort Logan was a new military installation and long before its 1950 designation as a national cemetery.
He rattled off considerable general information about the cemetery, where veterans and their spouses are buried free of charge.
Eventually, he said the most visited grave in recent years is that of Navy SEAL Danny Dietz, from Littleton, who was killed in a firefight with Taliban forces in 2005 in Afghanistan and was a prime figure in the 2014 film, "Lone Survivor." O'Neal also noted two posthumous Medal of Honor recipients from the Vietnam era, Major William E. Adams and First Sergeant Maximo Yabes, also are among those buried.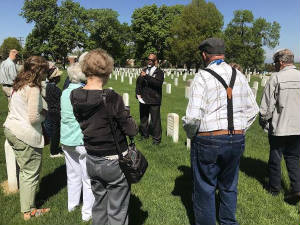 James O'Neal Hughes speaking to the "Life After Loss" group from Greeley.
"Everybody asks who's famous here," he told the group. "I say everybody here is famous. You put your hand in the air, whether you were drafted or not. Spouses are famous, too, because it's hard on the spouse. Like I spent two years in Vietnam. I was already married. I spent some time as a hostage in Iran and I was married. So I could imagine what my wife was going through during those times."
Within moments, we were climbing back into the three oversized golf carts, moving on to the next stop.
I asked the others in my cart: Had I heard right? Did O'Neal just say he was a hostage in Iran?
He sure had.
* * *
The guide's real name is James O'Neal Hughes. I quickly figured that out on my smartphone and in a brief communication with writer-editor Dan England. "O'Neal" would confirm that later.
On November 4, 1979 -- or 40 years ago last Monday as I write this -- Hughes was an Air Force staff sergeant, Vietnam veteran and intelligence assistant who was one of 65 hostages taken during the storming of the U.S. Embassy in Tehran.
I hadn't known that when our tour started at one of the committal shelters.
Then, he still was "O'Neal."
He explained Fort Logan doesn't have graveside services, and the ceremonies at the committal shelters are limited to 20 minutes. He also explained about 70 percent of the burials now involve cremation containers rather than caskets.
"When I first started here, back when we had wooden shovels, it was only about 10 percent," he said.
Next, at the oldest section, Section N, "O'Neal" first gestured in a sweeping motion and noted the wide variety of headstones there. He explained that the carefully aligned upright white marble headstones became universal in the late 1950s. He said about 135,000 were buried or interred at Fort Logan and the cemetery averaged about 20 services a day.
Hughes also plugged the upcoming 2018 Memorial Day ceremony on May 28 and said it took volunteers about two-and-a-half hours to place U.S. flags at every grave in advance of the weekend.
For many years on Memorial Day weekend, we had placed flowers next to the flag at our parents' headstone.
That's when he mentioned his service in Vietnam and being a hostage in Iran.
At the Columbarium mausoleum area, one of the newer options at Fort Logan, Hughes ran down the possibilities for terms of endearment on headstones and the choices involving casket burials and cremations. The only cost for veterans and their families are the services from the funeral homes involved.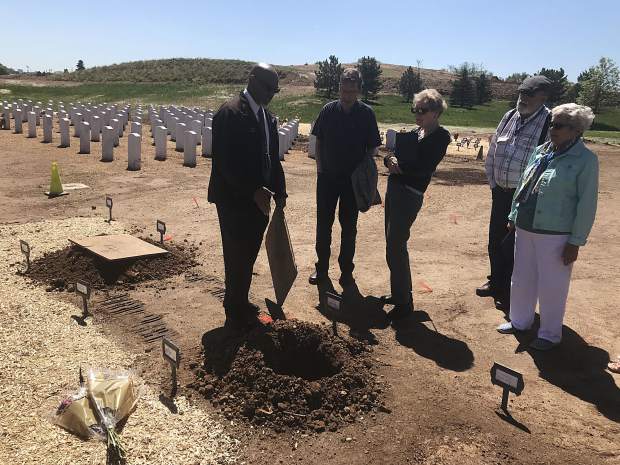 James O'Neal Hughes shows the Greeley group the fresh hole where a cremation container soon will go. Within 60 days, an iconic white marble headstone will mark the spot and the grass will be replaced. With Hughes, from left, are Fred Rogen, Barbara Rogen, Kenneth Wagner and Florence Burkholder.
In the nearby all-dirt area, workers had dug a hole for a cremation vault that would arrive after a service later in the day. "We just started this section Monday," he said.
In the same area, several new headstones already were in place and worker Gabriel Arguello was painstakingly settling the marble headstone of Air Force vet Richard W. Laugesen, a prominent Denver attorney who died in March 2018, into the ground, before replacing the dirt around it. The group marveled at his meticulousness.
"I've set over 12,000 headstones," Arguello said.
Other new graves in the area still had temporary cards, identifying the deceased. Soon, they also would have headstones and the grass would be replaced. Then, as time marched on, the next wave of burials would be in another section.
Hughes estimated there was enough space still available for about 30 more years of burials, and noted the then-imminent November 2018 opening of Pikes Peak National Cemetery in Colorado Springs would eliminate some of the pressure.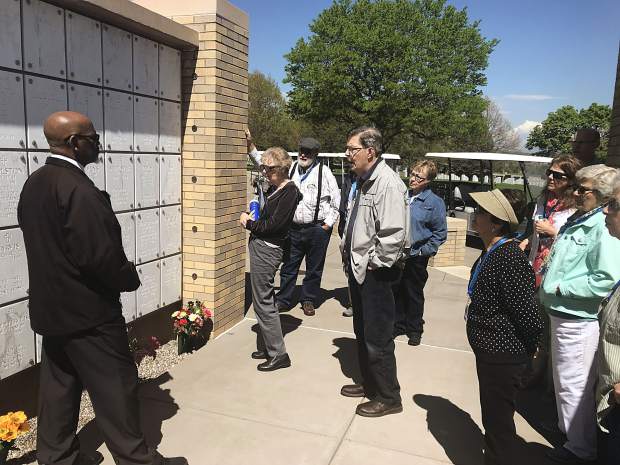 The Greeley tour group visits the Columbarium.
The last stop was the shop were the marble headstones are created.
Back at the Administration Building, Hughes bid his farewells.
"OK, guys," he said. "I hope I answered all your questions."
He handed out the Fort Logan fact sheets.
"I hope this won't contradict too much of what I said," he added with a smile.
Another tour was over.
"I enjoy educating people and talking to them about the services that are available here and about honoring the veteran and the spouse for their honorable service," Hughes told me.
This is just part of his job, he explained. He had been working at Fort Logan since 1997.
"I do anything from budget to administrative work," he said.
Sensing more questions were coming, he headed them off. Although I had introduced myself and he knew I was with the folks from Greeley to do a story, he clearly didn't want this to become an "interview."
"I'm not much of a talker," he said.
After his two-hour tour narration, that was a curious remark. Did that mean he didn't like to talk about Vietnam and Iran?
"I don't like to talk about it," he said. "I just don't."
By then, though, with friendships made and gratitude from the group obvious, he at least would confirm his real name.
* * *
A New Orleans native, James O'Neal Hughes in 2019 is 70 years old and lives in Aurora. He retired as an Air Force master sergeant in 1992.
In 1979, Iranian captors released Hughes and 12 other African-American or female hostages 16 days into what became known as the Iran Hostage Crisis. The cited reason was sympathy for suppressed minorities in the U.S. While in captivity, they were fed only bread, goat cheese and rice.
Belatedly, in August 2012, Hughes was awarded the Defense Department's Prisoner of War Medal in a ceremony at - where else? - Fort Logan. In an interview with Richelle Taylor, a public affairs specialist with the National Cemetery Administration, Hughes noted he hadn't endorsed the circumstances of his release.
"The attempt by the Iranians to divide along gender and racial lines did not set well with me," he said. "Part of my mental health treatment was dealing with the guilt of leaving others behind."
He also told Taylor he initially believed the crisis would be short-lived, perhaps ending in a few hours.
"After being searched, tied up and blindfolded, and marched out of the embassy, I understood that it was something different," he said. "During long periods of isolation I would have thoughts of never seeing my family again and that I would die blindfolded and tied to a chair."
After the release of the 13, the remaining 52 American diplomats and citizens ultimately were held for a total of 444 days, until they were released on January 20, 1981 - the day Ronald Reagan was inaugurated, succeeding Jimmy Carter as president.
Hughes, one of the early releases, told the Greeley group he planned to be buried at Fort Logan.
"I tell my wife, don't spend a lot of money on me," he said. "Cremate me. Put me in the ground. And then go find two 30-year-olds and go on a cruise."
On the way back to Greeley, we stopped at the Cracker Barrel.
There, the tour group members told me how inspired they had been by "O'Neal" and what he had told them.
To "O'Neal" ... and all the veterans.
---
Attendees from Greeley's "Life After Loss" group and their reactions:
Amy Burkholder, Greeley
"I thought it was really interesting … My dad (Robert) was in the Navy from 1950-54. He went to Korea and he came back with Navy words (think: swearing like a sailor). We still have those."
Florence Burkholder (Amy's mother), Greeley
"It was very informative. I respect veterans and the guide was a veteran. He was very good and knowledgeable."
Doris Fields, Milliken
"I thought it was very interesting. It's nice to know that they honor our veterans and how much extra work they do to make it meaningful."
Glenda Goeglein, Greeley
"I thought it was excellent. I don't think it could have been any better. They covered all the bases and all the questions."
Theresa Pineda, Greeley
"I loved it. It was very informative, and it's such a peaceful and beautiful place. It was comforting for the families to have their loved ones buried there."
Barbara Rogen, Greeley
"I had never been there before and I wanted to see it. I'm impressed with it and with what they do."
Fred Rogen, Greeley
"I was in the Air Force during Vietnam. I actually was in computers. I was based in several places in this country and in Europe. I never went to a war zone … I had traveled and spent quite a bit of time going through Arlington National Cemetery when I was on business trips back to Washington. So I just wanted to see the comparison. Arlington is much, much more formal."