June 13, 2021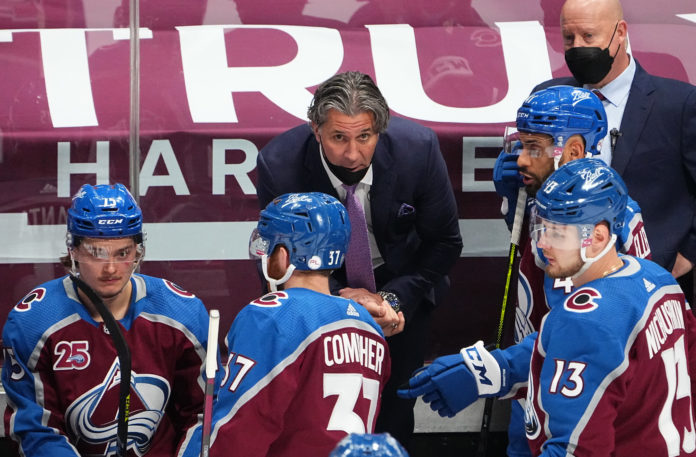 And now, the Nuggets are done, too.
Within a four-day span, both they and the Avalanche have lost second-round series and have been eliminated from the postseason.
In case you missed it, here's my view of the Avalanche exit. This was disappointing underachievement and an unraveling that should go down as a bit of a flashback to the franchise's earlier glory years, when the two Stanley Cup celebrations came with realizations that the Avs could have -- and should have -- won at least one more title in that span. This one got away, too.
In the Nuggets' case, the aura of disappointment had more to do with their inexcusable lack of competitiveness in getting swept by the entertaining Suns than not at least getting to the Conference finals for the second season in a row. Jamal Murray's absence ultimately was debilitating, but it didn't excuse the Nuggets appearing so overmatched.
There should have been a middle ground between Avalanche coach Jared Bednar's premature panic move of breaking up his top line and, in a different situation, Nuggets coach Michael Malone's stubbornness in not making changes earlier in the series.
I'm not making excuses for anyone, but I'm also not here with a lame and fill-in-the-blanks diatribe from the post-series reaction template.
Giving credit where credit is due is not gulping Kool-Aid.
Although the playoff showings deservedly are considered disappointments, Denver's winter sports seasons -- with the two teams both playing under the Kroenke Sports and Entertainment banner and technically owned by Ann Kroenke -- were praiseworthy and even remarkable.
I've addressed the impressive reality that Denver had the top NBA/NHL player tandem of the 16 markets with teams in both leagues. And I did it before Nikola Jokic was named the NBA's MVP and Nathan MacKinnon was announced as one of the three finalists for the Hart Troophy. That look at the market player tandems is here.
Yet one of the reasons this was so disappointing was that the teams built expectations with their regular seasons, with the Nuggets after Murray's exit doing it with a less-than-glittery supporting cast.
See the chart below, essentially creating combined NBA and NHL standings for those 16 markets. As you'll see, I used some flexibility in defining them.
Denver is No. 1. Combining the standings, the Nuggets and Avalanche finished six games ahead of the runnerup, Long Island (Nets and Islanders) in the regular season.
Denver was one of only five markets that had both the NBA and NHL teams in the playoffs. The other four: Washington (Wizards and Capitals), Boston (Celtics and Bruins), Miami (Heat and Panthers), and Long Island.
Only Denver and Long Island had both teams in the second round.
Now, the Nets are tied 2-2 in their second-round series against Milwaukee. The surprising Islanders have won two series and advanced to the Stanley Cup semifinals against Tampa Bay. They even won the opener 2-1 behind former Avalanche goalie Semyon Varlamov.
So even going by only what's happened so far, Long Island will be the playoff champion from my Group of 16 tandem-team markets. If the Nets go on to get past the Bucks after the homecourt held up the first four games (sound familiar?), the gap between No. 1 (Long Island) and No. 2 will be considerable.
So was the Avalanche and Nuggets' combined showings in the postseason fair game for criticism?
Absolutely.
But any stand that refuses to give both teams credit for what they did accomplish -- individually and in tandem -- shouldn't be taken seriously.
1, #DENVER 86-42
Nuggets 47-25, W, L
Avalanche 39-17, W, L
2, LONG ISLAND 80-48
Nets 48-24, W, *
Islanders 32-24, W, W, *
3, MIAMI 77-51
Heat 40-32, L
Panthers 37-19, L
4, PHOENIX 75-53
Suns 51-21, W, *
Coyotes 24-32
5, #PHILADELPHIA 74-54
76ers 49-23, W, *
Flyers 25-31
6, #WASHINGTON 70-58
Wizards 34-38, L
Capitals 36-20, L
7, #BOSTON 69-59
Celtics 36-23, L
Bruins 33-23, W, L
8, #NEW YORK 68-60
Knicks 41-31, L
Rangers 27-29
9, #DALLAS 65-63
Mavericks 42-30, L
Stars 23-33
10, SOUTHERN CALIFORNIA 64-64
Clippers 47-25, W, *
Ducks 17-39
11, #LOS ANGELES 63-65
Lakers 42-30, L
Kings 21-35
12, #TORONTO 62-66
Raptors 27-45
Maple Leafs 35-21, L
13, SAN FRANCISO BAY 60-68
Warriors 39-33
Sharks 21-35
14, MINNEAPOLIS-ST. PAUL 56-70
Timberwolves 23-49
Wild 35-21, L
15, #CHICAGO 55-73
Bulls 31-41
Blackhawks 24-32
16, #DETROIT 39-89
Pistons 20-52
Red Wings 19-37
NOTES:
-- Because the NBA played 72 games, the NHL 56, this gives slightly more weight to NBA standings. But not so much to create misleading win totals. If you want to multiply the NHL reconds by the appropriate co-efficient (1.28) and retotal, be my guest.
-- This treats the NHL's overtime and shootout losses simply as losses. For example, the Avalanche's 39-13-4 record becomes 39-17 here.
-- "W" following a team's record is a playoff series win, "L" is a playoff series loss, * is a playoff series still in progress.
-- I admit I've done some creative alignment to have two-team pairings in markets, most notably with the Clippers and Ducks as Southern California, leaving the Lakers and Kings as Los Angeles.
-- "#" means the two teams play in the same arena.