In the wake of the Boulder murders, take a look at this, then I'll be back to you.
So I favor and argue for having that "media protocol" at hand as a reference. Not as something that must be inflexibly followed, but as something to keep in mind, to consider, to give weight to as decisions are made. Decisions about approach, emphasis and play. But I'll add that this should be more than a media issue. We, as a public, face similar challenges. Do we salute the victims more than we fixate on the killers?
When I helped Columbine's Boy in the Window, Patrick Ireland, and former Columbine Principal Frank DeAngelis (They Call Me 'Mr. De': The Story of Columbine's Heart, Resilience, and Recovery) with their book projects, we wrestled with whether to use the killers' names. In the infamous, since-destroyed Basement Tapes, the taunting killers made it clear they wanted fame, even immortality, and that was a significant part of their motivation.
And we -- I can say "we," because I was working for a newspaper at the time -- played right into their hands.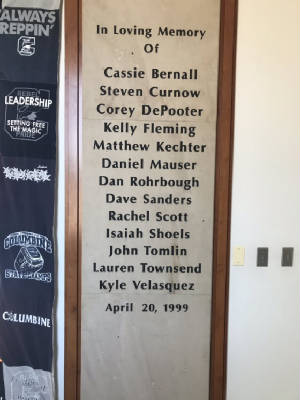 The fixation was on the killers and their warped motives, even in the mainstream media. Also, though, in the rush to be the first in the scrambling, anything-goes early days of internet sites and reporting, many of the early details were incorrect.
Remember the Trenchcoat Mafia?
It also must be said that many "new" journalists for online outlets did some of the best reporting.
The flaw, though, was that offensive emphasis on the killers.
Don't think so?
Let me ask you this. Are you more familiar with the names of the the Columbine killers than the names shown at left -- those of the murdered?
That's what I thought.
In both book projects, Patrick and I, and Frank and I played with labeling the killers with pseudonyms or numbers, but decided that didn't work, either. We settled on using their names as infrequently as possible. We used them only when absolutely necessary. Keep in mind one of the punks shot Patrick in the head twice and once in the foot with a sawed-off shotgun, and that killer's mother ended up with a book deal.
Without sitting down and gathering the data, my impression was that the media did a much better job of trying to find that balance in coverage of the Aurora theater shootings. Some of it was a response to shifting public preferences, but I'm convinced some of it was due to media self-evaluation. Thirteen years after Columbine, veterans had learned and new entrants to the field since read the public mood.
I can't even come up with the killer's name.
The Aurora theater shooting victims: