A week ago, I wrote my Monday column about remarkable long-time Greeley resident Edna Middlemas, who was awarded the Bronze Star for her service as a member of the Women's Army Corps during World War II. Middlemas was a graduate of what now are Greeley Central High and the University of Northern Colorado before she enlisted.
This Monday column is Part 2, and it's about about another woman from the Greeley area who made meaningful impact as a member of the U.S. armed forces.
Like Middlemas, Carol A. Mutter was raised in the area — as Carol Schneider, she was a 1963 Eaton High graduate — before obtaining a bachelor's degree in mathematics education from UNC.
When she enlisted in the Marine Corps and in 1967 went to Officer Candidate School, the law of the land was women couldn't be generals or admirals.
"There was only one female colonel," she told me the other day during a phone conversation from her home in Indianapolis. "The highest rank I could aspire to was lieutenant colonel. But I was actually thinking I would stay in for three years and then go into teaching. But I found I was enjoying what I was doing and it was worthwhile."
She never became a high school math teacher.
When she retired from the Marines on Jan. 1, 1999, she was a lieutenant general.
In 1996, she became the first woman in the history of the U.S. military to be nominated to a three-star rank and the first women promoted to a three-star general rank. The phrasing always is careful because the promotion of a Navy woman officer nominated to the three-star rank of vice admiral after Mutter was nominated for three stars went through first. Mutter's appointment officially came from President Bill Clinton and was confirmed by the U.S. Senate, and at the time, there were 107 male three-star officers in the U.S. armed forces.
To say she was a trailblazer underestimates her impact.
Saturday night at the DoubleTree Hotel, Mutter, 72, will be the keynote speaker at the Union Colony Marine Corps League's 243rd Birthday Ball, commemorating the Marine Corps' Nov. 10, 1775, founding in Philadelphia.
Veteran's Day is the next day and the national holiday will be observed Monday.
"Especially for Veteran's Day and the Marine Corps' birthday, I think it's important for people to know that their military is doing very well," Mutter said. "We are better than ever. We are getting young people in that are amazing, that can do just about anything. We're getting the money and the equipment, and providing them with the equipment they need to do what they need to do, and what the country asks. My message is you can be proud of your military today."
After her retirement, Mutter was one of the speakers at the 2008 Republican National Convention, 90 minutes before former Navy flyer and long-time Vietnam War prisoner of war John McCain formally accepted the party's presidential nomination at the Xcel Energy Center in St. Paul. In her three-and-a-half minute speech, she summarized her credentials; praised McCain ("the next president of the United States); asked for support for a scholarship program to honor Marine public affairs officer Megan McClung, killed in Iraq in 2006; and outlined what she believed to be challenges facing the next president as commander in chief.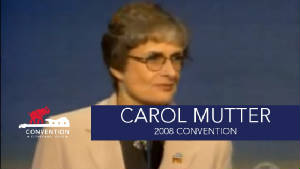 Watch Lt. Gen. Carol Mutter's speech at the 2008 Republican National Convention
Ten years after his general election loss to Barack Obama, McCain died of brain cancer Aug. 25.
"I really didn't have a personal connection to him," Mutter said. "But I certainly had a lot of respect for what he went through and how he handled it when he went through it. He was a true patriot and it's very tough to see somebody slowly go like that with cancer. . . I think he would have been a great president."
When Mutter joined the Marines following her UNC graduation, women made up less than 2 percent of the Corps.
Today, that number is up to 7.9 percent, and Mutter was at the leading edge.
"It's not a prideful thing for me as much as it's more of an opportunity to make sure I use that status for the betterment of the Marine Corps, the military and the people in it, especially for women," she said. "I don't think anybody could have predicted what happened. You just never know. In fact, when I speak to graduating classes, I tell them if 20 years from now, you're doing what you think you're going to be doing, you're going to be among a very small minority."
Mutter's three decades of duty took her around the world, in a variety of duties, including as an instructor for other women officer candidates and later as a comptroller and financial management officer.
Among her postings were those at Quantico, Va., Camp Pendleton in California, on Okinawa and at the U.S. Space Command in Colorado Springs. On Okinawa, she assumed a major deployable tactical command, of the 3d Force Service Support Group. At Colorado Springs, she was the first woman Space Director and then also a Division chief.
She became a brigadier general in 1991 and a major general in 1994 before her historic elevation to lieutenant general, that three-star rank. After that promotion, she was in charge of the Marine Corps' manpower planning and policy.
"I was never bored," she said. "I loved to learn and I was able to learn every place I went. There was always something new."
It helped that her husband, James, also was a Marine officer. Ultimately a colonel, he worked in aviation command and control.
"I think it was easier because he understood," Carol Mutter said. "He knew the demands on your time and all of that. I think it's harder for civilians to understand the commitments you have, the obligations that your feel in the Marine Corps for the job, and the people you're working with under your command."
The Mutters have lived in Indiana in retirement and Carol has done considerable volunteer work for veterans groups and organizations.
"That's very fulfilling," she said. "I think I get more out of it than I give. You can work a lot of hours when you work for free."
In 2017, she was inducted into the National Women's Hall of Fame in Seneca Falls, N.Y.
Mutter occasionally has returned to the Greeley area, most recently for an aunt's funeral last spring.
"I grew up in that area, so it's very special to me," she said. "I love to go back to Colorado."
Then she laughed.
"Things have changed tremendously there," she said. "I can't always find my way around and get to the places I could find before."