It's almost reminiscent of when famed director Alfred Hitchcock gave himself brief cameo non-speaking roles in his movies and it was your job, as a viewer, to spot him. If you blinked, you missed him, and there were no rewind or reverse functions on a remote to use in the search.
North Colorado Medical Center nurse Beth Meglin was pictured in pool shots from media photographers as the Greeley resident stood among U.S. Supreme Court justices and close to members of Congress in the Capitol Rotunda on Monday evening, Dec. 3. Initially, they awaited the arrival of the body of former President George H.W. Bush to lie in state, in advance of his funeral two days later at the Washington National Cathedral.
Meglin, 56, was within a few feet of the two newest Supreme Court justices, Colorado native Neil Gorsuch and Brett Kavanaugh, and also near U.S. Sen. Cory Gardner, R-Colo. "That was my little head, standing behind the Supreme Court," Meglin told me recently when we chatted in an NCMC office.
After the former president's family and the casket arrived, a service of slightly more than one hour commenced. Attendees stood several deep along the Rotunda wall, encircling the flag-draped casket and military honor guard. Governors, former Cabinet officials and Navy admirals also were among those honoring the former World War II Navy pilot. The public viewing of Bush's casket began that night, shortly after the service, with those wishing to salute Bush waiting in line and filing through the Rotunda around the clock until the body was transported on Wednesday morning to the National Cathedral for the funeral.
So when Bush's casket arrived, why was a Greeley nurse there?
The Washington work was part of Meglin's side gig, serving as a member of a national disaster medical service team through the U.S. Department of Health and Human Services.
At the Bush funeral week in Washington, Meglin's six-person team was part of a deployment of 60, a mix of nurses, nurse practitioners, paramedics and physicians.
Meglin and other members of the program are on call three months a year. They are immediately summonable to areas coping with natural disasters or to be on site of national-oriented events expected to draw huge crowds. The parameters also are flexible. If an individual on a medical service team isn't officially on call, he or she still could be summoned if something calls for their specific medical skill sets. For a lot of reasons, the team members' regular hospitals are cooperative with the program.
Meglin is certified both as a burn nurse and a critical care nurse. In her first few years in the national disaster medical service team program, she intermittently was on call, but wasn't summoned. Then the system was tweaked to bring specialities more into play, and she has been called on three times in a little over a year. She was deployed to Puerto Rico in late 2017 following Hurricane Maria; to Charlotte, N.C. after Hurricane Florence late in the summer of 2018; and then to Washington last month.
The summons to the Bush funeral week gave her 12 hours notice to get to the nation's capital … and the Capitol.
She made it on time.
For three days of 15-hour shifts, her six-person team was stationed in the Capitol building. Rather than their usual khaki-type uniforms, which would have made them stand out, they were ordered to wear dark business suits.
"We were in the Rotunda or in the office of the attending physician, which was fun because I never know there was an office of the attending physician," Meglin said. "I got the day shift, which was pretty cool because we got to see more people."
The Rotunda ceremony was moving. One of the pool pictures showed Meglin in the background as Bush's son, former President George W. Bush, and his wife, Laura, walked away from the casket as they were the first to exit after the ceremony. In another photo, she is in the background as the eight Supreme Court justices present — minus the ill Ruth Bader Ginsburg, who later underwent cancer surgery on Dec. 21 — paid their respects at the casket.
"It was amazing to think that you were standing so close to people," Meglin said. "As you come into the Rotunda, there are four entrances into that circular room. We were standing near one of the entrances, and we have to be standing there about an hour and a half before the service. When we started, it was pretty empty. We got to watch everybody walk in. I had no idea that everyone would stand through the entire service. You think of the Rotunda being so big, but there were so many people, everybody stood. Everybody was in there a solid 25 or 30 minutes before the Bushes came."
There was a minor medical crisis when a woman suffered an asthma attack.
The team took her to the nearby private conference room of Sen. Chuck Schumer, D-N.Y., the Senate minority leader.
"So this poor person is getting a breathing treatment and we're all looking around going, 'Oh. my goodness, this has to be a room that nobody gets into.' His family's coats were draped over the chairs."
Within a few minutes, Meglin returned to the Rotunda. And within a few days, she was back in Greeley, on duty at NCMC. She has worked at the Greeley hospital since 2006, and now she also is entering her final semester before obtaining her Master's degree from Regis University online.
She recently started new duties as community outreach coordinator at the NCMC's Western States Burn Center.
"The hospital has been really good," she said. "I need to keep up my skills, so they've been agreeing that I can still work a few shifts on the floor. My boss came by today and said, 'Hey, we may need to put you on the floor.' I said, 'OK.' I love taking care of patients."
Amid all that, she'll do what amounts to an internship with Margot Karsten, president of Banner Health's Western Region and Northern Colorado CEO. And, finally, Meglin also is heading to Florida International University on Jan. 27 for five days of air medical transport training, to become certified in critical care in the air.
That's a full schedule.
Meglin and her husband, Werner, have four children, and the youngest, Matthew, is a sophomore at Greeley Central.
Meglin's involvement with the federal program dates back to when NCMC burn surgeon Cleon Goodwin said the call had gone out for burn nurses, and he recommended Meglin and two others. She began the very thorough vetting process at the American Burn Association Conference at Seattle in 2010, and was the only one of the three to stick with it and join the program.
After Hurricane Maria, Meglin was part of the teams that set up in a Ponce, Puerto Rico arena, Auditorio Juan Pachin Vicens. There, they used a generator to power the medical equipment of patients on such things as oxygen and CPAP machines. "They should have been in a nursing home, but they'd all been destroyed," Meglin said.
Her deployment to Charlotte after Hurricane Florence was uneventful because the major problems involved displacement, not physical issues.
Then came the call to the Bush funeral week.
"It was such an honor," Meglin said. "It sounds so trite, but it was just amazing and I felt lucky to go to get to the funeral of a president that I really respected. I don't mean we don't respect all of our presidents, but there are certain ones I would have preferred to have the option to go to."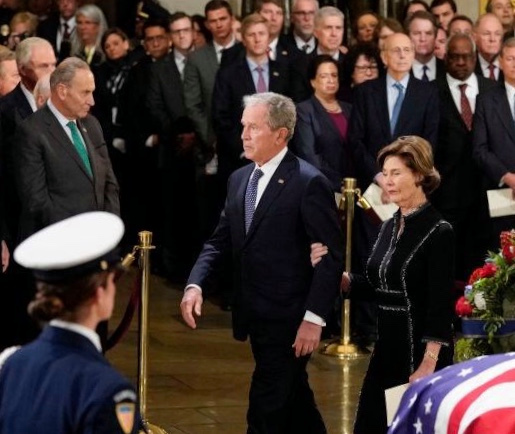 Silver-haired Greeley nurse Beth Meglin is at the top left of both these photos. Top photo, as George W. Bush and his wife, Laura, leave the casket of George H.W. Bush in the Capitol Rotunda. Bottom photo, as the Supreme Court justices pay their respects. (Associated Press/pool photos.)