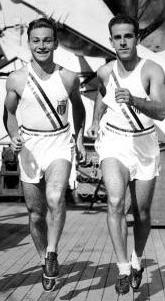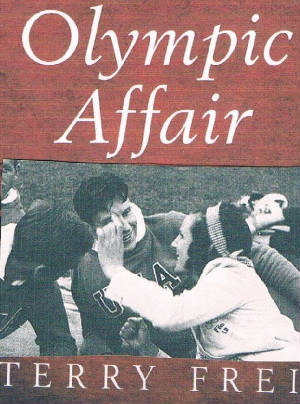 (Marty Glickman, Sam Stoller on SS Manhattan on way to Germany)

I finally was able to watch the HBO documentary on Marty Glickman, a major figure in my novel Olympic Affair: Hitler's Siren and America's Hero, last night.
Glickman, destined for a career as one of the best play-by-play sportscasters of all time, and fellow Jewish sprinter Sam Stoller were frozen off the U.S. 400-meter relay team at the 1936 Berlin Olympics, coincidentally leading to Jesse Owens adding to his gold-medal collection with his fourth. As I write in my book, there is no doubt in my mind that U.S. Olympic Committee czar Avery Brundage and others conspired to keep Glickman and Stoller off the relay team to avoid "embarrassing" the Games' German hosts — including Adolf Hitler. The documentary addresses that and reaches the same conclusion.
As I had been promised, it is a superb and revealing portrait of one of a trailblazing — in more ways than one — sportscaster who was especially influential within his craft. Writer, director, and producer James L. Freedman did terrific work here. Time after time, I'd catch myself marveling and congratulating Freedman for his doggedness and ingenuity because I'm assuming nobody dropped a box of old films and material on his front porch one morning. I also appreciated and identified with how well he was able to cope with the fact that Glickman died in 2001. He was able to use footage of earlier Glickman interviews, and while I suspect he was wishing that he had been able to do this much sooner, while Glickman was alive, and do "new" interviews himself, it's not jarring or ruinous. I can identify with Freedman in the sense that I suspect angst in having to bring America this story a decade after Glickman's death — and not while he still was alive — was part of the motivation every day.
"Glickman" is superb, and for many, it was or is going to be revelation about a figure they has seen or listened to growing up. But this doesn't need to be only for those old enough to have that reason. It's a history lesson — a very relevant one — also.
Here are passages from the first half of my book, which revolves around U.S. decathlon champion Glenn Morris' passionate, yet ultimately toxic and contaminating, affair with the disgusting, opportunistic and manipulative German actress, propagandist and filmmaker Leni Riefenstahl.

Morris was from tiny Simla, Colorado, and was a former football star and student body president at the school now known as Colorado State. Later narrative material documents Glickman and Stoller's shameful exclusion from the relay team.
They had not "qualified" for the 100 or 200 -- even that involved a bit of controversy, as noted below -- but went to Berlin as alternates and were expected to be on the relay team, if the usual protocol was followed. It wasn't.
A few background notes: At a farewell dinner the night before departure, a Broadway producer had told Morris to win the gold medal and then use it to make a very derisive gesture to Hitler.
The Hotel Lincoln now is the Milford Plaza. [In 2021, after another change, it is The Row Hotel.] And "Badgers" was the derisive term the athletes had for Olympic Committee functionaries.

FROM CHAPTER FIVE: BON VOYAGE

In the middle of the Hotel Lincoln lobby, the pot-bellied small-time lawyer in an ill-fitting American Olympic Committee blazer bellowed through a megaphone. Sweat dripped down the Badger's face despite the early-morning
hour.

"Gentlemen . . . and ladies! Have your Olympic identification card out. Show it when you get on a bus, so we can check you off. From here on out, you have to assume nobody's going to recognize you or take your word for who you are! That's everywhere, but also, if Mr. Hitler is around, the more likely they'll be to react and ask questions later. So when men in strange uniforms tell you where to go or where not to go, do what they say."

Glenn thought of the Broadway producer's suggestion the night before and smiled. Then, looking at the Badger in his funny suit, he laughed. An elbow dug sharply into his ribs. Next to Glenn, his eyes narrowed by fury, was the spunky Jewish sprinter from New York City. Barely out of high school.Looks more like one of these corner newsboys hawking New York papers than an athlete. Glickman. Marty Glickman.

"What's the idea, Marty?"

"You think that's funny?"
"Think
what's
funny?"

"The Nazis' bullshit."

"Hold on," Glenn said, pointing at the Badger. "I was just thinking about him warning us to put up with a bunch of guys in funny uniforms over there. That's all we've been doing for the past two days here!"
Not wanting to sound too cocky, Glenn didn't bring up the producer's
suggestion for what to do after winning the gold medal.
"Do you even
know
what the Nuremberg Laws are?" Glickman asked
sharply.

"Absolutely," Glenn said.

"You're comparing the Nazis and some guys telling us to get in line to pick up a handbook?"

"You're reading too much into this," Glenn said. "Way too much."

Jack Torrance, the huge shot-putter beloved as "Baby Jack" and "Baby Elephant," stepped between them. Glickman needed to stand on his toes and lean to the side to even see the six-foot-two Morris; and that made, first, the decathlete, and then the sprinter, laugh. If anything was going to foil Torrance in Berlin, it was that the world record-holder and former football player at Louisiana State University had gotten fat and flabby after leaving college while serving as a Baton Rouge policeman. The rumor was the scales at the physicals couldn't even handle him, and that he was up to at least 325 pounds.

"Now boys," Torrance drawled. "Need I remind you we're all on the same team from here on?"

"Honest, Marty," Glenn said, "I didn't mean anything by it . . . except against the Badgers."

Shaking his head, Glickman said, "Sorry. I guess all this has me a little on edge. I'm going to the Olympics, but it doesn't feel right. I'm starting to wonder if Brundage insisted we go over there just so he could hug Hitler and tell him what fine ideas he has."

"I understand, Marty," Glenn said. "Or at least I'm trying to."

"Good," Torrance said. "Now shake hands . . . or no more throwing lessons for you, Morris, and I'll accidentally drop a shot put on your toes, Glickman, about the time we're passing Greenland."

Torrance stepped aside, letting them shake hands, and then said, "So we're square? From here on out, it's all red, white, and blue, one for all, and all for one."
Glenn felt old, telling himself:
When I was Marty's age, "the world" was the globe in the corner of Old Man DeWitt's history room at the high school . . . and I didn't know much about it.

FROM CHAPTER SIX: ONBOARD BONDING

They all ran a few sprints, and at one point, Marty Glickman waited for
Glenn and asked if he could talk to him privately.
Over here
, he gestured.

"First off," Glickman said, "I'm going to play football at Syracuse, so I identify with you."

"Thanks," Glenn said.

"The other thing you should know . . . well, you were at the Trials, weren't you?"

Glenn nodded.

Glickman continued, "So you know, I'm looking over my shoulder a bit here, too. We ran that 100-meter final and they told me I was third—behind Owens and Metcalfe. So I'm being interviewed on the radio, and they're saying I'm the boy who's going to be running with them in the 100 meters in Berlin, and while I'm talking, the judges come and tell me I've been bumped down to fourth behind Frank Wykoff . . . and then they say I was fifth, behind Foy Draper, too. So I've gone from running in the 100 at the Olympics with Jesse and Ralph to just being on the team and hoping we stick to the way it's been done in the past so I have a spot in the sprint relay. The two guys they suddenly placed ahead of me in the 100 run for Cromwell at USC. So . . ."

Dean Cromwell of USC was the American team's assistant coach, nominally in charge of the sprinters.
"How do they pick the relay?" Glenn asked.

"It's always been that the top three from the trials run the 100, and then the next four run the relay. So if they stick to that, it should be Foy Draper, me, Stoller, and Mack Robinson. But there are no real rules, so I'm at their mercy now. Mack doesn't care all that much because he's running in the 200, but for me and Stoller, the relay's our only chance. Writers already are saying the coaches are telling 'em nothing will be decided until we're in Berlin. Maybe not until the last minute."

Glenn was incredulous. "How could they take you and not let you run?"

"They might. They said we'd at least run in the exhibitions over there after the Olympics. And . . ."

Glickman suddenly was a bit self-conscious.

"What else were you going to say?" Glenn asked.

"Well . . . look, we've talked about this, but the Germans would prefer there aren't any Jews competing at all. The Badgers know that, too. I'm not saying they'll screw us because of that, but I'm wondering. We'll just see what happens." He paused, and then added, "Come on, let's run."
FROM CHAPTER EIGHTEEN: OPENING GAMBITS


As the athletes waited on the May Field next to the Olympic Stadium, Glenn noticed but didn't at first
feel a light rain again falling. He thought:
These hats are good for something.

"Get a load of that!" Walter Wood called out, pointing beyond the Bell Tower to the Glockenturm Plaza.

Armed Germans in various uniforms had gathered. Cars pulled up in the plaza, and one large limousine arrived at the foot of the Bell Tower. Adolf Hitler emerged from the back seat. Scattered shouts of greetings came from the few German civilians allowed in the area. Glenn was surprised at how quiet it was otherwise. Hitler, wearing a brown uniform and high black boots, returned the Nazi salute to an honor guard. Then he moved on to greet three men, and Glenn recognized two of them from the Americans' welcoming ceremonies — the chubby mayor of Berlin and Dr. Theodor Lewald of the German Olympic Organizing Committee. Lewald and the third man — Glenn assumed he was an Olympic official, too — wore long coats, high collars, and medallions draped around their necks on chains.

Soldiers filed down the corridor on the May Field, showily looking side to side as Hitler and his entourage followed. Hitler's group was perhaps seventy-five men—military officers, Olympic officials, and other functionaries.

Glenn inched up, so close to Hitler's pathway that the soldiers brushed him. Then he saw Leni, squeezed onto the flatbed cart behind her cameraman, who was angled to catch the reaction of the athletes to Hitler. As she approached Glenn's vantage point, she spotted him. Their eyes met. As the cart went by, with her poised behind cameraman Walter Frentz, she gave him the start, the barest hint, of a smile. For a moment, Hitler was no more than ten feet away.

Marty Glickman ended up at Glenn's shoulder. He shook his head in wonderment. "Can you believe how close we were? Somebody could have. . ."

He left it there.

The looks they exchanged confirmed they both knew Marty wasn't talking about getting an autograph.

As Hitler moved on, he didn't look to either side, despite scattered cries from among the athletes. Mostly, it remained eerily quiet.

Soon, though, the roar announced: The Führer had entered the stadium.