Leann Krayenhagen
and the many heroes
who saved her life
April 28, 2018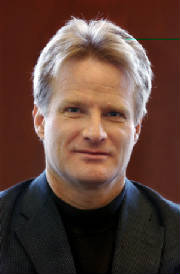 Terry Frei
Scot and Leann Krayenhagen (Joshua Polson photo)
Along Colorado State Highway 14 in the Poudre Canyon in June 2017, Scot Krayenhagen helped load his wife into the ambulance.
Then he kissed her good-bye.
Leann Krayenhagen's right leg was nearly severed just below the knee. The Harley Davidson motorcycle she was riding had collided with a truck.
Shaken, Scot closed the ambulance door.
"I thought that was the last I was going to see her," Scot recalled emotionally.
Leann's hopes of survival primarily depended on whether makeshift treatment on the scene of the crash slowed her bleeding fast enough.
Nearly a year after the crash, Scot helped Leann, using crutches and her prosthetic right leg, through the doors and into a Windsor coffee shop to meet me. It was a struggle and tiring for her.
Yet she had lived to talk about the ordeal.
Leann also knows that others who suffer potentially fatal injuries can't count on having the planets align, as they did in her case, to help them avoid bleeding to death. She makes appearances in connection with UCHealth's promotion of the national Stop the Bleed campaign, which encourages and trains members of the public to provide emergency care of the critically injured by applying pressure and with makeshift tourniquets. Blood loss is a leading cause of death from injury.
"If you write this as a story," she told me, "people will say, 'That's unrealistic.' "
I couldn't make this up.
Leann was a nurse anesthetist with Northern Colorado Anesthesia Professionals, first as Leann Coenen and then as Leann Krayenhagen after she married Scot, a widower and retired broadcast television engineer, in 2015. The NCAP provides anesthesia services to several surgery centers along the Front Range, including at UCHealth Medical Center of the Rockies in Loveland.
That Saturday, the plan was to take a group motorcycle ride to Steamboat Springs and celebrate the birthday of Leann's friend Mary Jo O'Connell. The Krayenhagens left from their home in Severance. After joining their friends and beginning their group ride, they settled into a pack. O'Connell's husband, Steve Johnson, led. Then came Scot Krayenhagen, with the Krayerhagens' friend, Rhonda Van Loh, on the seat behind him.
Leann and Mary Jo motored up the rear.
Approaching Milepost 85 on Colo. 14, they passed a campground, and Leann honked to get Mary Jo's attention and pointed. They both smiled. Mary Jo had put on Leann's bachelorette party at the campground two years earlier.
As they entered a curve, Leann lifted her right hand to point out a deer.
She drifted left, crossing the center line. A tree service pickup truck coming the other way was pulling a trailer carrying logs.
The driver swerved, attempting to miss Leann. Leann tried to adjust.
They almost pulled it off.
The truck clipped her right leg and part of the bike.
The bike went under the truck. Leann flew off it, past a signpost and a tree with big overhanging branches and landed in a ditch about 20 feet off the road. She was between two rocks on a slight incline, with her legs higher than her head.
Seconds after the bikes driven by Steve and Scot had encountered the truck coming in their direction, they ­— and Rhonda, Scot's rider — heard a loud bang. The truck must have blown a tire, Scot thought. He stopped and pulled over, but because of the curve behind them, he and the others couldn't see Leann or Mary Jo. He surmised they must have stopped to help the truck driver.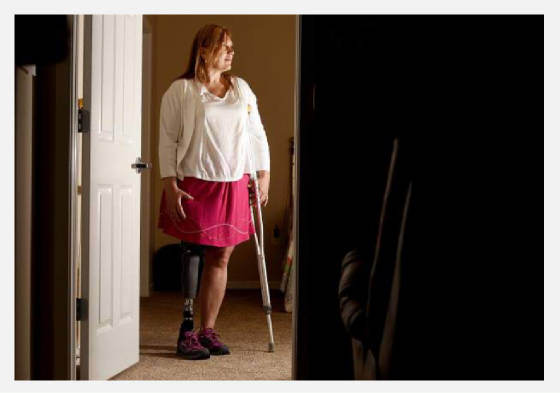 Leann Krayehhagen at her father's home in Windsor. (Joshua Polson photo.)
Scot hit the push-to-talk button hooked up to the two-way radios. No answer from his wife.
Mary Jo got to Leann. Horrified by what she saw, Mary Jo repeatedly pressed the push-to-talk button on Leann, hoping to alert Scot that something was wrong. Scot heard repeated clicks. He started back down the highway. Cars already were stopped in both directions. He drove down the center line. Coming around the corner, he saw Mary Jo's bike on the side of the road. Still thinking the truck had blown a tire and gone off the road, and his wife and her friend stopped to help, he scanned the area. As he cleared the line of cars, he spotted Leann's damaged bike at the edge of the road.
He pulled over and walked toward the bike.
A woman bystander reached out and grabbed his helmet and sunglasses as he took them off.
A man — to this day, Scot doesn't know his name — took his hand, gestured at the ditch and said his wife was down there. He told Scot he needed to remain calm when he saw her and reassure her. He also told him not to look at her leg.
The man led Scot down the rocks to Leann. Her leg was mangled. Mary Jo was holding her head.
Scot bent down, held Leann's hand, said a prayer and asked Mary Jo what had happened.
"Deer," she told Scot. That's all.
This was only about five minutes after the crash. Incredibly, two men already were there, taking emergency medical measures. They, with the help of Mary Jo, a former operating room technician, already had applied pressure to the femoral artery and put on a makeshift tourniquet, slowing — not stopping — the horrific bleeding. Scot, in shock, wondered where they came from, marveling that they seemed to know what they were doing.
They were Gabe Green and Ben Irvine.
Gabe is a doctor with Emergency Physicians of the Rockies. He was in an SUV right behind the truck, returning from Steamboat Springs with his wife, Corey, and children, Elizabeth, then 8, and Ryder, 6.
Yes, an emergency room physician just happened to be driving through the canyon, right behind the truck involved, at the time of the crash.
Gabe had been hoping to get his family to their Fort Collins home soon enough for him to be on time for his 4 p.m. shift at UCHealth's Emergency and Surgery Center in Greeley.
Horrified as he watched the crash, Gabe pulled over. As he jumped out, he told Corey to push the SOS button on their new in-car gadget — a Garmin Delorme InReach Explorer Satellite Communicator with Navigation — which alerted an international emergency response center.
Gabe ran down to Leann. He noted the mangled leg and the blood. Flowing blood. All over. He quickly checked her for other trauma and realized the focus needed to be on the leg. To save Leann, they had to stop or at least slow the bleeding.
Moments later, Ben Irvine arrived. He was an ICU trauma nurse. Joining Gabe, Ben quickly reintroduced himself to the physician he had worked with occasionally.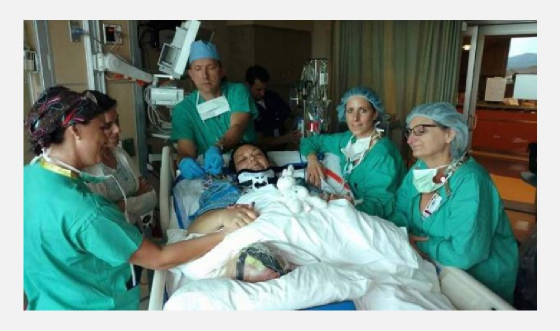 Leann Krayenhagen found herself among friends and co-workers as she was in the ICU unit at UCHealth's Medical Center of the Rockies following her accident and surgery. (Scot Krayenhagen photo)
Yes, a trauma nurse also just happened to be driving through the canyon and was near the crash.
Gabe told Ben they would need to tie the leg off. They needed a tourniquet. Ben scrambled back to his car and grabbed a long exercise band from his girlfriend's exercise gear bag. That became the tourniquet and after Gabe applied it, twisting it tight with a tree branch, Leann's bleeding indeed slowed. A few more minutes without the tourniquet? She would have died.
Leann had worked with both Gabe and Ben. Gabe was asking questions, taking charge, trying to keep Leann and Scot calm and keep Leann talking as he continued to assess. Ben and Mary Jo continued to alternate putting pressure on the femoral artery.
"I know you," Leann said at one point. "What are you guys doing here?"
What they were doing was trying to save Leann's life.
Leann told them they needed to take her boot off because her right foot felt so tight. She asked what had happened.
Although there was no cellphone service in the area, additional help was in the works. The truck driver told Corey Green of a call box about two miles down the road, and she and the kids set off for it in the SUV. As they sped along, the international call center tracked what was going on and texted Corey, noting she was moving at a high rate of speed and asking if she was all right.
She reached the call box and reported the crash to Larimer County dispatch, passing along Gabe's request to send a helicopter ambulance. Then she returned the text to the international call center and said she and her family were OK, but said there had been a serious accident where she had originally pushed the SOS button and help was needed. The call center personnel contacted Larimer County responders, providing coordinates and the need for help.
With the multiple help requests in the pipeline, an ambulance from the volunteer Poudre Canyon Fire Protection District arrived within about 15 minutes of the crash.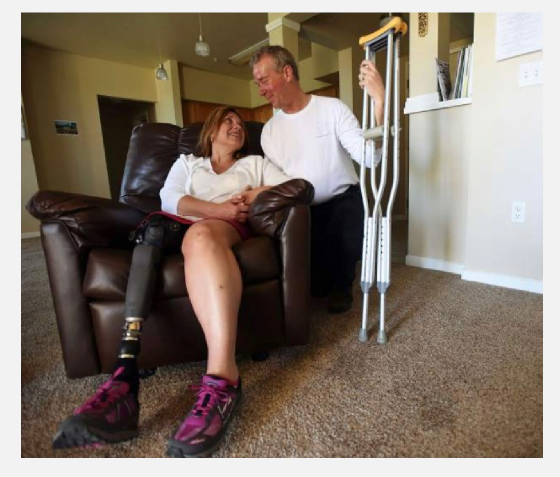 Leann and Scot Krayenhagen. (Joshua Polson photo)
Shortly after the ambulance arrived, UCHealth's LifeLine helicopter, piloted by Mike Tucker, roared overhead and landed as close as possible, at the Poudre River Fish Hatchery about three miles away.
The helicopter already had been in the area, over nearby Rist Canyon on an aborted mission.
A volunteer fireman who answered the summons in his own SUV drove up to the Fish Hatchery and brought two of the LifeLine nurses, Greg Clark and Nate Hinze, down to the site. They quickly got two IVs in Leann and started flooding her with fluids. She was loaded on a stretcher and carried up the embankment, and that's when Scot helped load Leann in the ambulance, which took her to the helicopter.
Scot headed for the Loveland hospital, dreading the possible news when he arrived.
Gabe Green resumed the drive home with his family.
On the helicopter, Leann said, "I think I'm going to die."
The crew reassured her. Yet they knew she might be right.
At the Medical Center of the Rockies, medical professionals on duty got word that LifeLine was on the way with a seriously injured crash victim. One of the waiting professionals was a doctor, Jim Derrisaw, working that day because, as a favor, he had traded shifts with Leann.
Derrisaw, as he rarely did, went to the rooftop helicopter pad.
He was shocked when he saw the possibly mortally wounded patient was the woman who asked him to switch shifts. Leann Krayenhagen hadn't made it to Steamboat Springs.
She was still talking, though not completely coherently.
"Hey, Jim," she said.
Several times, she asked, "Is the deer OK?"
By the time she reached the emergency room, she was unresponsive. The crew gave her four units of blood, and she became more alert. She again was checked for possible additional injuries that could complicate the response. Within 13 minutes of her arrival, she was wheeled into the operating room.
There, she was among many of her colleagues. She had worked in that room.
"OK, kiddo, we'll put you off to sleep," Derrisaw said.
Leann asked if he would say a prayer with her. He grabbed her hand, said a brief prayer and helped put her under.
When Scot arrived at the hospital, he was told to go to the second-floor waiting room. He feared what he was about to be told.
Surgeon Riley Hale came in. He was somber. He told Scot he had bad news.
They hadn't been able to save Leann's leg.
"You're telling me she's still alive?" asked the man who lost his first wife to cancer.
"Yes," Hale said.
"Thank the Lord," Scot said.
Gabe Green, by then on duty at the emergency room in Greeley, called the Loveland hospital to check on Leann.
He was heartened to hear she had made it.
The next day, his shift was at the Medical Center of the Rockies and he visited her in the ICU.
Her nurse was Ben Irvine.
Leann underwent seven surgeries, with doctors taking more of her leg each time until the effective amputation was from above her knee.
She was in the hospital for five weeks, then in a rehabilitation facility for three more.
She went home July 8.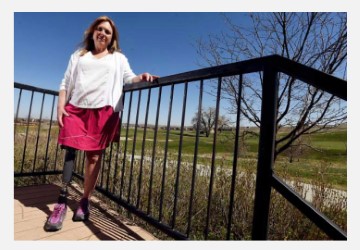 Leann Krayenhagen outside her father's home in Windsor. (Joshua Polson photo)
Becoming accustomed to the prosthetic leg has been a struggle. She was physically active before the accident, and that has helped. The goal is to go back to work.
"It's on the radar," she said. "I was pretty big on it initially, but now we'll see. Things are a little bit harder than I thought they would be."
Her willingness to make appearances promoting the Stop the Bleed movement is based on the realization that not all can be as lucky as she was, that lives might depend on the poise and willingness of non-medical personnel of to jump in with emergency measures to stop or control bleeding in advance of the professionals' arrival.
"I went to the course," Scot said. "They teach you how to pack a wound, how to shove gauze or a shirt or whatever in there and put pressure on."
He noted that tourniquet kits often are available at outdoors stores.
You can't count on a doctor being in the next car.