March 22, 2021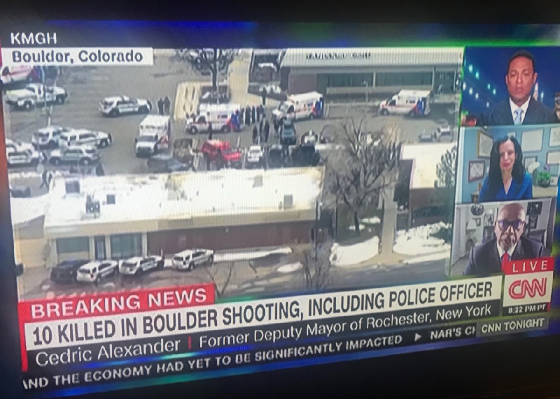 It happened again.
Each time it happens again, the story starts: It happened again.
The uproar follows.
We have to try to keep it from happening again.
We do nothing. Unless you're willing to claim tweaks in gun control laws -- and there have been some -- as truly long-range, impactful accomplishments getting to the heart of the problem.
They really aren't.
It happens again. School shootings or other mass killings.
Orlando ... Las Vegas ... Sandy Hook ... Atlanta ... and too many more.
The Colorado roll call alone: Columbine ... Bailey ... Arapahoe ... Dove Creek Middle School ... STEM School ... Aurora Theaters ... And now, in Boulder at King Soopers.
We're numb. The outrage doesn't disappear, but it accomplishes little.
The obstructionists, the distortionists, the absolutist devotees of the Second Amendment as their mantra tell us to get over it.
Their lines are so predictable, lame, parroted and even scripted, it would be darkly humorous if it didn't have such horrific ramifications. We're lectured: Guns don't kill people. People do. Gun control only punishes and controls the law abiding, not the miscreants. The Founding Fathers used clear, unambiguous language in the Second Amendment, didn't they?
To that latter point: Of course they did, but in applying them to the situation more than 200 years later requires intelligent reassessment. They did it a few years after the Revolutionary War, after the ratification of the Constitution and in response to grievances about it. This did not all come out of a single marathon session at Independence Hall. America had taken up arms and shed the British crown's tyranny, and Howard da Silva was not playing Benjamin Franklin. Most of them, maybe all, had the best guns of their day. But these flawed men -- and they were all men -- were not clairvoyants envisioning a time of assault rifles. I admit they also likely didn't envision a time of automobiles and air travel. But if they were around today, I believe they'd see the need to adjust -- as they did, essentially and quickly, with the Bill of Rights itself.
They'd say this is just common sense.
They'd say they meant what they said when they said it, but America also should be about evolution.
I don't claim, and I never have, that strict gun control laws would cure the ills, would be the panacea, would eradicate mass shootings -- or other criminal gun violence. But, damn it, we have to try. We have to try harder. We have to try something. The NRA's ongoing disintegration might add opportunity, but even with it no longer being the singular point organization for opposing gun control measures, and making political contributions to its lapdogs, there still will be many behind that line in the sand.
I'm a pragmatic liberal who believes in case-by-case judgments, even in saying no occasionally, and despise formulaic and often phony Political Correctness. I'm actually an extremist on this, though. But I'd be willling to settle for progress, significant progress in the gamut of gun-control issues.
I'm writing this before we know many details about the man who murdered 10 on Monday in Boulder. I know nothing of his motivation. (Updated Wednesday: Early reports were that the arrest affidavit stated the killer purchased an AR-15 pistol, slighly shorter than the infamous AR-15 assault rifle, a week ago. Now the gun is being described as an AR-15-"style" pistol, or more specifically, an AR-556.)
Who needs an AR-15 -- or any assault weapon of its ilk? Really, who does?
That's naive and idealistic, I know. If he didn't have or couldn't get that kind of gun, the killer would have used something.
Still, it's part of the big picture. Symbolism. A commitment.
In fact, until recently, AR-15s were banned in Boulder. And then ...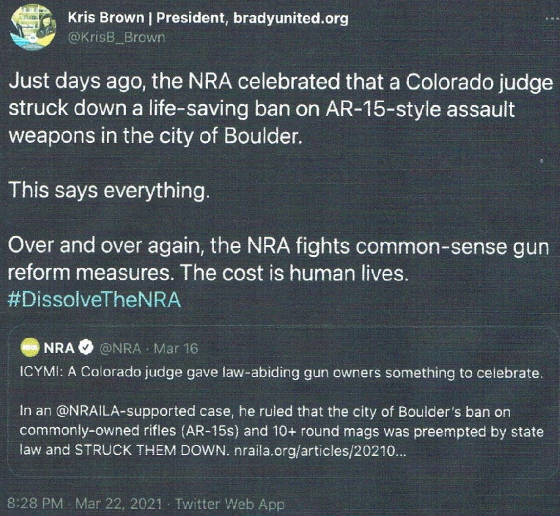 He wasn't going to pull over at the city limit and toss out his AR-15. But again, it's a commitment and a charge to levy if someone with an AR-15 is, for example, is pulled over or has it in a home that's legally searched. Or commits a crime.
And consider that Colorado Fourth District Congressman Ken Buck has an AR-15 on his office wall and, apparently with pride and undeniable showmanship, brandished it for the camera.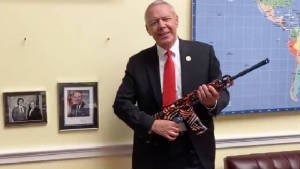 On Monday, Buck tweeted: "Praying for our law enforcement who are responding to the active shooter at the King Soopers in Boulder. Please follow the advice of @boulderpolice and avoid the area."
Buck's district, a Repubican stronghold, includes Greeley, Longmont, Castle Rock, Parker and much of Eastern Colorado. Fort Collins was lopped off in 2012.
I've helped two Columbine figures with their book projects -- the seriously wounded Patrick Ireland with the still-unpublished Columbine's Boy in the Window (here's an excerpt), and former principal Frank DeAngelis' They Call Me 'Mr. De': The Story of Columbine's Heart, Resilience, and Recovery. An underplayed aspect of killings is the lax system at the time that enabled them to acquire a TEC-DC 9 semi-automatic handgun; a 9mm carbine; a sawed-off 12-gauge pump shotgun; and a sawed-off double-barrel shotgun. They did the sawing-off themselves. The story of how they, still only 17, obtained three of the guns in separate puchases at a local gun show is complex, involving a nervous 18-year-old girl paying cash to dealers while clearly making the purchases for the killers. The TEC-DC 9 handgun came from a friend of a friend, and the 22-year-old who sold the gun was sentenced to six years in prison in November 1999.
One of the killers used one of the shotguns to shoot Patrick Ireland in the head.
Tom Mauser, the father of Columbine victim Daniel Mauser, took a leave of absence from his job to be a lobbyist for an organization seeking stricter gun conrol laws, and when the State Legislature balked, Mauser's organization was instrumental in getting Amendment 22 on the 2000 ballot. It imposed stricter standards for purchases at gun shows, inluding that all sales had to go through licensed dealers. It passed decisively. By 2013, Colorado closed another loophole, mandating that even unlicensed dealers put purchasers through background checks.
The public spoke.
The Brady Plan lays out a coherent agenda. So does the Sandy Hook Promise. Both are eminently reasonable when evaluated with open minds. I'd say they're more starting points than solutions, but they are starts.
We need to keep trying.
And trying even harder.
UPDATED, March 23
So this is on the record.
The 10 dead:
Tralona Bartkowiak, 49
Suzanne Fountain, 59
Teri Leiker, 51
Kevin Mahoney, 61
Lynn Murray, 62
Rikki Olds, 25
Neven Stanisic, 23
Denny Stong, 20
Eric Talley, 51
Jody Waters, 65
If I were writing for a news outlet this week, I would have used the killer's name and understood why. Here, I'm not going to name the killer. I also don't even have to say "alleged."
It's a gesture and an ineffectual one at that. But it's what I want to do. I'll explain why in my new commentary.
March 25:
Sadly, it has come up again in Colorado: The No-Notoriety Manifesto