August 4, 2020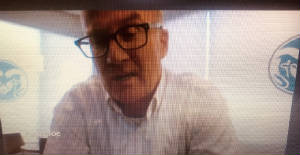 Late Tuesday night, CSU issued statements from Athletic Director Joe Parker and coach Steve Addazio about troubling accusations in a Coloradoan story by Miles Blumhardt posted Tuesday afternoon and an investigation launched by CSU President Joyce McConnell. UPDATE: CSU Wednesday announced the investigation would be conducted by an outside firm, not by the university.
The Coloradoan story said CSU athletes and staff were accusing CSU coaches of intimidating players and discouraging them from reporting COVID-19 symptoms and from quarantining.
That, plus changing contact reports to keep players involved in workouts. The word used was "practices," but CSU had been going through time-restricted walkthroughs, not what generally are considered practices.
Given the extraordinary situation and the serious health stakes involved, any member of the CSU coaching staff confirmed to have interpreted tough, old-school football as rationalization for scoffing at COVID-19 protocols and symptoms should be in line for a sanction, suspension -- or even firing, if deemed sufficiently egregious. I'm not blindly endorsing the accusations made in the Coloradoan story, but agreeing they indeed must be investigated.
Here are those Tuesday night statements:
Joe Parker: "It was troubling to read today that any student-athlete is concerned about our department's commitment to their health and safety. As we have reiterated daily with our staff and student-athletes, their health is our top priority. We believe strongly in our policies and procedures and have instituted those at the direction and guidance (of) our University's Pandemic Preparedness Team, and local, state and federal officials. The report that some football student-athletes were instructed to withhold symptoms would run counter to repeated communications we have had with our staff and student-athletes. I fully embrace President McConnell's investigation into this matter, and if we learn that anyone on our staff has not been fully supportive of our commitment to health and safety, this is unacceptable and will be dealt with swiftly."
Steve Addazio: "We have developed a comprehensive COVID-19 prevention plan in collaboration with the University's Pandemic Team which includes specific, strictly enforced processes and procedures to build and maintain a culture of safety, compliance and responsibility to all members of the football program and the community. The health and welfare of our student-athletes on the Colorado State football team is our top priority, and I fully support President McConnell's investigation into concerns about whether these protocols were properly followed by everyone involved with our program. We want every student-athlete to have confidence that we are taking every possible measure to ensure their safety, and we will continue working with the training staff, the athletic department and the University to evaluate and implement any additional steps necessary to live up to our high standards."
Addazio's statement, with its scripted sound, wasn't nearly as effective as it would have been had he been able to speak the words on camera or otherwise publicly, heartfelt and off the cuff.
Perhaps that can be for another day.
That all followed a Tuesday morning Parker availability during which he fielded questions about, among many other things, the possible timetable for an announcement of CSU's and the Mountain West Conference's 2020 football schedules.
This is what I took away from it:
-- Expect to hear as soon as Wednesday that the Mountain West will play -- or at least attempt to play -- an eight-game conference schedule, with one or two additional non-conference games. In CSU's case, that would mean the non-conference game against the Big Sky's (and FBS) Northern Colorado would remain. (If UNC proceeds with its season.) UPDATE: The Mountain West Wednesday indeed announced schedule guidelines, calling for eight league games per team, with the option to add one or two non-conference games. Teams can't open before Sept. 26, so CSU said it was trying to find another date for the UNC game, which had been set for Sept. 19. The MW did not release a full schedule; it needs to do so soon.
-- Pending the results from 150 additional tests within programs for COVID-19, the hope still is that the Rams' "pause" in football team activities will be lifted by the end of the week. But nothing is certain.
-- The athletic department is at least pondering the possible financial impact of not playing football at all in 2020, and of how to mitigate the damages.
At the outset of the call, Parker -- the AD since 2015 -- emphasized that HIPAA regulations enter into disclosure of positive tests and details, and that all positives are reported to the Larimer County Health Department.
"This is an opportunity just to reaffirm out commitment to the safety and well-being of our student-athletes, our staff and the community at large," Parker said. "Five years ago, we established 11 guiding principles. The very first one was 'student athletes, first and foremost.' Thats the lens that we look at when we made every decision, whether it was pre-COVID or the current status we're in right now, with battling a global pandemic...We've built some really sound protocols in place to try and manage as best as we can in this very fluid and uncertain environment."
As it turned out, that clearly was a bit of a pre-emptive strike in advance of the Coloradoan story.
On Monday night, in announcing the Tuesday call, the CSU athletic department issued an update on COVID-19 testing, and the final line was especially ominous, given the story that was about to break:
Total tests conducted among all student-athletes: 420 (270 reported and 150 pending from August 3.)
Total positive cases among all student-athletes: 16
Total positive cases in football only: 11
Total remaining active cases among all student-athletes: 6
Total remaining active cases in football only: 6
Consistent with public health guidelines, there are also additional student-athletes who are currently or have quarantined as a result of contact tracing per the determination of CSU Public Health.
Colorado State Athletics and Colorado State University continue to affirm the extensive policies and protocols set in place to protect student-athletes, staff, and the community at large.
After his remarks about COVID-19, I asked Parker about the state of the adjusted Rams and Mountain West Conference's football schedules.
"Like all things fluid," Parker said. "We do two weekly meetings with the athletic directors within the Mountain West, so that's an open dialogue amongst my self and my peers. It's a conversation guided by the conference office staff. As things have developed around the country with other conferences making decisions to go conference-only or a conference schedule-plus-one model, that obviously has had impacts for us.
"In our case here at CSU, we've lost three of our four non-conference games (Colorado, Oregon State and Vanderbilt), so, Terry, we're in conversations right now. We had a meeting yesterday afternoon. We're going to advance some recommendations to our presidents. I believe the next time they huddle -- that's the board of directors of the Mountain West Conference -- will be on on Wednesday. And so I would expect some decisions related to how we may be approaching the scheduling for the 2020 football season, based on the impacts that we've seen from other conferences' decisions."
I then asked if, from his perspective, the goal still was to play an eight-game conference schedule and maybe fill in a couple of games around that?
"I think so, Terry," Parker said. "We feel pretty confident amongst our peer group that we're all doing all we can to mitigate viral spread. We tried to tell that story to the autonomous five (Power Five) schools. Obviously everyone at this point in time is focused on the best outccomes for their leagues and making their decisions. But in every case, everyone's putting student-athlete help and well-being first and foremost. In the case of the Pac-12 decision, I think I'd mentioned this before, (CU AD Rick George) was fully aware that we were approaching every testing protocol that they were planning to do while in-season."
It was interesting that he dropped that in about CU and the scrubbing of the Sept. 5 Rocky Mountain Showdown, though he previously had said George argued within Pac-12 discussions for a plus-one concept that would have made a CU-CSU game -- and CU's first game on the CSU campus in 63 years -- possible.
I brought up then the national backdrop, with the NBA and NHL resuming play in hub/bubble situations, with it working about as well as is possible so far, but with MLB struggling minus bubbles and playing in home parks minus spectators.
"Terry, I think that's the great differentiator in what we do and what the next-level professionals do," Parker said. "Participantys in intercollegiate athletics are students. They have lives outside intercollegiate athletics. They have friendships, relationships, academic obligation, part-time jobs. it would not be a realistic expectation for an intercollegiate athletic student-athlete, Division I, II or III level, to try and live in a bubble for a year. It just isn't possible, it's not what we've attempted to do.
"We're trying to develop protocols and procedures that align with who we are, but therein lies the great challenge. That's what's going to be a struggle. Part of this has to be an understanding that there will be positives Friday, and we're dealing with an age demographic that hopefully, in almost every case of possible infection, they're going to move through this in a way that there's no lasting impacts. I think as you see schools make decisions to delay starts, it's an opportunity to put more runway in front of us to hopefully get to a point where there's point-of-care testing. Where where you're not waiting for 24 or 48 or 72 hours. ...
"We're doing what everyone else in society is trying to do. We're trying to manage this to the best of our ability and move back to some level of normalcy. But we also understand that's there's going to be setbacks and impacts that we can't anticpate, and we're fully ready to adjust to whetever those things are."
That led me to ask about the "Players of the Pac-12" manifesto -- which I comment on here -- and the assurances CSU has given to the players along those lines.
"That's beeen an interesting development over the weekend," Parker said. "I think in so many ways we're doing everything that the Pac-12 students are asking, with the exception of revenue-sharing. It's never been a question in my 25-year career that the health and well-being of a student-athlete isn't the first thing that we thin about. . . It's interesting. I haven't heard any of our students say anything directly about interest in #weareunited. I watch some of the linksand retweets amongst the roster members that follow me and I follow them. It's an area of interest and I'd be happy to discuss it with any of our students. . .
"Prior to COVID-19, we weren't part of that autonomous five, that Power five, that had the advantage of a very lucrative TV contract. We live in a space where if we're going to be successful at the intercollegiate athletic enterprise, we have to do a blend of direct institutional support and self-generated revenue. So our business model supports certain things, but probably coudn't support many of the things those students in the Pac-12 are asking for."
In response to Kevin Lytle of the Coloradoan, Parker said no football players yet have expressed interest in opting out.
"We've talked the last few days," Parker said. "If a student were to approach us, we would support that decison without exception."
Parker earlier had dscussed the various fan attendance scenarios on the table in collaborative dscussions with other football-playing schools in the state, ranging from 100 percent capacity to, more realistically, 50 percent, 25 percent -- or empty stadiums. He indicated that still was the case. "I have concern and apprehension if we end up at the point at whish we aren't hosting fans," he said. "(Does) that depreciate the experience to the point which is it really what our students are looking for. And that's a question we'll have to ask of them and ourselves."
The impact of not playing a 2020 season at all?
"We run two separate financial entities," Parker said. "One that dispenses all the revenues associated wth football and all the expenses associated with the stadium. Then he has another PNL that is the athletic department itself. . . The university has worked through a plan to help us manage debt service and help the rest of the institution manage debt service in this upcoming year by a practice they've referred to as 'scoop and toss.' Well, we'll be able to take the majority, not all, but the majority of our debt service that would be due on the stadium project for this year and move it into future years. That's been a real positive strategy for us because about 7 percent of that stadium PNL is debt service.
"That moves a big portion nof that off of this year's revenue and expense obligation ... Getting the academic year launched is important to every academic unit on campus, including athletics. We've been provided direct institutonal support and student fees that cover about half of our budget. So it's important that we keep enrollment levels close to what they have been previously and make it an experience that the students want to embrace."
terry@terryfrei.com