Colorado Republican Congressman Ken Buck, from Windsor, over the weekend led the attempt to have President-elect Joe Biden ask House Speaker Nancy Pelosi to back off beginning a second round of impeachment proceedings against Donald Trump.
In the works as of Sunday evening were both a single article of impeachment involving "incitement to insurrection" and additional articles tied to pressuring Georgia officials to change the state's vote ("I just want to find 11,870 votes"). The House could deal with them this week.
That is, if Vice President Mike Pence doesn't first acquiesce to bringing the 25th Amendment into play. (Pence won't.)
That is, if Trump doesn't resign and talk to the White House portrait of Richard Nixon on the way out, lamenting, "We both got framed, Pal." Trump won't do that, either. Or at least he won't resign.
Actually, Buck's reasoning about avoiding impeachment proceedings isn't absurd on the surface. Essentially, he's saying the country requires healing, not the probing and aggravating of old wounds, and possibly triggering more unrest. Get to Inauguration Day and move on.
He's saying what Elsa sang.
But coming from Buck and the Trump enablers of his ilk, the argument not only falls flat, it is insulting, disgusting, hypocritical and shameful. Feel free to supply or pass along other appropriate adjectives.
They're culpable.
They should be accountable, too.
Consider the source here, so to speak.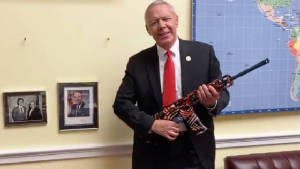 While representing the Columbine (High School) state, Buck had the unmitigated gall to post a video last March on his own site, showing him brandishing an AR-15 and challenging Joe Biden and Beto O'Rourke to come and get it. The Founding Fathers certainly had assault rifles in mind when they crafted the Second Amendment. (The Columbine punks' arsenal was a 9mm carbine, a 12-gauge pump shotgun, a double-barreled shotgun and a TEC-DC 9 semi-automatic handgun, with both shotguns sawed off. Those were enough.)
The MSNBC story on the AR-15 gambit is here.
That just scratches the surface.
During my invigorating stay at the Greeley Tribune, I spoke with Buck for my quick-hit tribute to the newspaper's beloved emeritus editor, Randy Bangert, after he passed away in 2018. Buck couldn't have been nicer, and this is what he said about Randy: "I will miss Randy a great deal. He was a great person to talk to in the community to get a feel for how people react to different issues. He was such a professional. I loved working with him. … We'd have a difference of opinion. I wouldn't say we argued. I never raised my voice with Randy, and he never raised his voice with me. There were times we disagreed on issues and I felt that the newspaper had been unfair and he looked at it and changed things. There were times he looked at it and didn't change things. But he always gave me the opportunity to visit about it and I always appreciated that."
I don't know this for sure, but I'm guessing Randy would be professionally irate at Buck today, and that the Tribune pages and site would reflect that. I hope they do, anyway.
Buck has let down his constituents, his state, and all of America. In Congress, intelligent men and women -- men and women who should be better than this -- went along with and abetted Trump's shameful rhetoric and behavior, whether because of personal ambition linked to the Trump wing of the party or the lack of a moral compass. As disgusting and over the top as this was, should it really have surprised anyone? After what we saw and heard from him for four years? Shrugging it off as quirky "tactlessness" or "abrasiveness" that were fair exchanges because they were part of his get-things-done approach is even more appalling in retrospect.
They went along with the man.
Buck is a former Princeton punter who, I'm assuming, always kicked out of bounds.
His credentials are conventionally impeccable -- or at least suitable.
Buck has been an instructor at the DU law school, worked in the U.S. Attorney's office and served as Weld County's district attorney.
Now, he's safe in the, um, imaginatively designed Fourth District, which jettisoned Fort Collins in 2012 and now is a patchwork of (or parts of) Eastern Colorado, Greeley, Longmont, Parker and Castle Rock.
He also is chair of the state GOP, for at least another year.
He's the unquestioned leader of the three-person Colorado Republican delegation in the House that also includes Doug Lamborn and the nutty, Glock-packing Lauren Boebert. Those two were among the 147 Congressional Republicans who voted against certifying either or both of the Arizona and Pennsylvania electoral college votes. That's when Buck at least was sensible, not joining that GOP mob. Boebert's argument on the House floor against certifying the Arizona vote was a yelling embarrasment, including when she proclaimed, "MADAME SPEAKER, I HAVE CONSTITUENTS OUTSIDE!"
Soon, the mob stormed the Capitol and the House chamber itself. Given Boebert's declaration, I was surpised to hear that the notorious intruder wearing horns and a bearskin headdress turned out to be from Arizona, not Montrose; and that the guy carrying around Pelosi's lectern is from Florida, not Durango.
I've heard many belittle Boebert's lack of educational credentials as disqualifying her to be credible. She received a GED, and that was last year. But that strikes me as unfairly elitist. (I'm serious.)
Think of what a story it would be if she, a former Democrat, showed up in Washington and fooled us. If she established herself as an eloquent, effective, hard-working, common-sense, citizen-type legislator, whether conservative, centrist or liberal. And overcame what nicely could be labeled a rocky past.
It would be a Disney movie. Or a "Mr. Smith" sequel. Idealized "based on" is close enough for Disney movies, anyway. Or for non-Disney sports movies that disdain the truth as boring. (e.g., "This isn't a documentary," quoth the director).
Unfortunately, Boebert has been what she seemed to be during the campaigns, when she upset an incumbent, Scott Tipton, in the primary, then defeated a capable general election opponent, Diane Mitsch Bush, who also happened to fit the absolute prototype of the liberal, earnest college professor -- ill-suited for the district against even a conventional GOP nominee.
Since Wednesday, we've been reading, watching and listening. First, it was as the horrors unfolded in real time. Then it was as it became disgustingly clear that it all was worse, much worse, than it seemed at the time because of:
-- Far more violence than was originally thought. Many who breached the Capitol are being identified, charged and otherwise held accountable, and that should be just the start.
-- Complicity on the inside and among higher authorities.
-- Disgusting attitudes, actions and rhetoric, including from the White House and Congress, that encouraged it all. That means Trump, that means the abhorrently arrogant and irresponsible Josh Hawley and Ted Cruz. And, yes, that means the bit-part, small-time Boebert ... and Ken Buck.
It's not insensitive to differentiate between: a) sincere and non-violent Black Lives Matter demonstrations and, b) opportunists outside that sphere indulging in violence, looting and vandalism.
Democrat/Liberal/Progressive failure to often enough acknowledge that distinction helped make the presidential election close.
It wasn't even close, you say? Well, then why were we hanging on Steve Kornacki's every word?
And ...
Wait. You know all about it. You don't need more summation narrative about last week from me.
Impeach him.
Again.
Then convict him.
Whenever it has to be.
It's this simple. We can't let him -- them -- get away with it. Allowing them to do so would be far more damaging than an(other) emotional impeachment debate.