August 27, 2021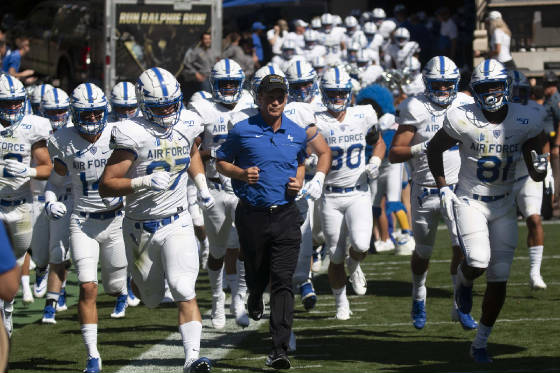 In the evolving college football landscape, the Air Force Academy Falcons rarely will have a chance to land a recruit who would have significant NIL -- Name, Image, Likeness -- income opportunities if he headed elsewhere. The Falcons rarely are in the running for legitimate Power Five prospects, and their Group of Five competitors -- including Colorado State and the rest of the Mountain West -- won't become known as programs with chances for big-time "outside" income.
The one catch: Given the possibilities for ego and flattering input from those around them to come into play, even prospects on the Falcons' radar might
hope
for NIL
income from non-academy programs if they have other scholarship offers. That's the part of the new narrative that remains to be written: Just how widespread and lucrative will NIL be?
That said, this still seems to be another addition to the list of disadvantages the Falcons face in attempting to remain competitive at the FBS level and perhaps try to get major consideration for potentially expanding Power 5 leagues.
I a
sked Falcons coach Troy Calhoun about that Wednesday at the Front Range Huddle at the Blake Street Tavern.
"We have no access to NIL," Calhoun said. "We have no access to the transfer portal. We are going to have to find out in the next couple of years how to get callibrated and balanced. I think it will be quite a challenge, honestly, the next 24 to 36 months."
Of course, the Falcons always have had to adapt the typical D1 recruit profile for the academy standards and the post-graduate military commitment. That might have to be tweaked even mor
e under the new and moving target conditions.
"We still want guys that are talented when it comes to the football part," Calhoun said. "But with all the demands of the academy, they have to be able to meet those standards. Frankly, there aren't that many that you can r
ecruit, We recruit the entire country and we're talking all five time zones. The other part is that we have to be willing to change, whether that's schematically or anything else. I think that's a forever facet, when it comes to the study of the game."
So where do the Falcons fit in?
"There's still a place for the Air Force Academy," Calhoun said. "Strategically in terms of what we provide to the nation, the strength of leadership that our graduates put forth, and still somehow, some way find a way to still be competitive in football.
"Our reality has to be to recruit who we can recruit and we have to be, I don't want to say 'maniacal,' but we have to be consumed with the way
we teach, the way we coach and the way we develop
."
Calhoun sometimes draws eye rolls from his coaching opponents and contemporaries with his relentless emphasis on the academy uniqueness, including its inherent football disadvantages. But it all can't be denied, either.
Plus, Calhoun has walked in those spit-polished shoes as a Falcons quarterback, cadet, assistant coach and now is in what will be his 15th season as head coach. (Has it really been that long?) Before he returned to the academy, he was a Broncos and Texans assistant, getting a taste of the NFL. He has been in the hunt for other jobs, most notably at Tennessee. Although it's unclear how far the talks went, or even if they took place at all, but it was sensible to consider him among bona fide possibilities for the Broncos and CU jobs at various junctures. He has probably reached the point of being a "lifer" at the academy now.
Calhoun
couldn't have forseen any of this as he was raised in the Oregon mill town of Roseburg.
(Aside: Two of the leading figures in my novel
The Witch's Season
-- radical linebacker and campus anti-war leader Jake Powell; and SDS leader Annie Laughlin -- are from Roseburg.)
Calhoun's
dad, Terry, primarily was a teacher; his mother, Joyce, was an emergency room nurse. As he finished up at
Roseburg
High, he surveyed his options, even thinking of whether he would join many of his contemporaries in going to work at one of the mills.
"My mom pretty much said, 'There isn't a choice to be made here. You're going to the Air Force Academy,"' Calhoun told me early in his AFA head-coaching tenure. "There were many days I was here when I was mad as I could be at my mother. It ended up being a super place for me. But about the first 18 months, you're thinking, 'Mean old Mom.'
"Yet, what are you going to say when your mom walks into the house, sometimes she had blood all over. It's not like you're going to complain about being sore or saying this is a little bit too stressful. I guess she did know best. … She tells me all the time she still has those letters from me, telling her how mean she was."
Calhoun
's sister, Callie, was two years behind him at the academy and won six individual NCAA titles in cross country and track and field. So the choices to accept the congressional appointments worked out well for both of Joyce's children, and
Calhoun
was the natural selection as Fisher DeBerry's successor after the 2006 season.
The Falcons are 101-72 under Calhoun and are coming off a sometimes bizarre -- even more bizarre than for other programs -- 3-3 Pandemic season. This season, the Falcons don't have a Power 5 program on the schedule, with Navy, Army, Lafayette (the Sept. 4 opener) and Florida Atlantic as the non-league opponents.
"We're going to be as new as new gets," Calhoun said. "We have four starters back who started in our opener last year. When you look at it this year, because of 'super seniors,' there are teams we're going to play that have 17, 18 starters back. We just have to plow, especially through the first half of the season. Health willing, we'll make some strides and make improvement in the back half."
On Wednesday, he said he won't ever step away from his background.
"You never change that. right?" he asked. 'I was on the treadmill early this morning and somebody asked, 'If you coulds have your own NIL, who would it be?' I said, 'That's easy. It'd be Roseburg Lumber!'" Then he turned serious. "It'd be thw work ethic,z' he said. "There's not a more physically demanding profession -- please, that's with all respct to others -- than being in the mills and the logging. My mom saw it as an emergency room nurse and my dad worked some in the mills. You just don't forget that kind of upbringing."