June 27, 2020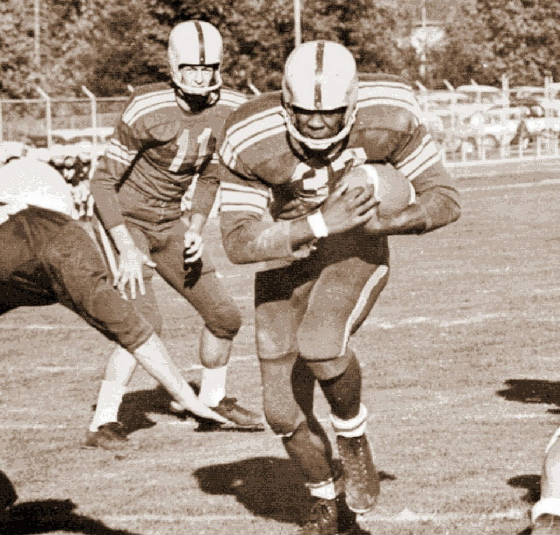 Portland's Jefferson High School Democrats in 1959: A future Heisman Trophy winner, Terry Baker (11), has just handed off to a future inductee in the Pro Football Hall of Fame, Mel Renfro (37). And that isn't even close to the entire story for these multi-sport collegiate stars at Oregon State and Oregon.
Over the last couple of days, I've been asked what I thought of the announced joint decision from Oregon and Oregon State to cease calling their athletic rivalry matchups "The Civil War."
Pretty much, it's none of my business. Although I'm an Oregon native, I didn't attend either school. I haven't lived in Oregon for many years, or since returning to Colorado following my stint at The Oregonian.
But I'll say this much: I'm OK with it.
I'm OK with it as long as we can junk the idea that those steeped in the rivalry, as I was, really thought it had any resemblance to an armed conflict that took 660,000 lives on both sides. That's not "Civil" at all. And it had the disgusting goal for many loyal to the Confederacy of preserving slavery.
The Civil War? In Oregon, it was an easy association to an intrastate sports rivalry, not to a war among states. One side didn't wear blue, the other side gray. The distortion of athletic competition into warfare analogies never has been among my favorite treatment of sports. When we read the Red Badge of Courage, Andersonville or The Killer Angels later we never thought for a second anyone would kick a 47-yard field goal in the final seconds.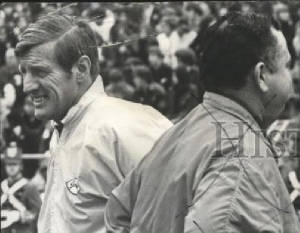 In this case, it's also personal. My father, Jerry, coached in 17 Oregon-OSU games. When he was the Ducks' head coach and going against Oregon State's Dee Andros (they're at left) , or even in later years, I sometimes was asked how they could be friends? It's the Civil War!
They had very different coaching philosophies in tumultuous times, and in a way that was good for the state. But more important, they both knew first-hand what war was ... and it wasn't football. Dee was a Marine on Iwo Jima; Jerry was a P-38 fighter pilot, flying over enemy targets in the Pacific.
And they were going to hate each other over a football game?
When Jerry died in 2001, Dee attended the separate tribute my father's Oregon players put on.
But if those involved now want to move on? Fair enough.
I do believe there is a way to honor the tradition of the rivalry, and to do it by honoring two of the greatest all-around athletes in state history who -- and this is astounding -- were teammates at Portland's Jefferson High School, then went their separate ways to Corvallis and Eugene for college.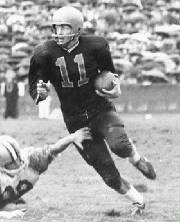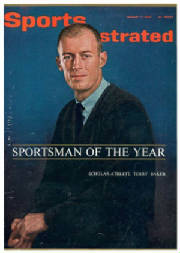 The Beavers' Terry Baker was the Heisman Trophy winner as a quarterback and the 1962 Sports Illustrated Sportsman of the Year.
But, wait, there's more! (Sorry to sound like a bad "As Seen on TV" commecial...)
He also was a starting guard on the Beavers' 1963 Final Four basketball team.
Yes, he was an NFL washout with the Rams, but it was a time when the differences in the pro and college games were more pronounced and it doesn't take anything away from his collegiate accomplishments.
(Kind of like Tim T... no, I won't go there.)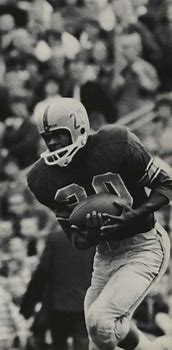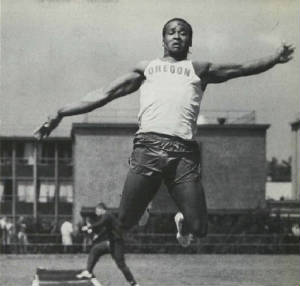 The Ducks' Mel Renfro was an All-American running back and played both ways at times. For the Ducks' famed track team under coach Bill Bowerman (a veteran of the 10th Mountain Division in World War II), he was an accomplished long jumper and high hurdler.
I'm convinced he would have made Canton as a full-time running back. But after dabbling at playing both offense and defense with the Dallas Cowboys, he settled into the defensive backfield and retired as the greatest cornerback in NFL history.
Create a Baker-Renfro Cup, at least for football, and call the game that. It honors one great from each school, but also two men who played together in high school.
Present the trophy to the winning team in the rivalry.
It replaces the Platypus Trophy as Oregon's equivalent of the Apple Cup, the Bedlam Bell, the Bronze Boot, the Golden Egg Trophy, The Axe and Paul Bunyan's Axe, the Land of Lincoln Trophy ... many others in the college game.
And it also supplants the Civil War as the name of the game. It's "the Baker-Renfro Cup" -- both game and trophy. It's not like, "We've got the Beavers next week in the Platypus Trophy," rolls off the tongue.