January 15, 2021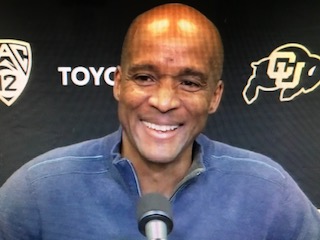 "I'm thinking, Terry."
As the Colorado Buffaloes move on from their surprising 4-2 season -- yes, it still was surpising and praiseworthy despite the two consecutive losses to close it out -- one of the major challenges is clear.
Karl Dorrell and his staff will have to sell not just their program, campus and culture.
They'll have to credibly sell the Pac-12 itself to recruits and anyone else involved in creating or buying into the league's image. Yes, that includes difference-maker prospects also seriously considering programs from other Power 5 leagues. The Scenic overlook on US 36 -- that first look (down) at Boulder -- can only go so far.
And it's going to be an even harder task than in recent years in the wake of another season without a league team in the College Football Playoff field for the fourth straight year.
No Pac-12 team has made the four-team bracket since Washington in the 2016 season.
On top of that, the Pac-12 in this most bizarre of seasons got started later than anyone else -- CU opened with UCLA on November 7 and the season seemed over in the blink of an eye -- and played fewer games than the other Power 5 leagues. (One asterisk: Ohio State, the CFP runnerup, was able to play only five games before its league title game and needed league tweeks to its COVID-19 season protocols to be eligible for that game against Northwestern.)
That's not meant to be criticism of the Pac-12, because the league's heavy California presence and other issues made the league's caution appropriate. I even can make the argument than it should have stuck to the plan to play in the spring, given the problems around the country and the holding-their-breath reality from week to week.
More so than ever, in other words, there seems to be a gap between the Pac-12 and the other Power 5 leagues, and this season only USC (17th) and Oregon (25th) cracked the top 25.
And to face facts ...
On Friday, during Dorrell's Zoom call with Colorado media, I asked him if there is a Pac-12 image issue he will have to address and be aware of in recruiting and everything else.
"Great question," Dorrell said.
Pause.
"I'm thinking, Terry."
He laughed.
"Great question."
Pause.
"Well, I'm going to put it in my terms," he said. "Because you guys have heard me say this already, I'm going to control what I can control. Do I think our conference has an image issue? Yes. But I'm going to do the best I can to help that. Does that make any sense?
"In other words, for me to change the narrative, I have to get this program to be at the level that meets the expectations that we're putting on this program. And if I do that, that might help us. So I'm trying to control it from my perspective."
Later, I asked Dorrell if senior quarterback Sam Noyer had assured the staff he wanted to return for next season after nobody lost a year of eligibility in one of the concessions to the bizarre conditions; and whether Dorrell had assured Noyer that he was wanted back.
"Yes ... and yes," Dorrell said.
Then there was another pause and smiles, so I asked him about Noyer's progress after making his first quarterback starts since he was a senior at the Portland area's Beaverton High. Dorrell alluded to Noyer having offseason shoulder surgery that will keep him out of spring practice throwing.
"He'd be the first to tell you -- and he's said this, actually -- that he didn't play very well the last couple of games," Dorrell said. "He knows that. He also knows that he's come a long way in a short period of time. We're not understating that, too. We're excited about where Sam came from and what he did this year. But in his mind, I can tell you that even though he won't be ready to do much throwing this spring, if at all, he'll be really into locking down his knowledge of our offense and our passing game and trying to take a bunch of mental reps (because) he won't be able to take physical reps. He knows he has a huge challenge of really trying to take the next step as a quarterback, but not being able to physically do that this spring. But he's up for it. That's why I said yes and yes."
Dorrell praised the spot play of true freshman QB Brendon Lewis in the Alamo Bowl loss to Texas. And the favorite in the clubhouse probably is that, especially because of his shoulder surgery and lack of spring practice work (again ... for different reasons this time), Noyer will be the insurance policy as Lewis opens the season as the starter. The other eye-opener is that Alex Fontenot, injured this season, will return to back up or work in tandem with Jarek Broussard and most likely Ashaad Clayton.
At the end of the Zoom, CU associate AD Dave Plati prompted Dorrell to talk about the Broncos' hire of Vikings assistant George Paton as their new GM -- and surprisingly, signing him to a six-year contract with a franchise likely to be sold in the next year or two. Paton was a freshman UCLA defensive back when Dorrell, the former Bruins wide receiver, was a graduate assistant.
"(CU AD) Rick George asked me about him, because he was hired a couple of days ago," Dorrell said. "He says, 'Hey, I hear they're going to hire George Paton.' Rick knows his asgent very well and he says they kind of want to get together at some point in time to say hello and all that stuff.
"He says, 'Do you know him?' I said, 'Uh, yeah. He's a UCLA Bruin' -- and left it at that. So, yeah, we've crossed paths. And George is a great hire. Excellent. . . They're going to really like George. George is very passionate about football. He works hard, he's a man of integrity. He's had opportunities to leave prior and they weren't just the right fit, 'I don't want to do that.' I'm glad he made the choice to come here because I look forward to seeing him."