December 24, 2020
Karl Dorrell speaks to the media on a Zoom call after Thursday's practice.
Last February, when the news broke that Karl Dorrell was Colorado's choice to succeed the inartfully departing Mel Tucker as the Buffaloes' football coach, I was among those at the CU Events Center for the UCLA-CU men's basketball game.
Both that afternoon and as the hiring was made official and Dorrell was re-introduced, the reaction was, well, underwhelming. Gee, hadn't Dorrell -- despite being the Pac-10's co-coach of the year in 2005 -- been fired after five seasons at UCLA? Hadn't he spent the entire time since, with the exception of one problem-filled season as offensive coordinator at Vanderbilt, as an NFL assistant.? How was that a resume to get Buff followers excited?
As usually is the case, that kneejerk reaction involved oversimplification and even misconception, and most reasonable observers soon concluded that he deserved a chance to prove he was the right guy, in the right place, at the right time. He had served two stints as a CU assistant and had a three-season stay with the Broncos before landing the UCLA job. And as he settled into the inevitably nomadic life as an NFL assistant, he and his wife, Kim, had a house built in the Boulder area and designated it as their anchor home. That was an unusual choice for the profession, one that makes so much sense, it's surprising more NFL coaches don't do the same thing.
So here we are, at Christmas, and Dorrell this week was named the Pac-12's coach of the year -- no "co-" this time -- and is a finalist for two major national coach of the year honors.
In this most bizarre of seasons, the Buffs are 4-1 heading into Tuesday's Alamo Bowl against Texas. They weren't the only Pac-12 team with a new coach that wasn't able to have spring practice -- Washington (Jimmy Lake) and Washington State (Nick Rolovich) were in the same boat -- but Dorrell had the added disadvantage of being hired in late February, roughly three weeks before the COVID-19 pandemic essentially put America in Lockdown.
That added to the difficulty of an already challenging coaching transition.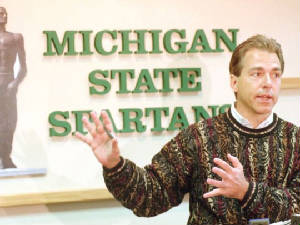 Let's just say it couldn't follow the typical patterns, as when I checked in with first-year Michigan State head coach Nick Saban off and on for a year for a Sporting News story (or more of an epic and narrative) that was designed to serve as a working example of how a new regime digs in.
Dorrell couldn't dive in with personal, face-to-face meetings, and he couldn't do on-field coaching until the delayed start of pre-season camp in October.
He was left trying to figure out just what he and his hybrid staff -- both holdovers and new assistants Dorrell brought in -- had to work with.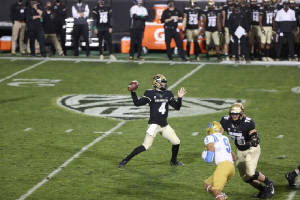 That included deciding whether bringing back Sam Noyer (at right), a graduated quarterback who hadn't started a game at the position for five years, or since he was a high school senior, was a significant move or just added: a) a body in the depleted QB meeting room; and, b) an arm on the practice field.
And they weren't even sure that the banged-up Jarek Broussard (at left), who hadn't played a snap in two seasons on campus because of knee issues, would be able to play at all in his third -- much less turn into one of the nation's most dynamic running backs in the nation in 2020.
This is not a huge body of work. Five games.
There is no guarantee the Buffs have this completely turned around. There are no precedents to refer to and cite. But going in to the season, I was far from alone in believing that under these circumstances, Dorrell should get a free pass in his first season. Just get the Buffs through it, establish principles and install a mindset, and move on.
Dorrell doesn't need that free pass or what turned out to be miguided condescension about what the program's goals should be.
He is feeling back at home in the college game, and in the college town where his house and perhaps his heart are. I asked him about that return from the NFL on CU's Zoom call Thursday.
"I've always felt that college football was my most impactful part of my career, because you're developing young players," Dorrell said. "You get them from high school and then they become young men by the time they graduate from college. I've always felt like this was the best time in my career, at this level, was to impact young people. I think in the NFL, it's not quite like that. It's more business-oriented, it's more goal-oriented and about them achieving their personal goals. A lot of it is financially based. Here, even though they aspire to be at that level, this is still the most impactful level I really enjoy."
The switch from NFL to college does come with somtimes unrealistic expectations.
"I think the hardest thing for me is I'm expecting excellence a lot of the time in execution," Dorrell said. "The coaches keep reeling me in, 'You have to remember, you came from the NFL, this is what it is in college.' I've been reminded a time or two throughout the season about my expectations are alot higher in terms of what it should look like, versus what the NFL expectations are. So that's been my biggest struggle because I'm always shooting to be the best we can be, no balls on the ground, no dropped passes, those typical things that we deal with a lot easier on the NFL level. Here because they're young players and they're developing, they're going to make mistakes ... But I reallly enjoy this level. I enjoy being a factor in their lives when they're 18-, 19-, 20-year-olds and you see that maturity they have, where they started and where they end up."
There's some mystery in all of this, about just how good the Buffs -- or any Pac-12 teams -- are at this point after their late-starting, limited, cancellation-ridden and sometimes bizarre seasons. The Alamo Bowl will be the first time the Buffs have faced a team that is destined to play, or has played, more games than CU. The issue of Big 12 vs. Pac-12 strength aside, the Longhorns are 6-3, the Buffs 4-1. It's not out of line to wonder if the Longhorns will look much farther along, with the score reflecting that. I also asked Dorrell whether he is curious or concerned about that potential disadvantage of having played fewer games.
"Yes and no," he said. "The reason why I say no is because of this COVID thing. If it was just a normal year and there was full health all the time, but we're all up and down. It's been a struggle for all of us. I don't think it's as big a factor as it normally would be. They've been hit just like we've been hit. They've had guys opt out. They've had injuries. They're still a very good team. Whenever you still have your starting quarterback, that gives you a chance to be a really good team. That piece (Sam Ehlinger) is still there, and so is ours. So it's a great challenge that I'm excited for our guys to look at because we need to continue to grow and build as a program. I think the players are willing to showcase themselves for a national audience and we'll see how this thing turns out."
Regardless of what happens Tuesday, it has been a remarkable, if short-lived, season. The biggest joke now is anyone proclaiming they saw this coming. (If there is anyone ...)
The Buffs' over-under win total in Las Vegas was 1.5.
I might have taken the under.