October 9, 2020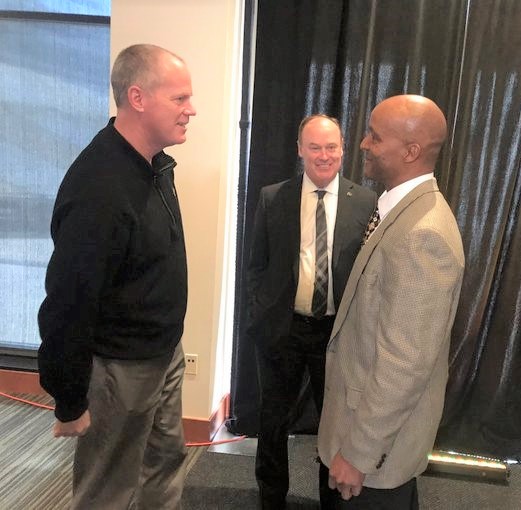 At Karl Dorrell's introductory news conference, he chats with Tad Boyle as Rick George watches.
As Colorado opened football practice Friday under semi-bubble conditions with the team staying in a hotel, this remains obvious: First-year Buffaloes head coach Karl Dorrell is facing a formidable, unprecedented challenge.
Yes, to the point that he should get a virtual free pass -- at least in terms of win-loss record -- in 2020. Three wins? If it's posssible by then, hold a parade through campus. Barring other problems not connected to the record, congratulate Dorrell on a successful transition. And move on with optimism.
Mel Tucker bailed in mid-February and Dorrell was hired 12 days later. The COVID-19 shutdowns began to affect everything from meetings to workouts in mid-March and the Buffs didn't get in any spring practices at all.
For comparison purposes, Colorado State made it through seven on-field spring practices before the shutdown.
CU will be playing an all-Pac 12 seven-game schedule beginning Nov. 7 against UCLA, and under the current format, the Buffs will face the other five Pac-12 South teams, plus Stanford and another to-be-determined North "crossover" opponent on Dec. 19.
(I've floated the suggestion that CU work out a way to opt out of the crossover game -- which would involve travel for the Buffs or their opponent -- and instead face Colorado State in a reinstated Rocky Mountain Showdown on that Saturday before Christmas. I realize that's not happening, but it would make sense.)
Karl Dorrell at Friday's practice (CU Athletics)
The issue of comparative disadvantage is more accurately linked to the fact that a few league programs managed to wedge in a handful of practices. In fact, the Buffs aren't alone in having a first-year coach and no spring practices; Wahington State, under Nick Rolovich, and Washington, under Jimmy Lake, are in the same boat. Lake was on Chris Petersen's staff, though, before being promoted.
Taking over in late February adds to the disadvantage for Dorrell, who through choice or mandate, or both, retained several key staff members.
On CU's Zoom virtual news conference after Friday's practice, I asked Dorrell about whether he's operating under a disadvantage.
"We'll see how that plays out," Dorrell said. "My mindset's what's in front of me right now. Getting one practice in, a solid day ... As for spring practice and all those things, those were months ago. That's furthest from my mind right now. We have to try to get our team within these 25 practices ready to win (against UCLA) on Nov. 7."
In other words, it wouldn't do any good to talk about that. A bit later, he spoke of maintaining expectations under the trying circumstances. "The expectation every year is going to be to put our hat in the ring to win a conference championship," he said. "Our hat's in the ring, just like everybody else that's in our conference. I want to put our team under pressure. I want our team to understand our expectations that we have set before us. That's our goal. That's our ambition. That's what's driving us as we work."
CU junior Tyler Lytle, one of the contenders for the starting
quarterback job, at the opening practice.
Still, Dorrell has been trying to install everything from philosophy and a culture -- sorry, Mel -- in a bizarre largely virtual atmosphere with limited direct contact with players. He does not have a holdover starting quarterback following the departure of Steven Montez. The COVID-19 complications in Boulder added another hurdle, and it took approval from the Boulder County Health Department for the Buffs to be able to open practices Friday.
Throw that all together, and what you have is one of the most difficult coaching transitions I've even watched. (It's a little more difficult than 25 year ago, when I checked in with a younger Nick Saban off and on for a year to chronicle a coaching transition at Michigan State. (Here.) A major issue is how much the staff was able to get across during the shutdown and virtual learning periods.
"We've had a lot of time from that aspect in terms of the information being taught," Dorrell said on a Pac-12 Zoom new conference with coaches this week. "Now we're just at that point where we have to put it together … We're going to have to get it tuned up and ready to go and create a great product when we line up and go on Nov. 7. I think we can do it, just because of how quickly our guys have digested the information. It's just a matter of getting some practice time and some reps for us to perform at a high level. That's the challenge."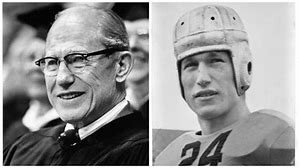 Before Dorrell joined the Zoom conference, CU associate athletic director Dave Plati noted that the recently unretired uniform numbers of Byron "Whizzer" White, Joe Romig and Bobby Anderson were being retired again, and that it was Dorrell's call. The "unretiring" was one of Tucker's final decisions, and now prized running back recruit Ashaad Clayton is listed as wearing No. 0, rather than the 24 worn by White, CU's three-sport star and, eventually, a Supreme Court justice. Heisman Trophy winner Rashaan Salaam's No. 19, which was going to stay retired for at least 19 years, now is permanently retired again, also.
I asked Dorrell why he made the decision to re-retire the numbers.
"Because that's where it should be," he said, then stopped.
I asked: Any more than that?
"Next?" he responded.
I laughed. He clearly did not want to get into the Tucker decision.
COMING LATER: The Buffs' at least short-term bubble. How realistic? Can it work?