December 12, 2020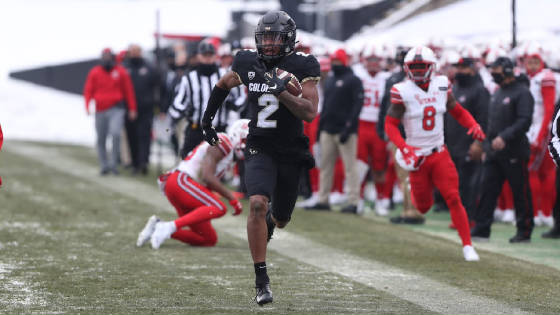 Brenden Rice during his 81-yard TD punt return in the first half. (CU Athletics.)
UPDATED SUNDAY
The post-game atmosphere among the Colorado Buffaloes was gloomy after their 38-21 loss to Utah Saturday afternoon. That was no surprise.
But it struck me that the biggest compliment I could pay Karl Dorrell and the Buffaloes was that it would have been outlandish before the delayed season to predict this, to expect that the bar of hopes and expectations would be raised so significantly.
Frankly, I laughed when I heard a fellow media member a couple of weeks ago ask Dorrell about not getting "respect" -- ah, that most overused word in sports -- in preseason assessments and the satisfaction in proving those pundits wrong. I laughed because nobody expected much out of the Buffs this season. Nobody. It wasn't just talking heads. In fact, the more you knew, the less you expected.
Not after Mel Tucker's midnight exit, after Dorrell's late hire, after no spring practice, after naming a quarterback as the starter nearly five years since his last start at the position -- as a Beaverton High Beaver.
On top of that -- on the top of the list of real-life concerns -- were other ramifications of the COVID-19 pandemic, which all programs had to deal with.
Yes, CU's loss to the Utes was mostly ugly, with the most noticeable exceptions of freshman Brenden Rice's 81-yard punt return and 61-yard TD reception.
But here the Buffs were, a team with more questions in the preseason than a month of "Jeopardy" episodes (RIP, Alex), and a 4-1 record was a complete downer.
"We had an opportunity," Dorrell said. "We didn't take advantage of it."
This season still should be considered remarkable. And there's one more game scheduled. On Sunday, the Pac-12 announced the Buffs are slotted to face Oregon in a "crossover" game Saturday in the Los Angeles Coliseum, with USC and Washington scheduled to play in the conference championship game on Friday night, also in the Coliseum.
In case of COVID-19 issues involving the title-game opponents, CU would replace USC and Oregon would replace Washington. So in theory, it even seems possible the title game could end up Oregon vs. Colorado.
The worst-case scenario for the Buffs would be if Washington can't play and USC can, leaving CU without a game. If that determination comes soon enough, there might be more juggling. But if it happens at the last second, say Thursday or Friday, that wouldn't leave much time for coming up with alternatives.
I believe the Buffs should have been the championship game fallback team regardless, especially because USC had to pull out of its head-to-head matchup with Colorado due to COVID-19 issues. Insisting on North vs. South is silly in this bizarre season.
For a while Saturday night, it seemed that the Buffs were going to be kicking themselves even harder for the loss. But USC staged a miracle finish to beat UCLA 43-38 in the Rose Bowl to remain the league's only unbeaten team and atop the South. If the Buffs and Bruins, who took the lead on a last-minute field goal before allowing a final-seconds TD, both had won, the Buffs would be headed to the league championship game as the South champion.
With all of that in mind, here's one other idea as a fallback, if the Buffs need one: Consider doing something for football in the state of Colorado in a troubled season. Shoot to have Colorado and Colorado State, which got in only four games, meet next weekend.
The Buffs didn't know how the USC-UCLA game would unfold when they addressed the loss to Utah.
"Our guys are disappointed, and most of our disappointment was because because of our own shooting ourselves in the foot," Dorrell said of the Buffs and their two lost fumbles and one interception. "We had a few dropped passes on third down that could have happened. We just dind't play like our normal selves. It's unfortunate, we'll learn from this, we'll pick up our ball and go home and get ourselves ready to go next week. I'm still encouraged by this football team and how far they came."
This will go down as Rice's breakout game, and it left him with mixed emotions.
"I would have to kind of say it hurts, because we were doing so well all season," Rice said. "The drive through. The passion in the locker room. At the end of the day, you have to be afraid of losing as much as you want to win. You have to keep pushing toward your goals. I think we lost track of that, got too excited in the emotions after the first half and couldn't keep on pace."
On his TD punt return, Rice avoided punter Ben Lennon in the open field.
"Hopefully I could slip him because I know if I get tackled by the kicker, my teammates are going to talk crap to me all the time," the young wide receiver from Chandler, Arizona said.
The Buffs hope that part of the loss -- Rice's two TDs -- was a sign of things to come.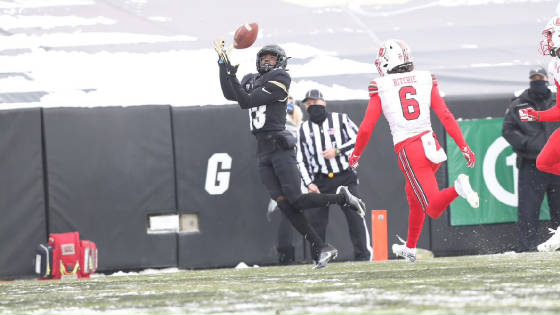 CU's Maurice Bell hauls in a 21-yard touchdown pass from Sam Noyer. (Colorado Athletics.)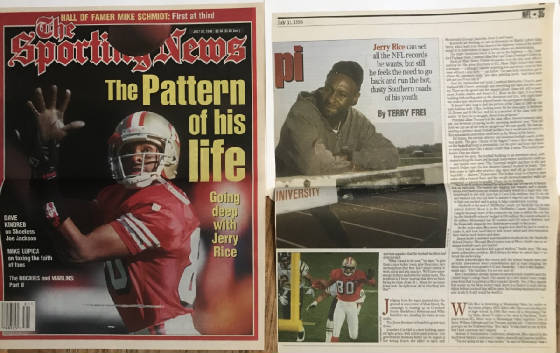 I viisited Brenden Rice's father in Mississippi in the offseason in 1995, when Brenden was ... not yet born.