October 2, 2021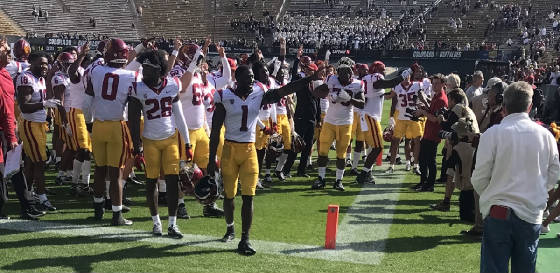 Trojans congregate in front of their band and fans after the game at Folsom Field.
BOULDER -- Among the many mysteries involving the Colorado Buffaloes that remain glaring after their 37-14 loss to Southern California Saturday is this: Why is Karl Dorrell so reluctant to pull quarterback Brendon Lewis? Why not at least take an extended look at his backup, fellow freshman Drew Carter?
One possibility is that he wants Lewis to have a chance to play through this, to have the light suddenly come on after, say, an 8-yard completion to Brenden Rice in a second quarter -- any second quarter.
But that's perilous.
If the hope remains for Lewis to be the Buffs' productive veteran starter in 2022 and beyond, this very public bruising of his ego will do more harm than good to his development.
So I asked Dorrell about it after the game, after the loss that dropped them to 1-4 heading into a bye week and then a home game against dreadful Arizona.
Is Dorrell concerned that leaving Lewis in might be counterproductive in the long run? Or does he simply want Lewis to learn from this hard-knocks experience?
"You know, that's a great question because it's a fine line," Dorrell said. "Sometimes if you pull a guy ... It's he's played well, he's played well, he doesnt't play well and you pull him, then what's that going to do to his confidence? Right? It's a fine line between trying to get him to get through this experience. There's no other way to do it, to be honest with you. Even at the highest level of football right now, those starting rookie quarterbacks have I think a 1-14 record.
"They're all going through it. Part of it is there's no shortcuts. So part of it is you want him to go through it. That's the best way. If I'm touching that stove and it's hot, I better not touch that again. That's part of the process with a quarterback. All positions, actually. But we don't want him to lose confidence that he can play. To his credit, he had his best week of work and I mentioned that a number of times this week leading into this game."
Bringing in the NFL's rookie quarterbacks is a reach, of course. It's not just apples and oranges. It's actually ridiculous. They're two different games, very different transitions.
Then, with justification, Dorrell cited the continuing and perplexing struggles of the Buffs' offensive line, much of it holdovers from the unit that helped Jarek Broussard have a breakout season and Sam Noyer -- now an Oregon State backup -- be productive as the Buffs' quarterback in a surprising 4-2 COVID year in 2020.
"You don't want (Lewis) thinking about whether he's going to be protected," Dorrell continued. "So that's another thing that kind of adds one more element. I'm telling you, we have a lot of stuff to work on. Like I said before, it's not just Brendon."
Agreed. Dorrell later said Lewis had been asked at halftime about coming out of the game and insisted he wanted to stay in.
He should have been overruled.
After the post-game availability, the word began circulating that Dorrell, when running off the field, had taken a swipe at a CBS-4 photojournalist's camera and knocked it out of his hands, to the turf.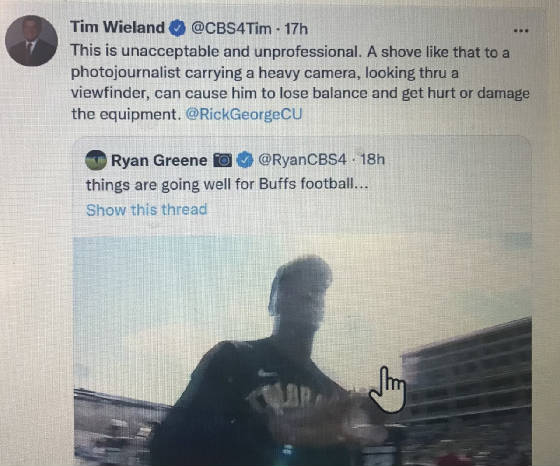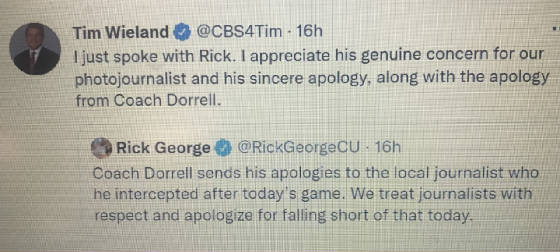 That is unacceptable. Dorrell also should address it directly the next time he's speaking to the media. He should start acting as if he has been a head coach before -- as he was at UCLA -- and show that the widespread support and praise for his work a year ago wasn't unjustified.
However, any extreme overreaction at this point to this incident or the Buffs' early season struggles would be -- or actually, is -- ridiculous.
What this program needs now is stability. At least at the top.
Update: Through the sports information office, Dorrell Sunday afternoon issued this statement:
"I want to apologize for the incident at the end of our game Saturday. We do value the media and the coverage they provide for our program, and this was strictly in the heat of the moment. That's not who I am, and I hope people who have known me through the years do realize that. I did reach out and spoke directly this morning to the videographer from CBS-4 and personally apologized to him."