November 14, 2020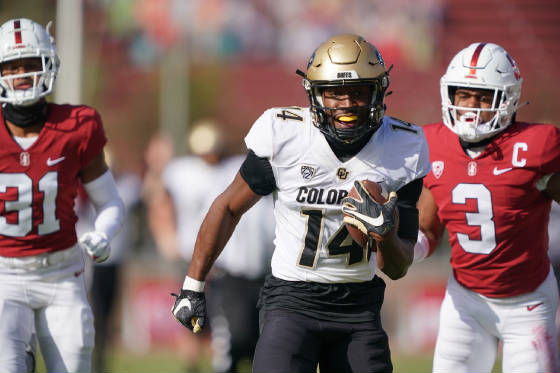 CU's Dmitri Stanley on his 55-yard catch and run for a TD late in the first quarter. (Stanford photo)
As I've noted before, going into the season, given the unique circumstances of Karl Dorrell taking over the Colorado program and the unfortunate world around it all, I was convinced three wins in the seven-game schedule for the Buffaloes was going to be the absolute max.
Now that they're 2-0 after the 35-32 win at Stanford Saturday, it's time to amend that.
These guys are pretty good.
The season-opening victory at home against UCLA was no fluke.
Realistically, the Buffs probably aren't Pac-12 South champion good.
But in this strangest of seasons, can you rule anything out?
I've been through this before, but it's actually stunning. Sam Noyer -- overlooked and
essentiallly unused for four seasons -- is a legit No. 1 quarterback and better than a simple one-season placeholder has a right to be. If he ever lost that quarterback's swagger, he has it back.
After a slow start, Noyer was 15-24 for 255 yards and two touchdowns against the Cardinal Saturday, much to the consternation of the trees and Stanford alumni cutouts spaced strategically around the seats. He also had TD runs of 7 and 10 yards.
Are we getting carried away to already wonder, with all due respect to good guy Steven Montez, why the heck it took absolute desperation -- and a "HELP" SOS after Noyer had graduated and left the program -- for them to give the former Beaverton Beaver a shot at quarterback?
New staff? No, not completely. Darrin Chiaverini remains and is re-promoted to OC; and new QBs coach Danny Langsdorf remembered Noyer from Beaverton when Langsdorf was at Nebraska.
The other issue is it's HARD to not play significant action at QB for five years -- Noyer's last start was against Jesuit High in 2015 -- and avoid debilitating rust buildup.
Last question: Would Mike MacIntyre still be the coach if he and his staff had given Noyer more of a look?
On Saturday, the ersatz Tiger Woods, Christian McCaffrey, Andrew Luck, Jim Plunkett and John Elway, among the other ex-Cardinal athletes, had no comment. Neither did Ted Koppel, Ted Danson and Rachel Maddow.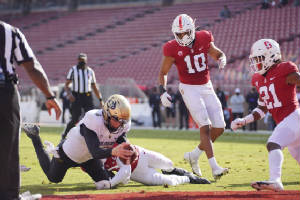 Sam Noyer scores on one of his two TD runs, then is congratulated by his offensive linemen. Visible are William Sherman (78), Kary Kutsch (58) and Frank Fillip (76).
Jarek Broussard, coming off two seasons of inactivity because of knee issues, also had his second straight big game, rushing for 121 yards on 27 carries. Dmitri Stanley had six catches for 126 yards, including a 55-yard score on a slant when he looked like an Olympic sprinter pulling away from shotputters. The offensive line, despite some juggling because of injuries, is dominating, and the paying homage to the guys up front is genuine.
And the defense makes just enough plays at key times to hold the fort.
That's a sound formula, and we'll know more after the next two weeks, if the scheduled games against Arizona State and USC come off. (That stipulation is a must these days.)
(UPDATE: Indeed, on Sunday the Pac-12 announced the CU-Arizona State game was canceled because of COVID-19 problems in the Sun Devils' program. More on this at the bottom.)
During the post-game Zoom session Saturday, I asked Dorrell if coming back with another strong showing and a second win re-enforces the confidence that this team -- such a mystery going in, even to its coach -- is for real.
"And I'm still learning so much about this football team," Dorrell responded. "We feel pretty confidently about ourselves, and I think that's more in our building than probably outside of our building. I like to ride on the temperature of the team, and team is very hungry, they're inspired about playing well and having success this year. They told me that from the very beginning when I was hired here, so I'm kind of riding on that wave of that thought process and have been building on that thought process for the last nine months.
"These guys have done everything I've asked them to do, absolutely everything. That's why I love these kids. They're learning how to win and learning how to win ugly. That's still a good sign, a good trait to have in these types of games that we had today."
Noyer noted that "2 and 0 is a great feeling. It wasn't the prettiest win, but at the end of the day, a W is a W. We have to kind of build off this and keep going."
In the wake of the CU-ASU cancellation announced Sunday, Buffaloes athletic director Rick George was checking around, seeing if an alternative game might be arranged for this week. One possibility would seem to be moving the CU-USC game up a week, given that the Trojans' scheduled opponent -- Utah -- hassn't been able to play a game yet and remains beset by COVID-19 problems in Salt Lake City.
Another is the Buffs having a bye weekend, given the Pac-12's inflexibility so far. If a game is scrubbed, it's cancelled, not postponed.
The one that makes the most sense to me -- CU vs. CSU on Saturday in Fort Collins, restoring the Rocky Mountain Showdown that originally was scheduled for Sept. 5 -- would require the Pac-12 to back off its insistence on an all-league schedule. UNLV vs. CSU could move from Saturday to Dec. 19. When the Rams' opener against New Mexico was canceled, the possibility of a CSU-CU game brought up, but because CU would have gone into a game that week with five pads practices, that just wasn't practical. But it became apparent that week that both schools would be well-advised to think about the possibililty of restoring a Rocky Mountain Showdown if the programs ended up needing to fill dates in this crazy season. The Pac-12 needs to be open-minded about the possibility and back off its previous stance.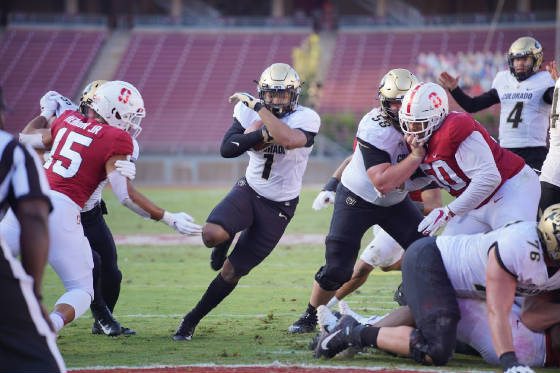 Jaden Mangham scores the Buffs' final TD from 2 yards out, on the first play of the fourth quarter. (Stanford photo.)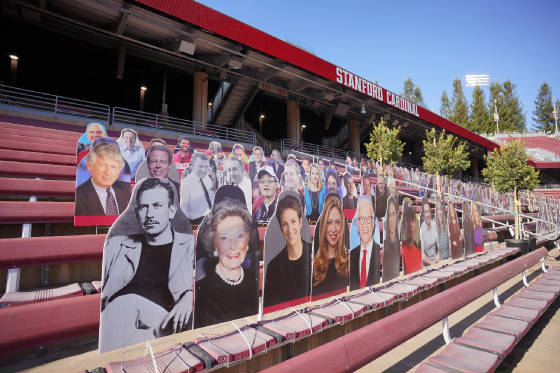 Here's one of the groups of Stanford gliterati alumni, probably grousing about the playcalling. (Stanford photo.)