April 1, 2021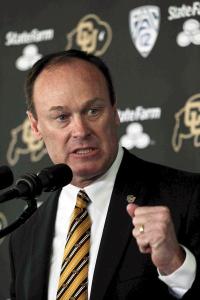 Left: Rick George when availabilities didn't have to be all via Zoom.
Right: Steve Addazio after CSU's final spring practice Thursday.
It was Opening Day, and the Rockies were going to be allowed to admit as many as 21,000 fans -- roughly 40 percent of capacity -- for the game against the Dodgers at Coors Field. And that will be the cap for all home games, at least at the outset of the season.
Direct comparisons to an indoor venues are shaky, but the Nuggets and Avalanche will begin admitting as many as 4,050 fans for home games at Ball Arena. The Avalanche is at home against St. Louis Friday and Saturday, the Nuggets at Ball Arena against Orlando Sunday.
It's not out of line to at least hope conditions by late summer will allow Colorado and Colorado State to not only allow fans in for football home games at Folsom Field and Canvas Stadium, but have it be more than family and friends. A lot more -- say, in the 50-percent capacity range.
CU athletic director Rick George and CSU coach Steve Addazio Thursday spoke with the media on Zoom calls. George's appearance nominally was to provide a State of the Athletic Department update, while Addazio spoke right after the Rams' 15th and final spring practice.
I asked both about their hopes for possible home crowds in the 2021 season.
George responded from the vantage point as an administrator more directly privy to the discussions with various entities. He seemed cautious and didn't specify estimates or hopes about how many might be allowed in.
Addazio is more the ball coach anxious to get going and to play in front of fans in his second season with the Rams. It's easy to forget, but CSU played only one home game in 2020 -- the Bronze Boot win over Wyoming -- and it was under no-spectator conditions.
"I think we've got a great home schedule in football and men's basketball," George said from Boulder. "I think we could fill it if we have the opportunity to do that. But we'll work closely with our county and our state on what they will allow. We'll adhere to their guidelines. I'm hopeful that we can learn a lot from what the Rockies are doing and what the other professional sports are doing right now. Our desire would be to put as many people as we can into our stadium and our Events Center this winter. So we'll look at a variety of different scenarios, Terry, kind of like we did last year.
"We're about 50 percent off our revenue and that has to do with the fact that we didn't have any fans in our stadium or arena this year, paying fans. We're probably down about 50 percent in conference distribution. So those two numbers combined put us kind of where we are. The ticket piece is really important for us. I know we learned some things. We created an app that we were going to use had we been able to get fans. I think it will allow us to know and be able to contact trace and do all those different things. Again, we'll just take our direction from the county and the state."
CU has five games scheduled for Folsom Field, plus a home game against Texas A&M in Denver.
Later, I circled back and asked about whether George is wary of Boulder County Public Health perhaps being more conservative and careful than other areas of the state or Front Range in allowing crowds. Boulder, after all, can travel to the beat of a different drum.
"I'm not worried about it," George said. "We'll work with the county and again we'll work with the state. Our hope is that it'll be consistent across the entire state on what that looks like by the time we get to the middle of the summer. If everybody can start getting vaccinated starting tomorrow, I think that gives us great hope that we'll be able to come back and be able to put a lot of fans in Folsom Stadium and in our Events Center. We've had to adjust in a variety of different ways the past 13 months. I still see some of that as we move forward, but we'll lay out our plan. I thought we had a great one this year to be able to allow fans in our stadium and again, we'll work with the county and see where we're at in the summer."
A little later, when I asked Addazio about the prospects and his hopes for playing in front of fans, however many there are.
"I can't wait," he said. "I've never as the head coach here been out and walked into the stadium and seen anybody in there. . . Listen, I have a strong opinion about this and that would be this: The president of the United States said that by May, anybody who wants a vaccine can get one. In the state of Colorado, teenagers now can go get vaccine. Once we are as vaccinated as we can be, I don't know why we'd have any conversation about what we're doing. That makes no sense to me whatsoever. We can't control those who don't want to get a vaccine, right? But that shouldn't impact what we do moving forward. If you're asking me my opinion, I don't even know why there's any conversation about would we have a full stadium in September. Now, you say, 'Everybody hasn't.' Right, everybody hasn't. Yet the Rockies are going to have (nearly) half-capacity ...
"I get it, we have to get fully vaccinated and I'm fully on board with that. Everybody's got personal decisions, but by the end of May, by June, July, by August, my god. Once that goal is accomplished, I guess my point would be, if that's not good enough, what's ever going to be good enough? Nothing? I don't plan on wearing a mask the rest of my life, I can tell you that."
He emphasized that he has told all involved to wear a mask when appropriate and follow COVID-19 protocol.
"We're setting the best examples we can for our team, for our players, for our community. And that's what we're going to do. We're going to keep doing that. But in my mind, if you're asking me, there's going to come a point where everybody who can get one gets one, and at some point we're all moving ahead. Life's going to move on. I would have thought we could have 500 people if we wanted to have a spring game. Because the Rockies had 21,000. Same air. . . But you know, you probably put perspective on things and you say to yourself, you know what, we just came off one hell of a year. Brutal, and everybody's just trying to do the right things, find the right way. It's going to work itself out. Keep the faith. We'll have a full stadium in September."
Of course, the issue in the fall might be: If universal vaccination is the standard for preparedness, how do you react to those who pass on the chance to get the shots -- and might have season tickets on the 50?
Previous: Where's Jarek Broussard's knee brace?