December 5, 2020
Jarek Broussard on one of his long runs against Arizona. (Arizona Athletics).
It was more than a coincidental footnote.
It was a reminder of how great Rashaan Salaam was at Colorado, including his 1994 Heisman Trophy season. And how sad it was that he died so young, committing suicide at age 42, exactly four years ago -- on December 5, 2016.
On Saturday night in Tucson, the Buffs' Jarek Broussard, one of the startling surprises of the troubled college football season, ran for 301 yards on 25 carries in CU's 24-13 win over Arizona.
Going in, the much-cited reference points for Broussard, the sophomore from Dallas, were that he was just getting on the field after a redshirt year and a season lost to a knee injury, and that he had rushed more than 100 yards in each of the Buffs' first three wins.
He was just getting started. In addition to piling up the 301 total yards, he pulled off the feat of having runs of 75, 72 and 59 yards -- without scoring a touchdown -- as the Buffs came back after trailing 13-0.
And after he was made aware that his big night came four years to the day after Salaam's death, he made the connection with the tradition that links past and present in the CU program.
"Every day, we walk in the Champions Center," Broussard said. "We walk past that trophy. It just means a lot to be in that type of company, with that sort of player."
Broussard has piled up 733 yards through four games, and his play combined with the emergence of Sam Noyer as a legitimate No.1 quarterback and leader in his unlikely fifth season have been the major offensive surprises for the Buffs, now 4-0 overall and 3-0 in the Pac-12, with only a Friday night home game against Utah remaining on the regular-season schedule.
I'm not saying Broussard is in the Heisman mix -- he isn't, primarily because the Buffs will end up playing so few games -- but he has seven more yards through four games than Salaam had in 1994. Salaam had a similarly huge day in the Buffs' fourth game in 1994, rushing for 317 yards on 35 carries against Texas. (See game-by-game rundown for both below.)
"I'm very proud of myself, I must say," Broussard said. "All the hard work and all the hours of rehab, the cold nights in the hospital. It's paying off and it feels real good."
After the game, CU coach Karl Dorrell teased Broussard about the highly noticeable brace he wears on his knee.
"I told Jarek, I said ... as soon as he sheds that knee brace, he might have three touchdowns," Dorrell said, then laughed. "With him still wearing that knee brace, he's doing a great job. I'm so excited what that kid does for us offensively. He's such a sparkplug for us."
This keeps coming up, but it's pertinent. Dorrell took over in late February and the Buffs weren't able to have spring practice because of the COIVID-19 shutdowns. But Dorrell keeps being asked about whether he had any idea of what he was getting in Broussard.
"What you guys have been seeing when he's in the game is what was doing in training camp," Dorrell said. "He's been that kind of player for us. I don't think any of us are surprised by his production, I don't think any of us at all, because he was doing the same type of things against each other in training camp the whole way. We were hoping that he continued that process in real games that mattered, and he's doing those things. I keep talking glowingly about him week after week, after week."
The negative Saturday night was the apparent season-ending injury standout tackle Chance Lytle suffered. The Buffs -- and many of the Wildcats -- comforted him as he left the field on a cart.
With just one game remaining -- at least on the schedule -- the Buffs are in the weird situation of being 4-0 and hoping to finally crash the College Football Playoffs' Top 25 for the first time. There's even a chance they could play host to the Pac-12 championship game on Dec. 18. That would be the case if CU beats Utah and USC loses to Washington State (Sunday) or UCLA.
Of course, we're hearing the second-guessing about the Pac-12 getting the latest start of the Power Five leagues, but look at the real world and even how this season is playing out. Was it a "wrong" decision? Would sticking with the plan to play in the spring of 2021 instead have been so misguided -- or misguided at all? (Actually, it's what the Pac-12 should have done ... and that's not hindsight. It's fact.)
But the way it's working out, Dorrell and the Buffs are, or at least should be, one of the top stories. They're at least bowl eligible, and that's suprising in itself considering it was perfectly reasonable to have low expectations for the Buffs and, under the circumstances, grant Dorrell a free pass for this season.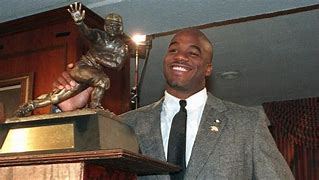 After four games of his Heisman Trophy season in 1994, Colorado's Rashaan Salaam had rushed for 726 yards:
-- 183 on 24 carries vs. NE Louisiana
-- 85 on 26 carries vs. Wisconsin.
-- 141 on 22 carries vs. Michigan
-- 317 on 35 carries vs. Texas
Four game totals: 726 yards on 107 carries
Jarek Broussard falls forward for yardage against the Wildcats. (Arizona Athletics.)
After four games in 2020, Colorado's Jarek Broussard has rushed for 733 yards.
-- 187 yards on 31 carries vs. UCLA
-- 121 on 27 carries vs. Stanford
-- 124 on 32 carries vs. San Diego State
-- 301 yards on 25 carries vs. Arizona.
Four-game totals: 733 yards on 115 carries
Feedback: terry@terryfrei.com