July 30, 2020
Steve Addazio, left. and QB Patrick O'Brien (12) at one of Rams' seven spring practices before March shutdown
NOTE: Updated after Thursday afternoon SEC announcement.
The messages on the college football front this week are glaringly mixed.
On Wednesday, the determined-to-play ACC issued a schedule matrix minus specific dates that looked like a board game, including 10 league games and guest member Notre Dame. Meanwhile, the word out of Fort Collins was that the Rams would suspend on-campus team activities because of eight positive COVID-19 tests within the program, among 140 tests, since players returned to campus in June.
When athletic director Joe Parker used the term "to date" in disclosing the number, I took that to mean more positives are possible as results come in.
The CSU athletic department release Wednesday night said the full team will be tested (or retested) next week and the hope is to resume team activities "within the next two weeks."
"We are taking this step to voluntarily pause football activities to minimize the opportunity for this virus to spread any further," Parker said in the release. "We will always put the health and safety of our student-athletes and community first, and while we are disappointed to see this spread occur within our program, we remain encouraged for the continued collaboration we have experienced with our University's Pandemic Preparedness Team, local, county, and state health officials."
That timetable would take the Rams nearly to mid-August.
How pressing that becomes depends on if and for when CSU is able to replace three of its four non-conference games -- the scrubbed meetings against the Pac-12's CU (at Canvas Stadium Sept. 5) and Oregon State (at Corvallis Sept. 12), and the SEC's Vanderbilt (at Nashville Sept 26).
The Sept. 19 game against Northern Colorado still is on.
It's all still a moving target, in the wake of the SEC's Thursday announcement that it would play a 10-game, entirely in-conference schedule, confirming CSU's loss of the game against Vanderbilt.
The Rams' own Mountain West Conference will have to announce something soon. The alternatives include simply sticking to an eight-game conference schedule and scrambling to preserve and/or add additional con-conference dates; or go to 10 conference games within the league only, which would freeze out UNC and do to the Bears what the Buffs did to the Rams. Also, the Rams are scheduled to play Mountain West opponent New Mexico at home on Oct. 10, and New Mexico Governor Michelle Lujan Grisham has called for the cancellation of fall college sports, including fooball. But if New Mexico drops out for a season, the MW still could play an eight-game league season with some tinkering.
CSU is now down for nine games -- the eight in the league, plus UNC.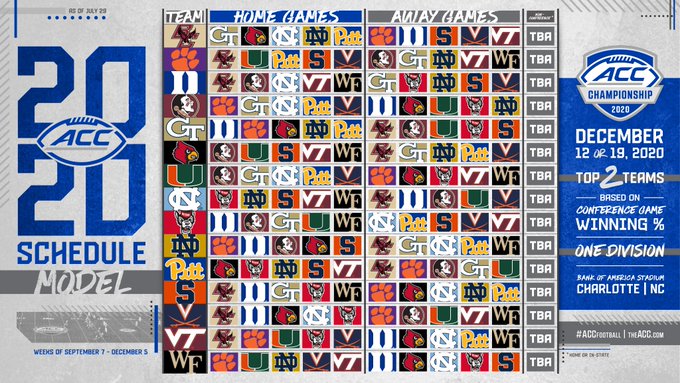 The rough ACC schedule, minus dates.
The Rams aren't alone in this. Among other problem spots, Michigan State's football team is in quarantine and Rutgers is having similar issues in the wake of players attending a party. Positive tests have popped up around the country.
It means discussing the specifics of 2020 football schedules -- timing and formats -- possibly will turn out to be moot. (In fact, you can say "probably" and not be out of line.)
But at some point, college football needs to specify what it at least wants to shoot for -- and go from there.
That's whether it's a fall schedule (with or without spectators) or a spring schedule.
Yes, I get that the situation changes daily. The arrangements are myriad and complex, involving television schedules, protocols and decisions on crowds and crowd management. The pragmatic approach would have been to bag the 2020 season altogether, but it would be such a financial disaster for athletic departments -- and all programs under the umbrella -- canceling is the last resort.
There was a lot notable about the ACC's rough schedule announcement Wednesday, calling for the 10-game schedule in one 15-team division, with the top two teams making the conference championship game in Charlotte.
(An aside: Fifteen teams? Give the inability of college leagues to count -- i.e., Big Ten, Big 12 -- I have a suggestion for a temporary one-season name for the ACC. The Big 18.
What jumped out at me in the ACC announcement was the provision for a possible 11th game, a non-conference game that must be played in the home state of the ACC school. The most prominent possibilities would have been ACC vs. SEC, such as Clemson vs. South Carolina and Georgia vs. Georgia Tech, for example. But that was ruled out Thursday, and what it means now is that the ACC will add another home game with anyone that can be lined up.
If the Big Ten had made provisions for a "wild-card" game of that sort, Iowa State vs. Iowa would have been possible ... depending on the Big 12 schedule decision.
If the Pac-12 had done it, the Rocky Mountain Showdown -- CU's first visit to the CSU campus in 63 years -- could have gone on. To be fair, Parker publicly noted his belief that CU AD Rick George had argued for a "plus-one" non-conference game. Parker also recently emphasized the top-priority goal would be to have a complete eight-game conference schedule with division champions and a title game.
For now, it's all theoretical.