January 27, 2021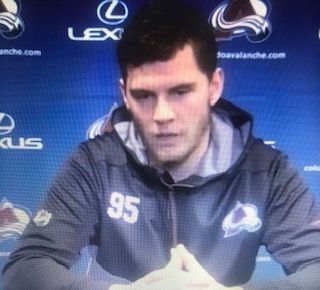 The Avalanche's official roster lists players born in nine different nations -- Canada, United States, France, Austria, Czech Republic, Russia, Finland, Sweden and Germany.
There's a catch involving left wing Andre Burakovsky.
He was born in Klagenfurt, Austria, only because his father, Robert, was playing professionally there.
Otherwise, Burakovsky is Swedish and he has represented Sweden in international competition at least as far back as the 2011 Hlinka Gretzky (U-18) Cup. He twice was on the Sweden roster at the World Junior Championships -- the second time in 2014, when he was with major junior's Erie Otters and had been the Washington Capitals' first-round choice in 2013.
So it depends on semantics. It's correct to place him under Austria's flag logo in the list of NHL players broken down by birthplaces, and you'll hear him referred to as "Austrian" or "Austrian-born," but currently, only the Flyers' Michael Raffl is both Austrian-born and raised.
"Obviously, I was born in Austria because my dad played there and my mom was pregnant," Burakovsky said on the Avalanche's Wednesday Zoom availability after practice at Ball Arena. "My whole family, everyone way back in time seems to be from Sweden. Obviously, I consider myself 100 percent Swede. I just happened to be born in Austria but really have nothing to do with Austria."
Burakovsky was one of Joe Sakic's key bolstering acquisitions in 2019, when the Capitals sent him to Colorado for organization forward Scott Kosmachuk and two draft picks. He had spent five seasons with the Capitals and then pitched in during the abbreviated 2019-20 season with 20 goals in 58 games. This season, he's coming off a two-assist night in the Avalanche's 7-3 rout of San Jose Tuesday and has two goals and three assists in four games -- also missing three games with an upper body injury.
The big issue here is the Avalanche both needing to keep the top line -- Gabe Landeskog-Nathan MacKinnon-Mikko Rantanen -- intact, while avoiding the temptation of breaking it up in search of more balance and production. (I wrote about that here.) So when the currently constructed second line, with Nazem Kadri centering Burakovsky and Brandon Saad, awakens and makes major contributions offensively, that's huge. (Pronounced "yooge.") When it's unproductive, it highlights one of the Avs' potential long-run Achilles'. Burakovsky's assists Tuesday came on the previously struggling Saad's two goals.
"It's part of the job," Burakovsky said. "We're the second line for a reason. The start of the season, maybe we haven't produced as much as we have wanted to as a second line. I was sitting out for a bit. We haven't played that many games together in a while. 'Saader' is new to the line so it's going to be a little different. We found that success we were looking for in that last game and now as a top-six player on the second line, you're supposed to be a line that puts up points and score and help the team."
I also asked Avalanche coach Jared Bednar about the state of the quest for secondary scoring.
"The league's too good to win with just one line or one group of guys going," Bednar said. "You need everyone on your bench pulling the rope in the same direction with contributions for our team to win. We focus on the scoring part of it, but it's the checking part of it. Everyone has their own little niche and their own little role within our team. They take a lot of pride in that. The guys know what their role is. They work to be as good as they can possibly be in that role.
"Some guys are relied upon to produce offensively and we've talked a lot about that recently. It's tough to win if you go cold in those areas and also when you have guys that play a certain checking role and they struggle for a little bit and you're giving up too many goals, it's tough to win that way, too. So you need everyone on the team being the best they can be within their role on the team. Last night, I thought we were good in all areas and it leads to a nice win for us. The goal is to go and repeat that performance tomorrow."
Yes, the Avs and Sharks meet again Thursday night.