December 21, 2020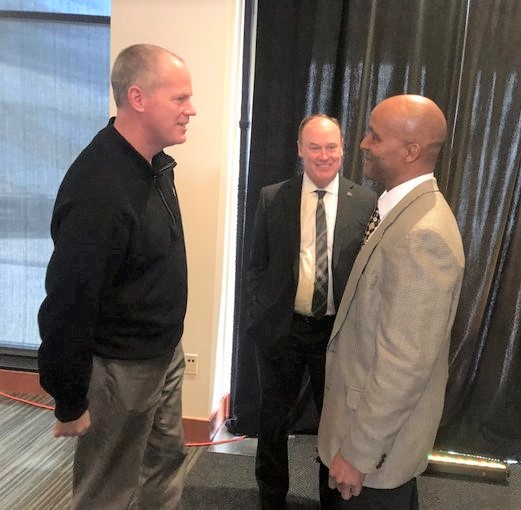 The good old days: At Karl Dorrell's introductory news conference following his hiring as CU's head coach, he chats with basketball coach Tad Boyle as athletic director Rick George watches.
I ranted about this last week while outlining a scenario that could have led to the Buffaloes facing Colorado State on Sunday or Monday. But I'll offer this once more, with feeling.
CU got a raw deal from the Pac-12 in the week leading up to the league's Friday championship game.
The Buffs should have been placed in the title game in place of Washington, either from the start or after the Huskies had to drop out early in the week.
Instead, CU was reduced to playing the role of standby for Oregon and/or USC and ended up not playing a game at all.
What perplexes me now is neither athletic director Rick George nor coach Karl Dorrell is willing to blast the league -- at least not publicly -- in the wake of the fiasco.
Or maybe they're just too classy to jump on the chance to do it?
When I asked George about it on CU's Monday Zoom call, he was restrained in his comments. During the course of the call, though, he also acknowledged that the league had let the Buffs know soon enough they wouldn't be needed in the title game, so they theoretically could have played a non-league opponent -- e.g., the Rams -- but didn't find that option to be palatable.
Pac-12 commissioner Larry Scott came out of it saying he felt "empathy" for the Buffs, but that didn't make up for the maltreatment.
George initially commented on the season-long situation as a whole, when they lost scheduled league games against Arizona State and USC and then was frozen out of the title game. Originally, the Buffs were slotted to play Oregon on Saturday in Los Angeles, but the Ducks moved into the title game.
"I appreciate the commissioner's empathy," George said. "But we don't need anybody's empathy. We knew what we were getting into. We had our eyes wide open when the protocols were in place. . . . So if you go back to this past week, I think somebody said we could have played a non-conference (game). Yeah, that's correct. We could have. But the fact that we not only were preparing for Oregon, potentially for USC, and then Wednesday night when we get the word that we could play (a non-conference opponent), it made no sense for us to prepare for a third team. No sense.
"Plus, you talk about the mental toll on your student-athletes and coaches, anybody that knows the game of football knows it's really difficult to prepare for one, let alone two and potentially three. So we made that decision. Karl and I talked, he notified the team on Thursday morning that we were going to give them some days off. They needed a break. If you think about it, they just came off finals. And again, I appreciate the people having empathy, but we want their respect. We've got to earn that respect. We know that."
The Big Ten modified its protocols, including about minimum games played to be eligible for its title game, to get Ohio State into it against Northwestern. In contrast, the Pac-12 stuck to its insistence on North vs. South rather than tweaking to match up CU vs. USC, and I wrote about that issue as soon as leading up to the Buffs' disappointing loss to Utah. At that point, CU could have finished 4-0 in the conference and 5-0 overall and still likely would have been left out, finishing a half-game behind the Trojans because the USC game was canceled. Granted, if CU had beaten Utah, the league would have been more likely to tweak the protocols and put CU in the title game -- whether from the start, ahead of one-loss Washington, or ahead of two-loss Oregon as the Huskies' replacement.
Later in the Zoom, George wouldn't get into details, but made it clear he at least pitched for flexibility and putting the Buffs in the title game, especially after Washington was out of the picture.
"We certainly had conversations about that, yes," he said. "Did I bring that up, yes. But again, we had protocols in place and we knew what those protocols were and decided not to change the protocols."
He said USC-CU "could have been a good game and it's unfortunate that we weren't able to play them. But circumstances wouldn't permit it. ... We agreed on a set of protocols for the champ game and the conference was following those protocols. So Oregon was the right person to put in there. Could there have been a change? Yes, we would have had to change the protocol, but that was not the protocol that we had. So we were basically on standby if Oregon couldn't play or USC."
Later, I asked George if a replacement CSU-CU game -- a renewal of the Rocky Mountain Showdown -- had been considered, either last week or earlier in the season when both teams had games canceled the same week. With all due respect to George, I do know football and I get the preparation argument, but in this crazy year, conventionality is out the window. At some point, we could concede that football is not brain surgery and just lining up and playing without a full and routine week of breaking down and preparing for an opponent is not an outlandish task.
"Look, Joe's a good friend and he and I had a couple of conversations," George said of CSU AD Joe Parker. "Both instances weren't the right timing. The first one, the week they approved the non-conference, it was just too late for us. This past week, we had just come off finals, just got beat by Utah, we're preparing for two teams, then to even contemplate playing another one, I don't think it would have been fair to our student-athletes or our coaches to move forward on that."
Ultimately, I asked George about the Buffs and the Pac-12 getting caught in a no-man's land, starting the season later than any other Power 5 league, and whether they either should have started sooner or stuck with the plan to play in the spring -- which is what I believe the league should have done.
"I think our circumstances were different, just because of where the virus was in certain parts of the country," George said. "Again, hindsight's 20-20, right, and we made the decision based on the information we had at the time. Would we have liked to have started earlier, yes. But the fact is, we had some areas of our country that our schools are in that just wouldn't have been smart for us to move forward at that time."