September 18, 2021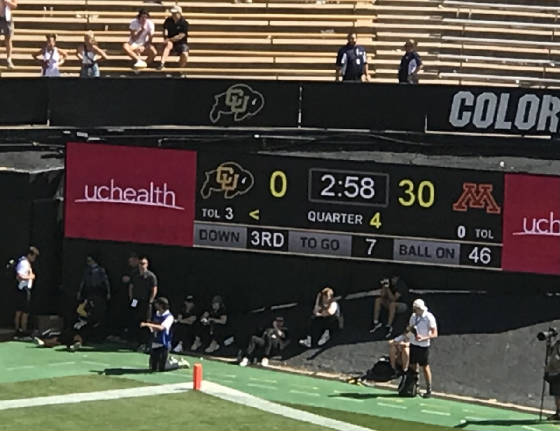 This is the way it ended -- in a game every bit as lopsided as the score might indicate.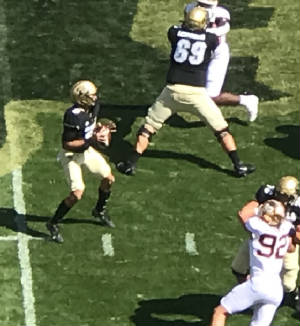 BOULDER -- That Colorado Saturday lost to a decent Big Ten team, the Minnesota Gophers, wasn't shocking.
This sure was: The Buffs appeared inept and mysteriously underachieving, and the 30-0 scores showing on the boards as the final seconds ticked off wasn't there because a cadre of Minnesota computer science majors hacked into the Folsom Field system.
The Gophers were that dominant.
The Buffs were that bad.
The most puzzling aspect to this, at least for me, is that in the truncated COVID-19 season a year ago, the Buffaloes ran over, around and through opponents on the ground -- with Jarek Broussard averaging 149 yards per game -- and mostly controlled the tempo. And on Saturday, the troubling signs that popped up in the 10-7 loss to Texas A&M the week before in Denver blew up into issues of massive proportion.
CU had 63 yards of total offense -- minus 19 rushing and 82 passing.
With a minimal passing threat from freshman quarterback Brendon Lewis, who was 8-for-16 for 55 yards, the Buffs couldn't run the ball. The two are connected, of course. The opposition's defensive mandate is to control or stop the run and dare the Buffs to be productive through the air. CU can't answer that challenge.
Early in the post-game news conference, I asked CU coach Karl Dorrell about that contrast to a year ago and the toll of no passing game -- to speak of.
"I would say there's probably some issue to that, yeah," Dorrell said. "But I just feel we have to be able to do a number of things. Like you mentioned, like I even said last week, we have to make progress every week. It's unfortunate that after the heels of that game, we didn't make progress. We felt we did, but it wasn't apparent when we played today."
Several issues are at work here, as Dorrell noted, and it would be naive and oversimplistic to bring it all back to quarterback play. But this sure isn't what CU had in mind when it essentially let last year's storybook starter, Sam Noyer, know that it most likely was time to pass the torch. That led Noyer to transfer as a graduate student to his home-state Oregon State Beavers, where after starting the 2021 opener he's now backing up Chance Nolan. In Boulder during pre-season practices, Tennessee transfer J.T. Shrout also got into the mix before suffering a knee injury in mid-August.
Lewis' struggles have led to the inevitable calls for freshman Drew Carter -- like Noyer, from the Portland suburbs -- to step in, and he finally came on in the fourth quarter against the Gophers. It does make you wonder how this team would be with Noyer continuing as a competent placeholder, holding down the job one more season while Lewis and Carter are in the wings. Also, CU has not done a good job of taking advantage of what Lewis can do and what his strengths are. That trail of responsibility goes back to offensive coordinator Darrin Chiaverini and Dorrell himself.
Dorrell was savvy Saturday after the game, in his opening statement making no effort to place earrings on a sow. That most likely headed off more pointed questions than the ones that followed from the media (including me). He said everything is on the table for consideration after the horrible showing that sent many -- or even most -- CU students in the crowd to the nearby Norlin Library early to get a head start on Saturday studying.
He said the Buffs need to be a better product on the field for their fan base. He acknowledged he considered making the quarterback change to Carter (above) sooner, discussing it at halftime. He tersely noted Lewis is struggling. He also conceded Broussard has been plagued with nagging injuries, and in limited time Saturday, he had only 11 yards on five carries. Other than that, all was rosy.
It's mystifying. It reallly is. After such a surprising upbeat season a year ago amid the terrible circumstances, this team was supposed to be -- and should be -- better.
Sunday addendum: In the national stats after Week 3 games, the Buffs were 126th in scoring (averaging 14.0 points) and total offense (averaging 253.3 yards). Responding with the cliched "off with their heads!" is straight from the boilerplate, but the Buffs need to either do even more to adjust the offense to Lewis' capabilities or jut concede he's not ready for prime time and give Carter a longer look.
(On Saturday, by the way, there was some confusion about the Buffs' offensive yardage totals. Here are the numbers from the official book I was handed.)