September 11, 2021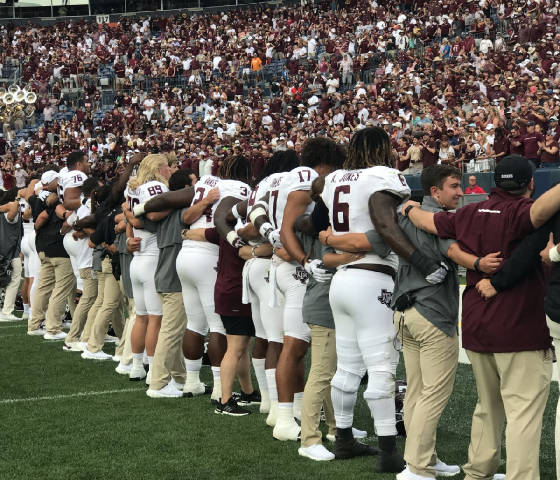 Singing after the game with their fans at Empower Field at Mile High,
the Aggies were in a triumphant mood.
So the Colorado Buffaloes, after appearing shaky and unimpressive in the opener against undermanned Northern Colorado, outplayed and more than belonged on the same field with the fifth-rated Texas A&M Aggies Saturday in Denver.
Orange slices all around?
No way. The most aggravating aspect of the 10-7 loss was that the Buffaloes let it get away. They should have finished it off. It should have sent UPSET! tremors across the college football landscape. To try to transform it -- as did an albeit frustrated and disappointed CU coach Karl Dorrell -- into a back-patting exercise and proof that CU was better than we had been giving the Buffs credit for was insulting and condescending.
After the Aggies got an 18-yard touchdown pass from backup quarterback Zach Calzada to Isiah Spiller to take the lead with 2:41 left and went on to win, the dueling chants on the east side of the Empower Field at Mile High were "SEC!" from the Aggies fan contingent, and a more taunting "overrated" from CU partisans.
Indeed, although the Aggies lost their starting quarterback, Haynes King, to a lower leg injury in the first quarter, that didn't completely explain away the question so many had s they watched from the stadium or on television.
That's the No. 5 team in the country?
Give the Buffs credit for that. The defense was terrific. Hold anyone -- from the SEC or anywhere else -- to one touchdown, you should win the game.
It's often the easy way out and oversimplification to tighten the focus on a couple of plays and with 20-20 hindsight criticize the playcalling -- mainly because the plays didn't work. But that's what I'm going to do here. Plus, it's always wrong to assume that everything that happened after a pivotal point would have happened the same way. In other words, if CU had taken advantage of a prime chance to take a 14-0 lead midway through the second quarter, the dynamic would have been reset and there's no way to know if CU would have won, say, 14-10. Or won, period.
But it was a blown opportunity to at the very least take greater control. And the playcalling -- two consecutive unsuccessful Brendon Lewis quarterback sneaks on third- and fourth-and-1 from the Aggies' 5 -- was uninspired, stubborn and lame. Let's clear up one thing first: Going for it on fourth down was the right thing to do. Nobody should have been second-guessing that, but Dorrell's reaction was defensive on that point.
"I'll do it again," he said. His next sentence might have been a matter of reading something into the record -- that offensive coordinator Darrin Chiaverini calls the plays. "When I was the playcaller," Dorrell said, "I know I'm not calling the plays right now, but I encouraged that. We're going to be aggressive. We're going to be the type of program everybody's going to be excited about when it's all said and done. Part of it is they have to understand our mindset as a coaching staff. We want to be aggressive, particularly in games like this where you need touchdowns more that field goals. I've learned that lesson in the NFL. Field goals, when you're playing against a really good team, don't amount to anything because you need touchdowns to win. . .
"We knew that in this game we needed touchdowns. I'll probably do that a lot. You'll see it. When we're down that deep and it's fourth and one, I have a lot of confidence we, this offense, can get it."
Again, the problem with all of that was in his defensive posture, Dorrell misidentified the issue. The issue was not whether to go for it on fourth down or accept a field goal to go up 10-0. Nobody -- or at least nobody I know of -- was second-guessing going for it on fourth down. The issue was the two lame play calls on the consecutive downs. Third down: Brendon Lewis, QB sneak, no gain. Fourth down: Brendon Lewis, QB sneak, no gain. A&M takes possession at its own 5.
I asked Dorrell if the calls were an expression on faith that CU could move the Aggie's strong defensive line.
"I'm not going to second-guess that," he said. "We got yardage on the first one ..." -- at least officially, that wasn't correct -- ... and we felt confident. That's OK. That's gonna happen. We going to make a mistake. We're going to scrutinize this loss because of those two calls. I just told you that, I'm going to do that again. You're going to see that again. It may not be the same call but you have to understand, that's our attitude. We're going to scrutinize that as being the difference in the game. It really wasan't. There were a number of plays in the game that could have been the difference."
He's right about that. But even with that conceded, the Buffaloes blew a chance to be 2-0 ... and those two plays were monumental in that happening.