August 10, 2021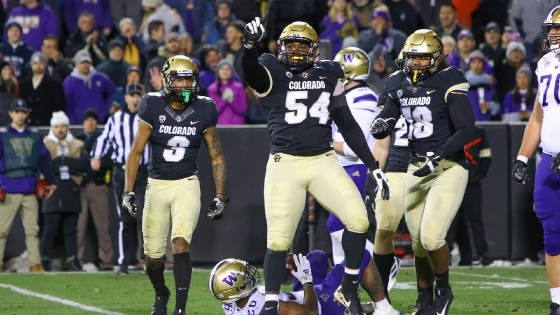 Terrance Lang (54) against Washington in 2019. (Gary Kirchner / CU Athletics)
BOULDER -- Can't a guy change his mind?
Terrance Lang did.
After saying he planned to sign a national letter of intent with Southern California -- again nothing is a "commitment" until a signature confirms the plan -- Lang backed off.
Lang wasn't originally listed in Colorado's February 2017 recruiting class. Buffs' coach Mike MacIntyre announced four days later that the defensive end from Pomona, California, had signed on with the Buffs.
"I came to CU because I wanted to leave California," Lang said after the Buffaloes' Monday practice. "Before I came to CU, I was committed to USC, but I wanted to see something different, experience something different. Colorado felt like home when I took my visit."
Maranatha is a Lutheran school in Pasadena, and Lang also was a basketball standout there.
"I wanted to go to a private school," Lang said. "My mom wanted me to go to a private school. Pasadena is probably 45 minutes away from where I live, and in the morning, it's two hours with California traffic. It definitely was a commute."
Four and a half years after signing with the Buffs, Lang is listed as a junior on the Buffs' roster. He's also playing under his third head coach.
He first redshirted in 2017 and the six-game COVID-19 season last year didn't count in terms of eligibility.
And now, under second-year head coach Karl Dorrell, Lang is being counted on as the leader of the Buffs' defensive line. Lang had nine tackles in five games last season and was a second-team choice on the Pac-12 preseason all-league team. His progression has been typical and gradual, including starting out as a pass rushing specialist in 2018 before being trusted to be a three-down lineman beginning in 2019.
Chris Wilson joined the staff a year ago and coached the defensive line in Dorrell's first season. Following the firing of holdover defensive coordinator Tyson Summers, Wilson has remained the position coach but also has taken over the coordinator duties.
On Monday, Wilson labeled Lang "a work in progress, and I believe Terrance would tell you that. He's got work to do. None of us are finished products. Players, managers, every day we have to find a way to improve this organization."
Lang went along with that.
"I can get better every day by just working hard and listening to Coach Chris," Lang said. "I can get better in every part of my game, rushing the passer, stopping the run, every part. I've matured mentally, understanding what it is to come in every day, to be consistent, work hard. Now I'm trying to take what I've learned all the way up to now and turn it into leadership and helping the people around me, while I'm helping myself."
Lang seems excited about Wilson, known for his work with defensive linemen at both the collegiate and NFL level, getting more responsibilty.
"There's been a few changes. I feel like Coach Chris has a lof of experience," Lang said. "So under Coach Chris, I feel like we have an opportunity to look at what an NFL-type defense looks like. The system is fully under Coach Chris now."