August 9, 2021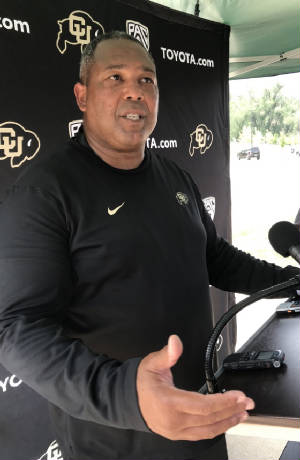 BOULDER -- After Colorado's 55-23 blowout loss to Texas in the Alamo Bowl last year, Buffaloes coach Karl Dorrell couldn't hide his anger.
In fact, he didn't even try.
CU had problems on both sides of the ball in San Antonio, but the defense particularly struggled.
It was the breaking point in the professional relationship between Dorrell and Tyson Summers, the holdover defensive coordinator Dorrell inherited from Mel Tucker. The Buffs allowed 31 points per game in the truncated season and that more than offset their startling success at getting off the field on third down.
Summers, who also had a tour of duty as Colorado's State's defensive coordinator under Mike Bobo, was fired.
Dorrell didn't look far for a replacement, promoting Chris Wilson (pictured), the veteran collegiate and NFL assistant who previously coached the CU defensive line under Gary Barnett from 2000 through 2004 and rejoined the Buffs' staff after Dorrell was hired in early 2020.
Wilson will continue to coach the defensive tackles and ends.
"That's all I've ever known," Wilson said after practice Monday. "When I was coordinator at Mississippi State, I coached the front. I've got a really good group of veteran coaches on the back end. We kind of talk about the details, how we're going to execute them. Then I just make sure we're staying on track. And if we're not on track, what's the next step."
So how much different will the Buffs' defense look with Wilson in the coordinator's role?
"Well, it is different," Wilson said. "It's a new year. We've got some schemes in place that are going to be tailored to ouor players. I hear that question quite often after 29 years. It's a new team. Each year in college football, the dynamics change so much. We're custom tailors. All we're trying to do is tailor the things for our best players. Every week.
It will be different because our players are different and a little bit of our scheme's different. We'll have some similarities. We were top 20 in first down defense, we were top 20 in third- and fourth-down defense. There were a lot of good things that happened a year ago. So I believe we're going in the right direction."
Wilson, however, previously had said the Buffs have simplified their defensive approach.
"Well, first of all, nobody comes to watch me coach," Wilson said Monday. "I learned as a young coach that you simplify things so your players can play fast. If you're a 4.6, I want you to play at 4.6. You do that by giving them things they can process. That happens with clean reps every day."