August 5, 2021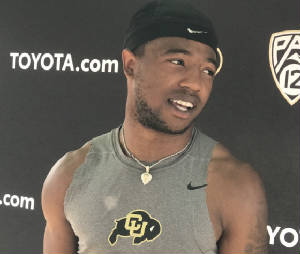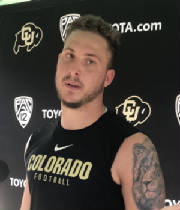 Jarek Broussard and Nate Landman after the Buffaloes' Thursday practice.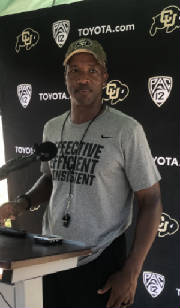 BOULDER -- It's not yet "normalcy," but it's getting there.
After CU's first pre-season practice Thursday, coach Karl Dorrell (left), running back Jarek Broussard and linebacker Nate Landman each had a turn at a mini-podium and microphone set up outside the practice-field gate down the hill from Folsom Field on the north end of campus.
Face to face.
No Zoom.
In the grand scheme of things, it's relatively unimportant as a nation -- and the world -- attempts to rebound from the devastating effects of COVID-19 and the headshake-inducing obstinance of those who refuse to be vaccinized and thus contribute to the continuation of what could be behind us. (And, yes, reporters had to confirm they have been vaccinated to be allowed to cover the Buffs' practice and beyond.)
But after the bizarre six-game season in Dorrell's first season as the Buffs' head coach -- one that unfolded in fits and spurts, minus any spring practice prep -- this all seems comfortingly conventional for CU and all across the country as pre-season practices open. Including looking reporters in the eyes (and not on the screen) as the coaches and players listen to the questions, then answer.
Bluntly, I'm a bit surprised that Zoom availabilities for the most part are being abandoned, and I remain skeptical that all leagues, teams and programs that have loved the extra control will be willing to relinquish it. (The NHL is the league I'm most curious about at this point.) Before COVID, of course, cutbacks in access were the trend, anyway. There now are many young reporters who never have interviewed college football players in an open locker room, whether in a one-on-one situation or as part of a scrum. Interviews actually could be conversational exchanges, not a question interjected among the many.
At least going back to face-to-face interviews is heartening progress -- in part because of what being able to do it means in the context of 2021.
And on the field, in the meeting rooms, in the weight rooms, it's feeling more like college football. Both CU and CSU opened pre-season practices Thursday ahead of September 3 openers at home -- CSU against South Dakota State and CU against Ed McCaffrey's Northern Colorado Bears. (By the way, CU and CSU must have had to work hard to both have Friday 7 p.m. openers on the same night...going up against high school football. Yes, the Rocky Mountain Showdown sometimes was on a Friday night opposite the preps, but separate games -- and the involvement of UNC, too -- is as jarring, and maybe even more so.)
I gestured at the cameras, reporters around me and to the podium, noting that even that was a sign of returning normalcy. I asked Dorrell to what degree are they back to that normalcy, and how comfortable he was about that.
"I'm confident and happy that it's normal right now," he said. "I'm concerned about if there is an issue about us going back. That's my concern. We have to do our due diligence about wearing masks for people who aren't vaccinated and really trying to take care of each other from a day-to-day standpoint. The difference from last year to this year, that was something we were listening and hearing about that changed. It seemed like every day, it was something different, a new law or a new policy or something like that. That scrutiny is over. That's what helps this process feel like it's normal, but there is that concern because it's still there."
Are there contingency plans?
"Oh, yeah, we always have contingencies," Dorrell said. "We're going to play and we're going to find a way to play with what we have. Those contingencies are always ready and available, but I'm trying to be more of a positive thinker about (how) it's not going to be a factor and we'll hopefully get over the hump. We start in September."
Responding to a question from Brian Howell of the Boulder Daily Camera / Buffzone.com, Dorrell said he believed the football team's vaccination rate was "over 90 percent. I think we're at 92 percent in terms of our footall team. I think our staff is probably 97 percent. There's only a few ... There's some people just like you see in the normal people way of life, guys have made the decision to get the vaccine that have had their first dose and they have to get their second dose and that's two or three weeks later. So we have a number of personnel people and a couple of players that are in that scenario, too, so we're in pretty good shape. We're probably higher than most in our conference."
It's maddening that the vaccination number isn't 100 percent . . . barring proven personal medical reasons to balk.
Landman, the senior from Danville, California, was having a terrific 2020 season when he suffered a torn Achilles' tendon against Utah on December 11 and had surgery four days later. He's back for a fifth season, taking advantage of the extra year of eligibility awarded college athletes for the COVID year. He'll be doing limited work in practice at the outset, participating mostly in early drills. "Some reps are limited to keep the workload off the Achilles'," he said.
Otherwise, has the sense of normalcy returned?
"Normal's subjective," he said. "But it feels like Colorado football and it feels like our tradition and everything is coming back. Coming off a good year last year and coming off a good spring, good summer workouts, yeah, I'd say it feels normal. The team's happy, the team's got a great chemistry going. Everybody trusts their coaches and we're just excited for the season coming up...I'm super lucky to be back. I love this program and am excited to give it all for CU one last time."
Broussard was the surprise of 2020, coming off two seasons of inactivity because of knee problems and earning Pac-12 offensive player of the year honors after rushing for 928 yards on 156 carries in the abbreviated season.
And that was wearing the knee brace Dorrell teased him about -- the knee brace he since has shed.
How much faster can he be?
"I guess we'll see September 3," he said.