April 26, 2021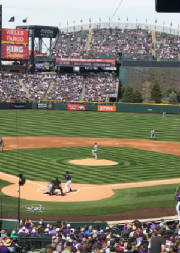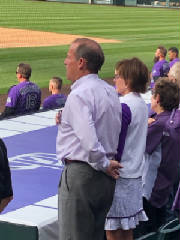 In better days ... at the 2019 home opener. Dick and Karen Monfort at right.
When general manager Jeff Bridich and the Rockies parted ways Monday, the reaction and debate justifiably got into the issues of competence and culpability.
There's plenty of blame to go around. That's obvious.
But the part that too often is repeated -- as if someone just pulled on and released a talking doll's string -- is that the Rockies' major problem is simple: The Monfort ownership is "cheap."
We heard it again Monday.
Even Dick Monfort has leaned into the punch at times, including after the Nolan Arenado trade, noting that the Rockies first and foremost are a "mid-market" franchise hoping for occasional lightning strikes, rather than perenially contending.
Yet per spotrac, they're 18th in MLB payroll, at $114 million.
Eighteenth. Not 25th. Not 28th. Not last.
OK, that's not even half the No.1 Dodgers' total, and barely half of the No. 2 Yankees' payroll.
But it's not pinching pennies.
As other franchises in the same payroll realm have shown, it should be enough to be consistently competitive. With a committed ownership and a competent front office. In a sense, that's more of an indictment than is attributing it to a basement-level payroll and a lack of ambition.
It could be done on these terms.
It could be done with a big-league GM, either with a track record in the position, or with recent experience in an organization that has shown bang-for-the-buck savviness.
Look, I was as critical of the Arenado trade as anyone, but not on the ridiculous premise that Bridich "disrespected" poor, little Nolan. The Rockies signed him to an eight-year, $260-million contract. That's a lot of respect. Absolutely, with the GM-star personal chemistry and relationship going sour, that can make for tension, but it doesn't have to be toxic. Above all, it's just silly to expect us to shed tears for Arenado because of perceived slights from the GM.
The trying circumstances of the past year have changed the financial computations, of course, but the "cheap" charges have lingered. They've lingered enough, I'm not creating a straw man argument here. I get that many grasp that this is more about (in)competence than simply making it all about money, but a stunning number still cling to the "cheap" myth.
The Rockies committed to send $51 million to the Cardinals in the Arenado trade as part of getting out from under the long-term deal, adding to the ignominy. But the payroll remains in the middle tier. When the park can be full, the Monforts are accused of inertia, of not caring about winning because the crowds will come -- for the Rockies, for the Dodgers, for the Phillies ... for them all. (We're used to it, but we were in the car and listening to the radio during the Philadelphia series, and even under the limited-attendance constraints, Coors Field sounded like Citizens Bank Park during a Phillies rally. The Phillies!)
Undoubtedly, we'll soon hear of instances when Bridich -- essentially a home-grown GM who rose through the ranks -- wanted to do something dramatic or even only bolstering, but wasn't allowed to. (That's just the way it works. Those leaks or disclosures come after. See: Dan O'Dowd.) But no GM has complete carte blanche. Here, D.J. LeMahieu got away. Trevor Story might be traded or leave via free agency. There is a budget. It can't be unlimited or so expandable that it covers all -- all players and all circumstances. Even the Yankees occasionally make decisions based on money issues.
It's just too easy -- and inaccurate -- to bring "cheap" into this.