November 5, 2020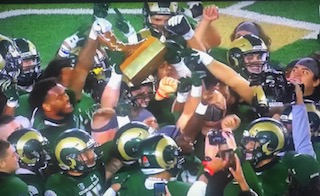 Within 20 minutes of Colorado State's 34-24 win in the Border War Thursday night, the Wyoming Cowboys' lawyers had filed de bonis asportatis lawsuits in three states.
Just kiddding.
Mostly.
But after four consecutive losses in the rivalry under Mike Bobo -- the Rams did win in his first season, 2015 -- CSU recovered the Bronze Boot from the visiting sideline and got to celebrate. It didn't even seem marred by the fact there were no fans in the seats to join in and start at least a year's worth of rivalry trash talk
Steve Addazio, though, was emotional after coaching his first game in Canvas Stadium, getting his first win as CSU's coach following an ugly showing at Fresno State, and his first taste of the Border War.
Although Addazio has been in a lot of rivalries in a lot of places -- including Florida-Georgia and Notre Dame-Southern California -- this one falls under the heading of you don't really know what it's like until you experience it.
After the game, I asked him about his impressions of it, conceding that the unprecedented conditions, including essentially an empty stadium, might make comparisons perilous.
"I mean from the day I got here, there was no mistake that this was the huge rivalry game," Addazio said. "One of the oldest rivalries this side of the Mississippi and it was very important. And it was a really big deal here, to the program, to our fan base. I got that. Yes, I have been around a lot of rivalries, but this is an unbelievably passionate rivalry. (Redshirt senior defensive lineman) Toby McBride spoke to the team on Wednesday evening and showed a little video of the past, the last time that they won that boot. It really was meaningful. For a rival to hold that kind of passion, even in a time when there's nobody in the stands, speaks to the intensity of that rivalry."
After the curious decision to start graduate transfer Todd Centeio at quarterback in the opener at Fresno State, Addazio more sensibly went with senior holdover Patrick O'Brien against the Cowboys, and O'Brien responded by going 18-for-26, for 255 yards and two touchdowns.
"We have to enjoy this one," Addazio said. "In a safe way, we have to enjoy this. Wins are really hard to come by. Rivalry wins? They're even harder to come by, evidenced by the fact we haven't won this one in five years. So we're going to enjoy this, then go back to work and we're going to go about hee business of continuing. There's plenty for us to get better at. God knows, we have a lot of things we have to improve on. But that's all part of it. That's what's exciting about it."
What's often memorable about Border Wars, of course, is the dash of the reclaiming team to the Boot -- especially if it's across the field. Toby McBride's younger brother, Rams' tight end Trey McBride, had five receptions for 90 yards in the win before watching his brother lead the dash after the Bronze Boot.
"Oh, man, my brother was hauling," Trey McBride said. "I didn't know he was that fast. It's just exciting. All the guys were sprinting over there. It should be on our sideline. That's the first thing we wanted to do, get that thing off their sideline. It belongs here in Fort Collins."
The Rams are 1-1 and on the issue of just ho good they are, the returns are incomplete. (Sorry.) They have another Thursday game next week, at Boise State. The win Thursday at least gave some indication that the Rams can be competitive and answer Addazio's challenge to become a tough, physical program. The next home game is Nov. 21, against UNLV, and let's hope -- for reasons that go beyond football -- there can be at least a few fans in the seats that day.
Somebody's got to sing "Sweet Caroline." Well, don't they?