November 27, 2020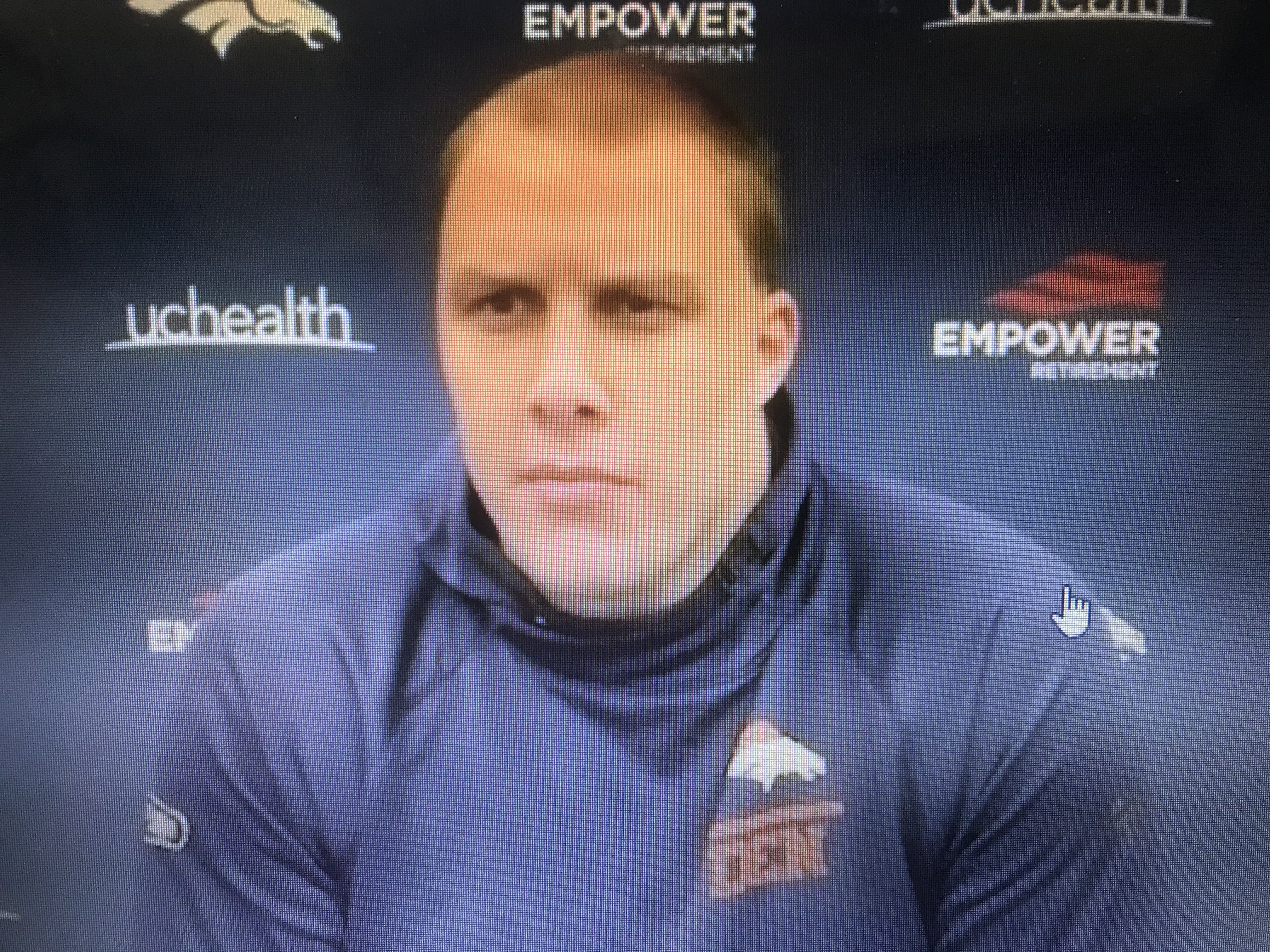 Garett Bolles spoke (virtually) to the media this week, looking ahead to the
scheduled Sunday home game against the Saints. Watch it here,
And to think, the Broncos tackle drawing all these plaudits now in past seasons was blamed for not just his holding penalties, but I-25 potholes, long lift lines, donut spare tires, pineapple on pizza, spring snowstorms, the lack of agreement between Comcast and Altitude ... and anything else that required a scapegoat.
Especially in the last couple of years, I've written several times that I believed the derision directed at Garett Bolles and his play was excessive and overreaction, often the result of media members -- yes, including former players -- grabbing (Grabbing? Get it?) onto his holding calls as the sole definition of his play.
I know knowledgeable observers who truly believed Bolles' holding calls more involved tackling and technique deficiencies than just going a bit too far. But I disagreed, and much of it came back to my belief -- in part because my father was an NFL offensive line coach -- that reputation could play into officials' calls.
That's not a revolutionary position, given that the phenomenon is evident in every sport, whether reputation leads to the stars "getting" the calls or to others "drawing" the calls.
Bolles?
Below, in italics, is what I wrote here on July 22, 2019, or leading into the 2019 season.
Frankly, I was a little off because I framed 2019 as Bolles' make-or-break season, but I believe I was more optimistic about his chances than anyone in town.
Ah, but what of his holding and his mistake-prone play?
It seems as if he has drawn flags not just during the game, but during pre-game warmup and at halftime.
Some of them, perhaps even many or most, had been video-definition of holding calls, or overt tackles, but sometimes it's not so simple and reputation comes into play in such a subjective decision making process.
It isn't about what holding is; it's about what's called holding.
The respected veteran offensive lineman? Hey, (wink), it's not holding if it isn't called.
The guy with the reputation for holding at every opportunity? The same maneuver is holding.
That's the double standard so prevalent in all sports. Reputation plays a major role.
I'm not turning this into an officials' vendetta defense of Bolles.
I'm just saying part of his battle is earning that respect and having the flags stay in the pocket on the gray-area calls.
He has to get better, much better, for all of that to happen.
I still think he's capable of it, and that the Broncos being enamored in 2017 of a big man with such athleticism was understandable. Plus, he was raw. Lanky coming out of high school, he wasn't even a prospect. As my profile below outlines, before he developed an offensive lineman's physique, he took two years off from football and then played two years at Snow Junior College and only one at Utah in the Pac 12 before entering the draft and breaking in as a 25-year-old rookie.
But this is his last chance to show he can be that cornerstone.
What often seems to be forgotten or at least underplayed is that last November, he -- and the offensive line as a unit -- seemed to be coming around. The Broncos won three in a row and questions from the media to the offensive linemen were prefaced with remarks about them starting to prove the critics wrong. Then the wheels fell off down the stretch.
I admit I'm rooting for Bolles in part because of that quick-hit profile I did on him from Dove Valley in the weekend of the 2017 draft. I'm proud of it for a lot of reasons, but mostly because I managed to put it together, tracking down other figures in his life and career, in about 36 hours.
By the way, here's that story.
I heard Bolles' media availability on the radio this week, then watched it on the Broncos' web site. Bolles' demeanor and message were impressive, and I laughed at his references to taking media heat ("you guys") in the past.
He didn't say it bitterly and I don't think anyone was offended.
He outlined his determined efforts to improve and get his game turned around, and it again demonstrated he has matured.
Later in the week, after that availability, the Broncos announced they had signed Bolles to a four-year contract extension. He will have the last laugh.
I'm also going to stick with the view that he's drawing fewer holding calls in part because in a season with fewer flags from the officials, he's no longer known as the guy who holds.