July 13, 2020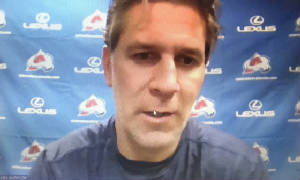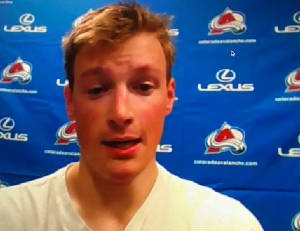 Jared Bednar and Cale Makar spoke with media folks
via Zoom after first day of camp Monday
After the Avalanche's first training camp practice Monday at the Pepsi Center -- which took place with a limited number of media members watching from high above -- Jared Bednar and three players spoke with reporters via Zoom.
Welcome to the New Normal.
With their trip to Edmonton and the resumption of play under quarantine and bubble conditions, minus spectators, coming up, I asked both Cale Makar and Erik Johnson about the potentially eerie game conditions. The Avs will play three round-robin games for seeding only as seeds 5-12 in each conference play in a preliminary round, then move into the "regular" 16-team playoffs.
Look, the action can be emotional and chippy in drop-in lunch-hour games, so it's not as if everyone will be drinking tea and singing "Kumbaya" and "Peace Train" on the ice in Edmonton and Toronto.
The stakes are high, professionalism and competitiveness will reign supreme. But given that crowd energy, whether at home or on the road, can be part of the formula, the issues are how teams will react and adapt, with a minimal lessening of sharp-edged emotion.
"I think for us, and epecilally me, that's something we haven't really considered yet," Makar responded. "All these protocols will be put into place and it kind of just passes my mind that we won't be playing wih fans. I think just being able to practice in the Pepsi Center right now with fans, or nobody in the building, and it just being quiet, it's a different atmosphere.
"You're going to have to find that energy in different ways. Coming from different leagues,I've played games where there hasn't been many fans in the building and you have to create your own energy, whether it's on the bench or through your individual self. It's going to be different and obviously, hopefully it's not something that's permanent. It's going to be an interesting experience."
Johnson has seen a lot happen in NCAA, NHL and even Olympic play.
"It's going to be wild," he said. "It'll feel like a training camp a little bit. I imagine they'll pump some crowd noise in the speakers. But it's going to be very bizarre. The crowd gives you so much energy aand so much adrenaline, it makes the exerience really surreal in the playoffs and in the rergular season. That part will be very weird. I'm sure some people at home will like it. The mics will probably pick up some things you won't normally hear.
"But yeah, you're going to have to generate your own momentum. The atmosphere is obselete, right? The home team will have the advantage of the last change and things like that, but no home-ice advantage as far as the crowd. So you have to create your own momentum and your own life and energy from your locker room and your guys. It's going to be an adjustment for sure."
The Avs will be back on the ice for Day 2 of the training camp Tuesday.

And back on Zoom.