January 3, 2021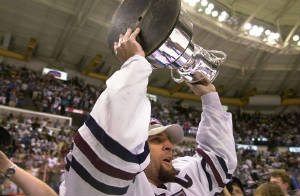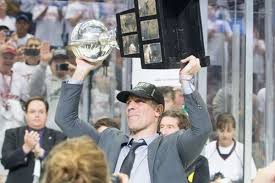 Jared Bednar raising the Kelly Cup as a player with the South Carolina Stingrays (top)
and the Calder Cup as coach of the Lake Erie Monsters.
I'm probably going to keep saying this until I get it right.
My forecast for this season is the same as it was going into last season.
The Avalanche will win the Stanley Cup.
The issue is: Can there be a parade?
Let's hope so, because of all that would mean.
In fact, let's hope there can be a Stanley Cup parade somewhere, anywhere, because of what that would mean.
So much has happened, so much is different, so much has changed since I tossed out that prediction a year ago. It was a genuine choice, not a clickbait attempt or pandering. I truly believed it could happen. Even in the Edmonton bubble later, it might have happened if the Avalanche hadn't been minus seven players by the time they faced the Dallas Stars in Game 7 of the Western Conference semifinals and was down to its third goalie.
Maybe I'm the only one thinking this way -- spotting and indulging in irony, in all its definitions -- is one of my, um, strengths.
But as coach Jared Bednar was about to sit down for his Zoom session with media members Sunday afternoon, signaling a beginning, the Broncos were about to kick off against the Las Vegas Raiders, signaling the ending of another desultory season. They fell 32-31 to the Raiders -- at least it was entertaining -- to finish 5-11.
The Avalanche reported to training camp Sunday, will be the ice for the first time Monday and open the regular season at home against St. Louis on January 13.
To go farther, the other Ball Arena (there, got it right ... and on the first try) team in the Denver portion of the Kroenke-controlled sports empire, the Nuggets, got off to a lackluster start. They had the worst record in the Western Conference until they beat Minnesota Sunday night to get to 2-4. For the most part, they have looked little like the promising, energetic outfit that reached the Western Conference finals against the Lakers in Orlando.
With the Rockies seemingly destined to be the Rockies, then, at this point the Colorado standard bearer figures to be the Avalanche. And even more so than last season, the Avs are a common pre-season pick. (No, it isn't just me.)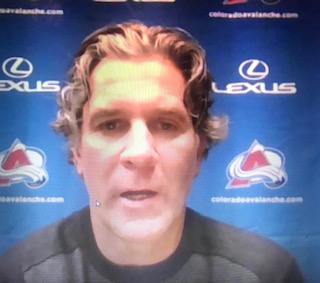 "I think we've earned that as a team," Bednar said Sunday. "I don't think it's something we should shy away from. I think last year, we had those expectations for ourselves and maybe there wasn't the outside pressure, outside expectations from around the league until we really got going as the year went on. But now I think that's a good thing. We want the pressure, we want to be considered one of the favorites. It's still about the process for our team and what we need to do to improve, to make sure that we get the opportunities we want, come playoff time."
Joe Sakic again made bolstering moves in the (brief) offseason, not eye-popping changes. The most important were the acquisitions of left wing Brandon Saad, a 21-goal scorer in 58 games for the Blackhawks last season; and defenseman Devon Toews from the Islanders. Toews, acquired for draft picks, essentially replaces Nikita Zadorov, sent to Chicago in the Saad deal.
"It's absolutely the deepest team that we've had," Bednar said.
In my far-reaching conversation with Sakic for the 200th issue of Mile High Sports Magazine, he alluded to, among others, Nathan MacKinnon, Gabe Landeskog, Mikko Rantanen and Cale Makar.
"We love our core," he said. "We want to build around that and accomplish our goals."
The Avs improved. They didn't regress.
"I have a great staff with my scouts and (assistant GM) Chris MacFarland and we're always trying to get better," Sakic told me. "The big thing is the salary cap. We know what's coming. We know we have to pay our guys, so we don't want to handcuff ourselves with the big long-term signings. We felt we needed another D-man, we needed another scorer, and the best way to accomplish that for what was out there was to see if we could do it trade-wise rather than go for the splash. And we're there. We're pretty much a cap team this year and especially now with the flat cap, it makes it a lot more difficult."
This is almost weird, but Bednar is among the most senior coaches in the league, heading into his fifth season with the Avalanche. There were at least a couple of times when if Sakic had followed NHL scapegoating and overreaction procedure, he would have fired Bednar. But he didn't, and Bednar still seems to have the right touch for this team. (I'm of the opinion still that Patrick Roy is a terrific NHL coach, but his impatience and unrelenting perfectionism indeed were going to cause increased friction if the Avalanche embarked on the rebuild that paid off.)
"I think he's the right coach for us," Sakic said of Bednar. "I think he's a super person who works extremely hard. He's trying to get better all the time at making adjustments. I just think for our group, and our core, he's the right guy. I've never believed in hiring and firing coaches just to do it. There are times you have to make tough decisions. I get that. But for me, I'd rather work through things and try to accomplish things as a group. That's coaches and players together."
As you can see above, raising the Stanley Cup would give Bednar a trophy trifecta, with the ECHL's Kelly Cup, the AHL's Calder Cup and Lord Stanley's lovely parting gift to Canada. He'll be dealing with a 56-game NHL intra-conference schedule featuring collegiate, minor-league pro or even junior-style back-to-backs. (Those advancing that concept as revolutionary are ignoring that the NHL is about the only place in North American hockey that it's not common.) The bigger out-of-the-norm challenge will be to make the transition from the Edmonton bubble to playing under pseudo-bubble conditions in home arenas. And that will require players and personnel following detailed protocol, both at home and on the road.
In that sense, part of Bednar's job will be to drive home that trying to skirt the protocols, or to violate them inadvertently or out of ignorance, isn't acceptable. I asked him about that Sunday.
"We touched on that a little bit this morning," he said. "I think some of your reaction is you do what you have to do and you still complain about it a little bit at times as players and coaches. But at the end of the day, the protocols are in place to make sure everyone stays healthy. We certainly know that if we want to get to where we want to go this season as a team, we're going to have to be healthy. Injuries and guys getting sick can impact the results that you want in the regular season and playoffs, et cetera.
"I think that's a little bit of a sacrifice that you have to make, you have to follow the rules, you have to be careful, you have to be diligent. If you do that, you're giving your team the best chance to win. So that's how we're approaching that. We can agree with some of the rules and disagree with others. It's not in our control, We know what the rules are. We've gone over them, we've studied them as a team, as individuals. We're going to abide by them because it gives us the best chance to succeed as a team, staying healthy."
There's much more to it, of course, given the possible disruptions and manpower shortages that can result from more than individual COVID-19 positive tests, involving such realities as contact tracing and quarantine.
But at least we're talking about it with 2020 behind us.