July 23, 2020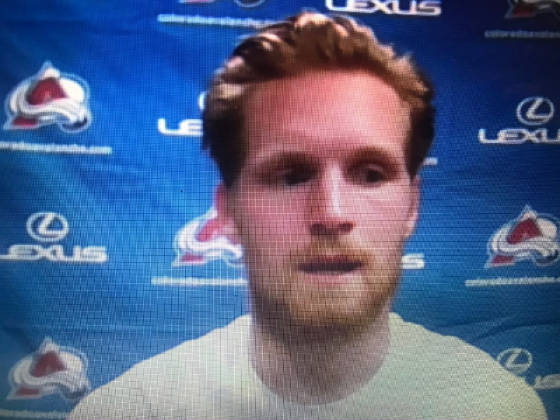 Depending on how far the Avalanche advance, they will be isolated together under the bubble in Edmonton for at least four weeks after traveling from Denver to Edmonton Sunday, and as long as 10 weeks. (Roughly speaking ...)
Is one risk getting sick of each other?
The circumstances are unprecedented, but my guess is: Of course they could. The potential is directly proportional to a team's on-ice frustrations, but even teams on a roll in the playoffs aren't immune to tensions heated up by overexposure in this unprecedented atmosphere.
That long together -- albeit with luxury private rooms, not double-occupancy dorm rooms or communal Marine barracks -- turns a teammate's trademark laugh into a grating annoyance.
Little things can become big things.
Plus, the lack of alternative company adds to it. For however long this lasts, these guys are each others' friends, family and everything else. And loosely speaking, they won't be able to get away from each other.
This is not a five-game, nine-day road trip made necessary by an ice show's stand in the home arena. (Or by a circus ... before Ringling Bros. and Barnum & Bailey shut down three years ago.)
This is a no-getting-away-from-each-other-isolation.
Actually in both the NHL and NBA, this is going to be the ultimate test of team togetherness, chemistry and camaraderie.
On Thursday during the Avalanche's Zoom availability, I raised that with coach Jared Bednar and captain Gabe Landeskog. I was assuming both Bednar -- who had a long, journeyman's career in the ECHL, AHL and IHL -- and Landskog played for and/or been around earlier teams with good chemistry ... and also bad chemistry. Under these circumstances, bad chemistry can turn into something worse. It can become toxic.
.
Sometimes, it's unpredictable, too. Early in my career, I covered bad Rockies teams that were surprsingly close-knit because of an us-against-the-world (including ownerships and management) bunker mentality. The other extreme are the old Oakland Athletics, who won despite having clubhouse issues.
"That's a tough question," Bednar reponded. He cited "the chemistry of your team and the ability of your teamn to kind of pull together and stick together and play the right way and do the right things on a consistent basis... Being able to be hard on your teammates and on yourself and sort of raising expectations. That type of culture is hard to achieve. People that are willing to give criticism within your group and also have everyone willing to accept criticism and the positives and negatives that go with the game of hockey.
"When you kind of get that culture, then it's something that you desperately hold on to. That's a winning culture and it's something we've been bulding towards here. We've got good leadership. We've got good young guys. They genuinely get along.
"Is it going to be a bigger test this year than any other year? I'm not certain. I know that you look at teams that have won and teams we're been a part of as indviduals, you always have that 'it' factor. That's a real good culture and work ethic and a stick-to-it-iveness and they're always a group that sticks together and enjoys one another. I think this year is going to be very similar. It's an important factor."
But is there any risk of getting sick of each other?
"No, I don't think so," Bednar said. "I'd think you'd be surprised with our guys, the amount of time they spend with each other on road trips. We'll head out for 10-day road trips, or 7-day road trips and hey'll spend every waking minute together. They'll land and they'll be together the next night, the next afternoon. So even on their days off they'll hang out together. They truly enjoy one another and they enjoyhanging out with their teammates. It's one of the best parts about this game, the tightnessof the group you play with. Those things you don't want to take for granted. When yor career's over, you lo0ok back on it, some of the best memories are being with your teammates."
Wearing the "C," Landeskog will have a peer-to-peer role in overseeing that team chemistry in the unprecedented envoironment.
"I'm sure it's going to be a little trickier than usual, just knowing that there's questions that pop up every day and for the most part you're the guy to answer those," Landeskog responded. "In a situation like this, you don't really have all the answers because we don't know what to expect. But I've ben telling everybody the same thing. Nobody knows what to expect. We're just going to have to go there and we can't expect everything to be perfect. We can't expect we're going to know exactly how the procedure works, whether it's meals or everyday life or activities off the ice or whatever, we can't expect to know that the first few weeks.
"We're going to have to go in there and make the most of it, like I've always said. Guys have thrown around a bunch of ideas, things to bring and things to keep us busy. We're going to have to do some things at the rink, but we're going to have to explorewjat we can do as far as team building type stuff to make sure we have our team chemistry where it needs to be for the playoffs. We'll have to figure that out, but knowing us and knowing our group and knowing the boys in there, our group's awesome.
"We love hanging out with one another and this just feels like a big, long minor (youth) hockey tournament where you're hanging out with the boys all the time. I guess the only difference would be we're not going to be playing mini-sticks in the hallway, I guess. But other than that, it should be a fun experience, a cool experience. Obviously we're going there to take care of business, but, yeah, we'll have to adapt as fast as we can and accept it for what it is.
"If you go there and you're frustrated that things aren't like they normally are on a road trip, then you're going to have a tough time adjusting, but if you go in with an open mind and make the best of the situation, then I think you're going to be fine."
Under normal circumstances, the NHL playoffs are the most relentlessly challenging, both physically and mentally, post-seasons in sports. Only the NBA comes close. But the NHL's relative parity -- it is absolutely true that anyone can win it any year, and maybe even in the one-time 24-team field.
This year, under the bubble conditions, a team's chemistry will be tested more than ever before. I know that some believe "chemistry" is overrated, or at least an overused terms, because -- what do you know? -- the best teams have he best chemistry, or in this case, the hottest goaltender.