May 1, 2021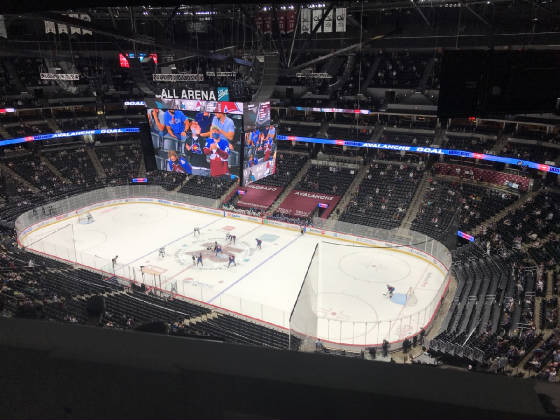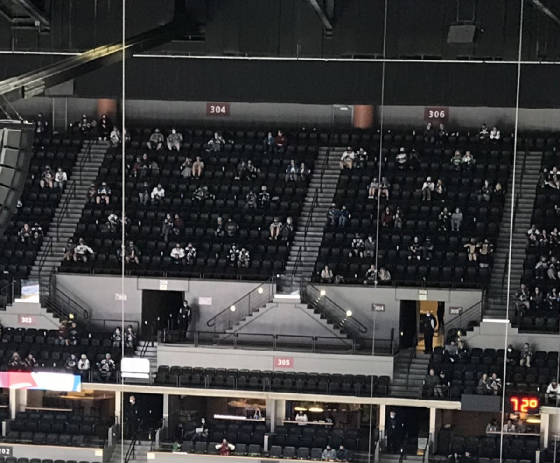 This is what the limited, spread-out crowds looked like during the wins over the Sharks Friday in the lower bowl (top) and Saturday in the upper deck (bottom).
For a combination of reasons tied to COVID-19, I hadn't attended an Avalanche game in person for more than a year until I showed up at Ball Arena for Colorado's back-to-back wins over the San Jose Sharks Friday (3-0) and Saturday (4-3). Philipp Grubauer's Friday night shutout in his return from COVID-19 issues was his sixth of the season, and Mikko Rantanen and the again-dominant Nathan MacKinnon each had a goal and an assist Saturday.
The first month of the fans' limited return to the building is over. They were spread out through the entire seating area, with a cap at 22 percent of capacity. The Avs went 5-0 at home under the new limited-fan conditions, and official attendances for two Shark games were 4,045 and 4,037. Going back farther, Colorado is 14-0-1 in its last 15 at home, and the Avs now head out on a five-game road trip.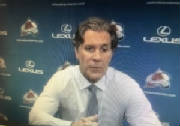 After the Saturday win, I asked Colorado coach Jared Bednar in the Zoom session to what extent he felt as if his team was playing in front of an energizing crowd, and also to what extent he felt as if the Avs were playing in a four-fifths empty building. Virtually every hockey player has played in front of "sparse" 20-percent crowds at some point, regardless of the building's size or the level, but not with this meticulous spacing throughout the arena.
"After playing in front of an empty building for so long, and the energy with even just a few thousand fans in the building, it's been amazing," Bednar said. "It doesn't feel like we're playing in front of an empty buiding. I think we're getting a good bump from our crowd here. Our record's been really good at home. I think our guys are excited to play in front of our fans again and I'm just looking forward to the day we can get more. I'm hoping that's coming soon. If we can add some for the playoffs, it would be great.
"It feels more full than it actually is with the energy our fans are bringing every night."
In my case, I was back after I received both doses of the Pfizer vaccine and waited another two weeks to feel confident that it had taken effect. It coincided with media members' return to the Ball Arena press box. Also, the number of media allowed in to cover the games increased. One thing didn't change: All availabilities still will be conducted in the communal Zoom format that makes it virtually irrelevant whether you're in the arena or in your den. Ingenuity, energy and even narrative skill can help augment, but the availability material generally is the same for all.
Those are media issues. Here's a public one: I realize it would be virtually impossible and likely unenforceable to require vaccination for anyone to enter the building now. Yet I wonder what percentage of fans among the 4,000 and change each night had gotten both Pfizer or Moderna doses, or the single Johnson and Johnson shot, no later than two weeks ago. And what percentage had not -- and perhaps had no plans to be vaccinated.
Same for the Nuggets games and for the 21,000 allowed at open-air Coors Field for Rockies games.
Many fans and even media have been waiting for their vaccinations ... and then for them to take hold before returning to the games. Plus, in the case of the Nuggets and Avalanche, the evidence around the arena of attempting to minimize the risks is imposssible to miss. That's everything from sanitation stations, social distancing standards, cashless concession stands and mandatory mask-wearing.
Over the past year, I'd stayed in touch with the franchise I've covered off and (mostly) on since its arrival in Denver in 1995, with such things as my omnibus interview of Joe Sakic for Mile High Sports Magazine's 200th issue; a salute to Pierre Lacroix after his shocking death; and commentaries through the 2020 playoffs and during this season. I've tried to stay in the loop of the league I've enjoyably chronicled as far back as when I shadowed the Colorado Rockies and was barely old enough to legally have a beer with the coaches and players. I was a long-time vice president of the PHWA. I'm still a member. And I consider it disgraceful that screenwriter Nancy Dowd didn't win an Oscar for "Slap Shot."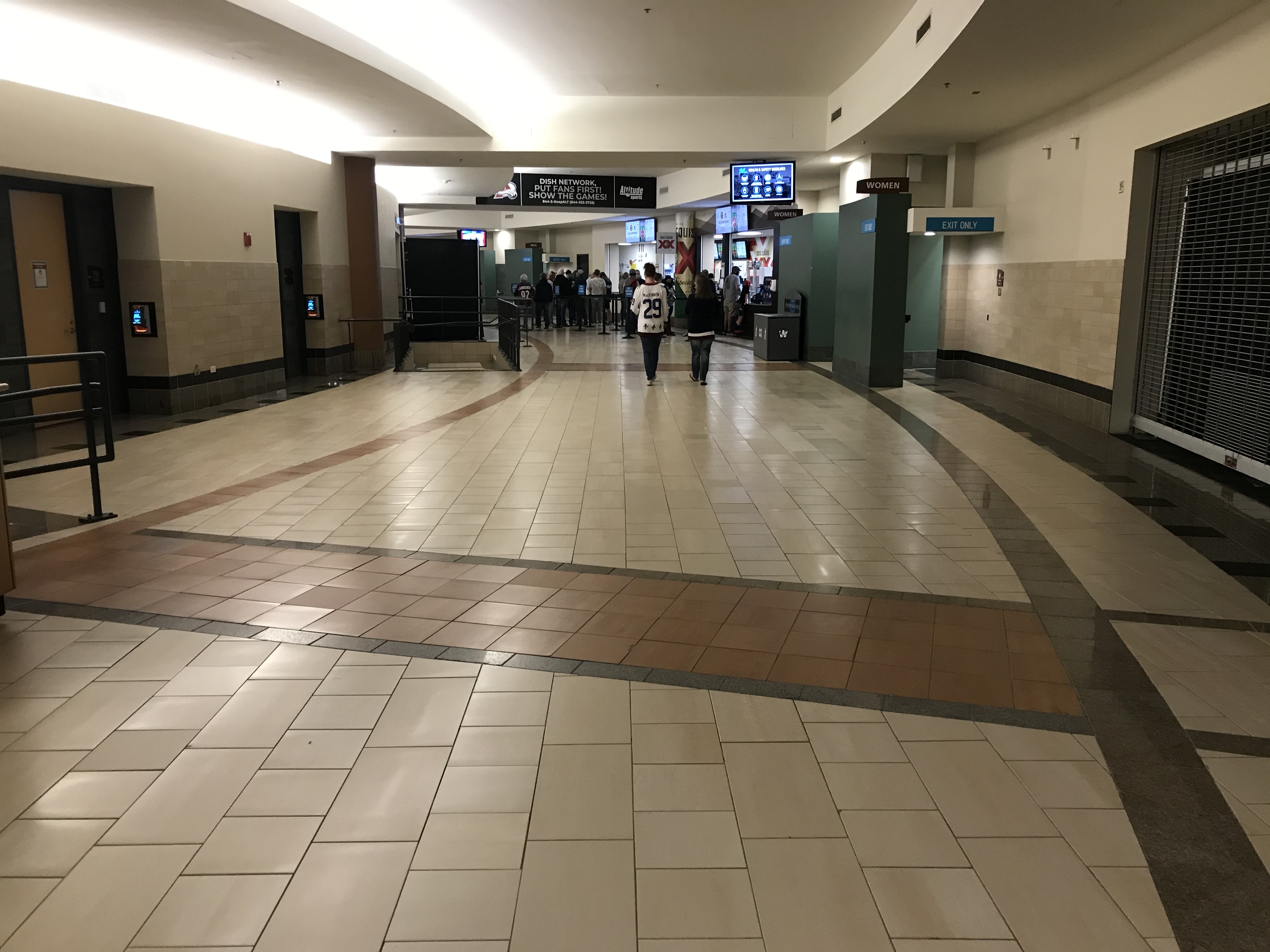 Believe it or not, this is the first-level concourse at the second intermission Friday night.
I've periodically been part of the Zoom crowd, too, before my return.
I'm fearful that the days of open locker rooms, coaches and media members actually being in the same interview room or the same hallway, and one-on-one or small scrum interviews ... all of that ... are history.
Even after we're back to what passes for a rebooted "normal" in everyday life.
I could be wrong about that, and in the grand scheme, it is resoundingly unimportant. To repeat, so there's no mistaking my message: The media protocol, in all sports, are what had to be done since March 2020. Zoom was absolutely necessary, though additional one-on-one Zoom or phone interviews as supplements could have been possible in carefully arranged instances. Those covering and those being covered, have been adaptive. I'm not complaining about it. But I know what it is and also what it might lead to as the COVID reactions are coupled with what already had been trends.
A feature-type profile question, especially minus the ability to follow up and prompt, often sounds out of place and discordant in the Zoom setting. So we (i.e., members of the media) instead are asking how the second power-play unit looked at practice, or about details of the goal or assist in the second period.
Many of my compatriots assure me that I am going to turn out to be wrong. They say we'll be back to the old ways soon. Open locker rooms. Real availabilities. Because why shouldn't teams want the "best" coverage possible? Just as you'd want to make sure that your product is available on, I don't know, local broadcast or cable outlets, even as a loss leader?
Yet this is starting to feel as if it's more routine than it is emergency coping. My experience has been that once media standards change, they never are rolled back.
The most telling example of that is college sports, with locker rooms -- once open and accesssible -- now closed and with student-athletes (not players ... always student-athletes) rarely available anywhere but in an interview room, seated at a table with a microphone in front of them. The schools have control. Pro teams are discovering that power is intoxicating.
Those types of mass interviews, of course, soon are posted on a school or team site.
The measures sports will take coming out of the COVID-19 period will be interesting to follow. And, yes, they will affect the quality of coverage for consumers.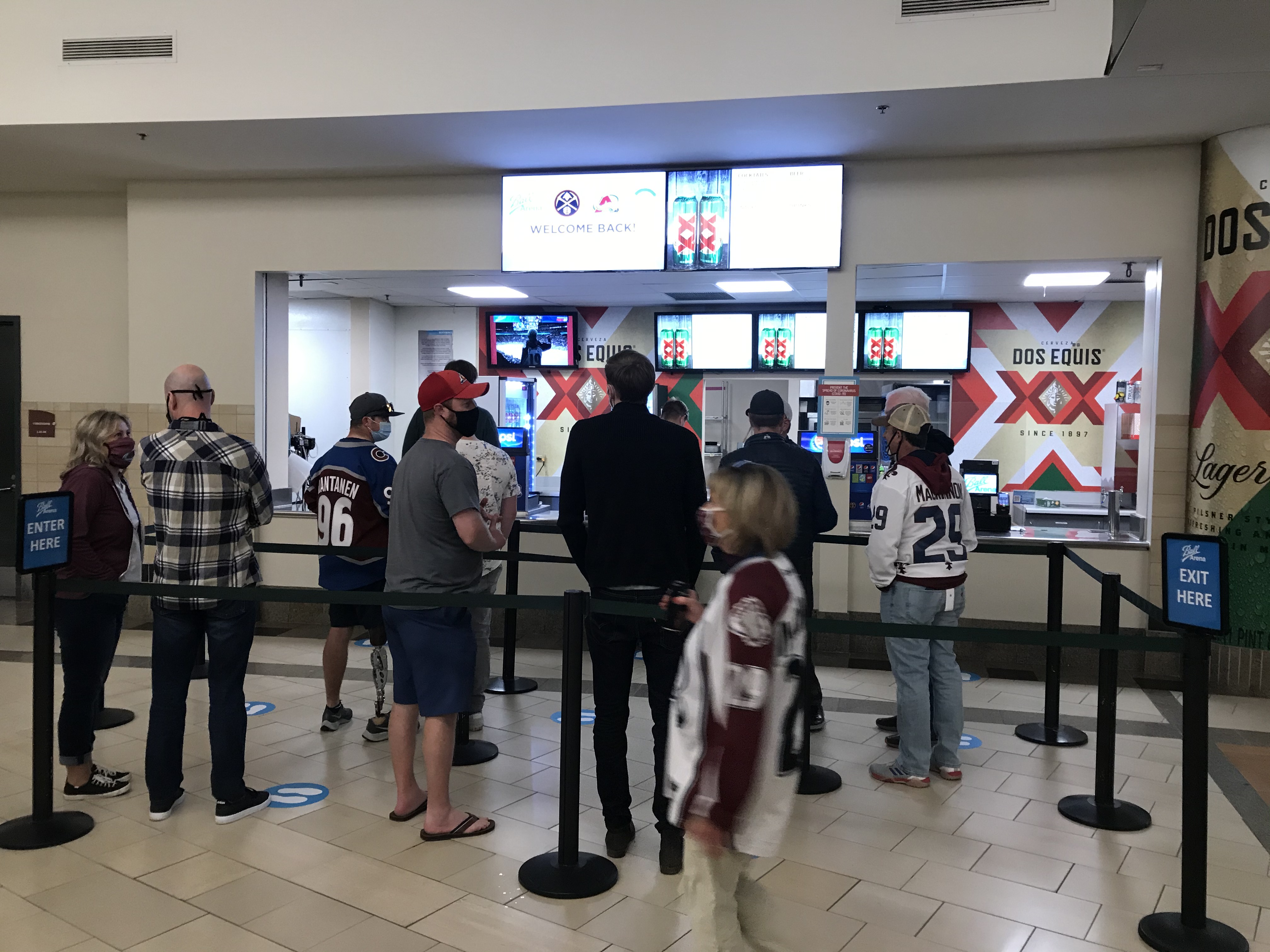 And there wasn't much of a wait at one of the open concession stands at the second intermission.
The unfortunate aspect for fans is the lack of opportunity for writers especially to make an interview a real free-flowing conversation that leads to an enlightening story about someone -- a player, a coach, anyone. In other words, the kind of story I've enjoyed doing since the Avalanche arrived, or even during my first stint covering the NHL.
Some truly believe providing lines and defensive pairings from practice or the morning skate and vague body-part referencing injury updates represent the height of reporting. Since the explosion of fantasy sports and now even leagues' embraces of unadulterated sports gambling, that's even more the case. Even in tradtionally media-friendly NHL and hockey culture, where the reactions often are cliches ("gotta keep our feet moving," "gotta get pucks in deep," "gotta get traffic in front of the net," "gotta stick to the process,") the media in recent years has been too willing to acquiese to slipping degrees of availability. That includes players being made available only one at a time for a pack interview, or media members moving through the locker room in a single pack, with all going from Player A to Player B to Player C. (That had become the fashion in the Avalanche locker room, and that's not the team's fault.)
Also, the emphasis on social media as real "coverage" is diminishing the value and impact of intelligent sports writing. There's still a lot of it, but also much deterioration and lowering of standards to fixations on "takes," lists, GOATs and even the monumental tips to favored "friend of the league" conduits about activations from practice squads.
For the foreseeble future, at least, Zoom rules.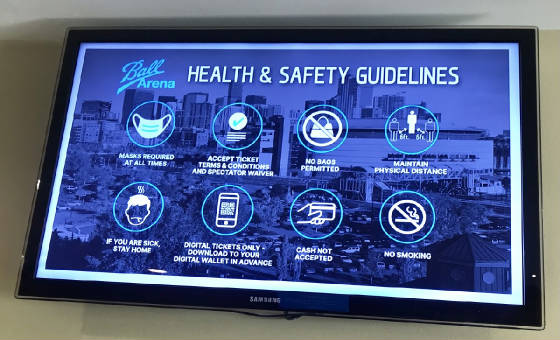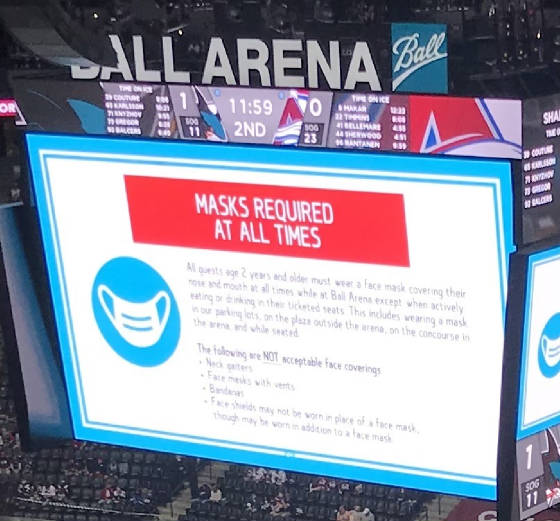 Why is this even here?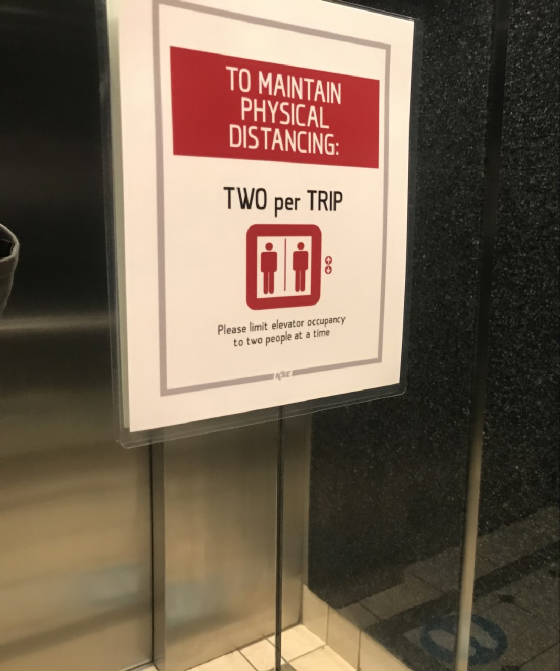 Two to an elevator, foks.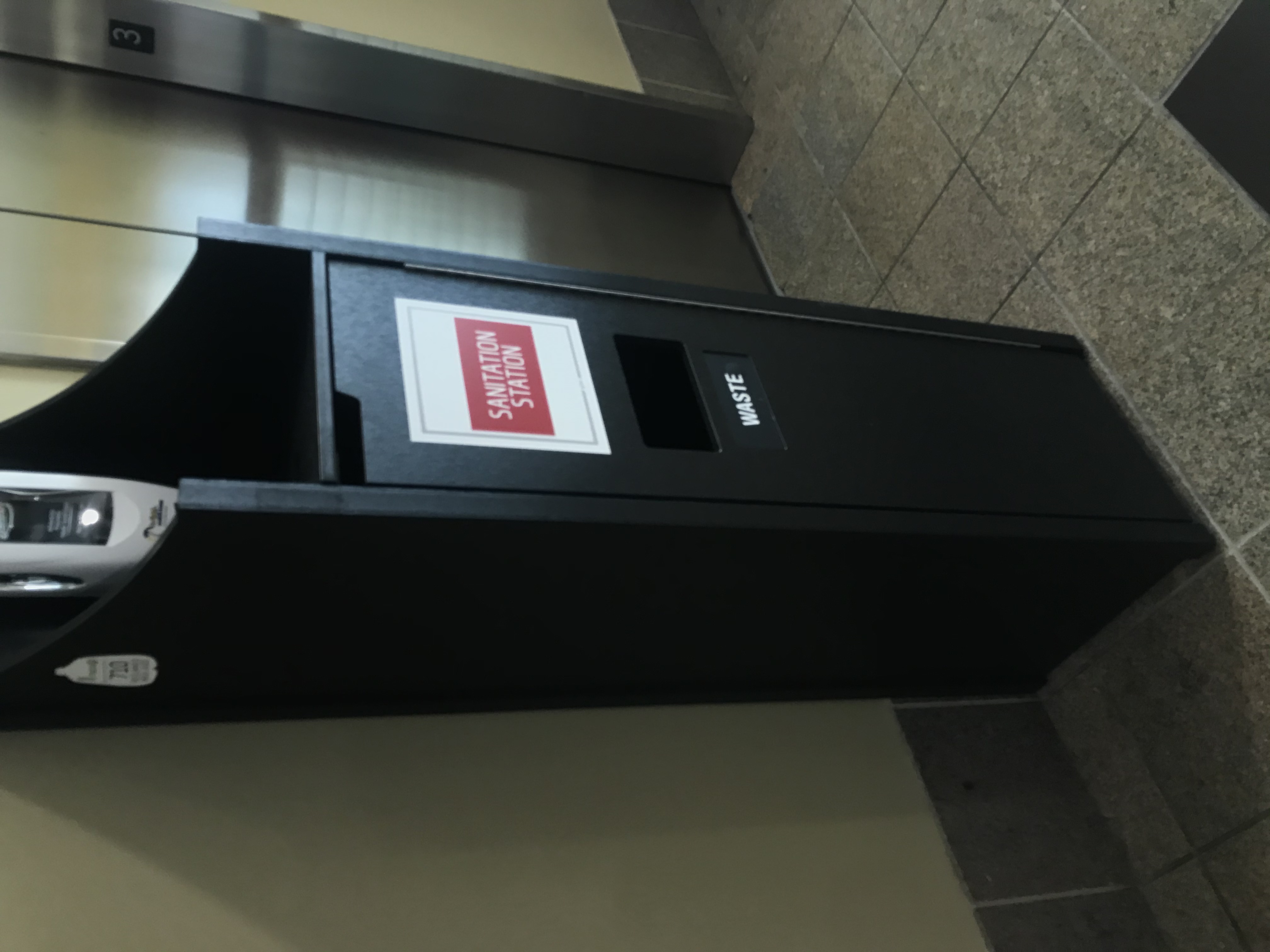 These sanitation stations are spread throughout the arena.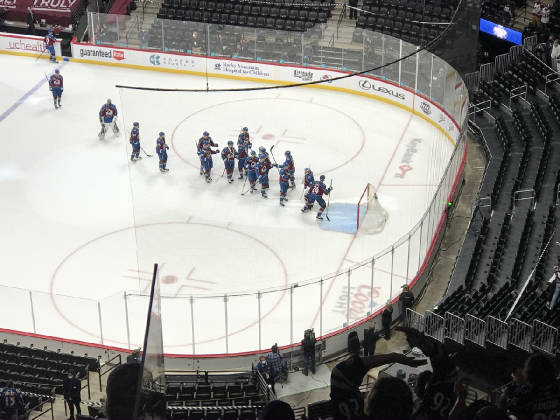 The Avs celebrate the 3-0 shutout win in Philipp Grubauer's return on Friday night.