September 4, 2020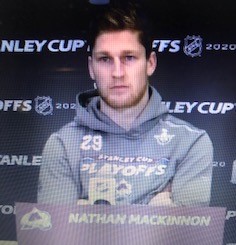 Two thoughts struck me in the immediate aftermath of the Avalanche's 5-4 overtime loss to the Stars Friday afternoon in Edmonton.
First, as disappointing as it was for the Avalanche to have its season come to a sudden end, and for those emotionally invested in its fortunes, it was clear that this team woudn't have been much of a Stanley Cup threat moving forward.
Yes, that was mostly because of the long injury list that included Gabe Landeskog, Erik Johnson, Matt Calvert, Jonas Donskoi, Conor Timmins, Philipp Grubauer and Pavel Francouz.
Any portrayal of the Avalanche as the only team in NHL history to lose multiple players to injuries in the postseason -- and you know that some are going to peddle that premise -- would be silly.
Yet neither would it be fair to dismiss it as a factor.
"I know it's not the Cup final or anything. but we felt like we could win and I still feel like we could have won everything," said Nathan MacKinnon, who didn't have a point against the Stars. "It's unfortunate. I would have liked to see our team fully heathy, that's for sure. We lost a lot of key guys. You call it an excuse or whatever you want. That's just the way it is. We lost key guys on our team ...
"Our motivation, too, was to win this game, get guys back, keep making oour run, keep pushing."
In that sense, the Avalanche even coming back from a 3-1 deficit to force a Game 7 was especially praiseworthy.
But, and this is thought No. 2, the Avs should be kicking themselves for being done this soon. They let Game 7 -- and the series -- get away from them.
After Vladislav Namestnikov's goal with 3:40 left out the Avs up 4-3, a glaring Colorado lapse -- a Nazem Kadri giveaway -- off the next faceoff led to Joel Kirvanta tying it back up only 10 seconds later.
That put a brake on the Avs' momentum.
"That's a big goal in the game and in the series," said Jared Bednar. "We just score to go up and we had three minutes and 40 seconds to play our hearts out and you're moving on. But it's one of those plays , you're trying to do the right thing, bobble it, turnover in the neutral zone, odd-man rush and it ends up in the back of our net rioght away. We've had some like that in this series and so have they. It just came at a real bad time."
Kirvanta's third goal of the game won it at 7:24 of overtime, after both teams played aggressively, as if they had promised to get the OT early quickly to make way for the Knights and Canucks to play Game 7 in the other Western Conference semifinal on the same ice later.
It all re-enforced another reality.
One of the beauties of the NHL playoffs is that you can win with a generic NHL goalie tossed into the crease, whether because of injuries or circumstances. A journeyman. A knockabout. Just a guy. That doesn't mean he isn't a legitimate pro. It means that's really all he is ... and likely ever will be.
But he's got to have the run of his life, he's got to become a folk hero, he's got to be playing his way into Tim Hortons commercials.
You CAN'T win if that generic NHL goalie plays like one.
(Either that, or he's a young goalie getting his first chance in the postseason and making the most of it, as Patrick Riy famously did in 1986. Jordan Binnington, who spent seven years in the minor leagues, seemed to come out of nowhere for the Blues a year ago, but he had been called up in December 2018 and played well down the stretch.)
As nice a story as Michael Hutchinson was here, stepping into the crease and winning two elimination games for the Avalanche, he's a generic goalie who wasn't up to the challenge to be more.
The surreal bubble playoff run is over for the Avalanche after two rounds. As the West's eighth seed, they were eliminated by the Sharks in seven games the Western Conference semifinals a year ago, so there was no post-season progress.
"Two straight years, Game 7 losses, one-goal games," said MacKinnon. "It's tough. We have to find a way to break through. There's no moral victories here. We needed a win. We didn't get the job done."
Nope.
"I don't like to sit here and blame injuries," Bednar said. "But they never help. You're almost expecting in the playoffs that you're going to lose a guy or two here and there."
He then rattled off the list of those out.
"It's a lot to overcome," he said. "I was proud of the guys that stepped up and elevated their game and filled in for them. We scratched and clawed our way back in this series. I'm really proud of this team and their heart and the passion that they played with. But we didn't really have anyone that was on the verge of coming back, either."
The agreement between the league and players' association, which forbade specific talk about injuries (even more so than under the usual "upper body" and "lower body" chatter), has made a lot of this mysterious. Because Landeskog's injury was obvious -- a skate cut above his knee -- the Avalanche acknowledged that one.
"Some of those injuries are longer term and I'm sure we can get into that over the next few days and sort of explain all them to you," Bednar said.
He noted Landeskog "wasn't good today, so he wasn't able to play. Some of the other guys are days or even weeks out."
Now they'll be pointing to get ready for training camp.
Whenever that is.
The Avs' postseason flatlining came amid expectations raised by the Joe Sakic offseason moves that added scoring depth, and the continuing maturation of MacKinnon into the top player in the league. There's no reason to expect regression. But the Avs hit a bump in the road in the 2020 playoffs -- and two more guys got hurt.