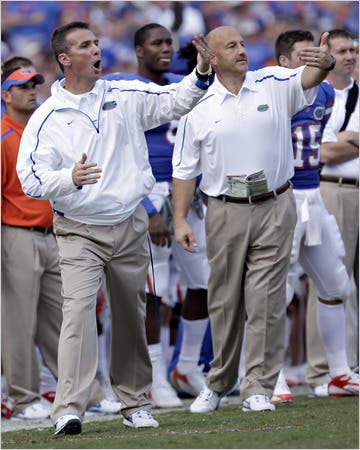 Urban Meyer and Steve Addazio on the Florida Gators' sideline. Who's that No. 15
in the background? (Gainesville Sun)
Colorado State's Steve Addazio was on Urban Meyer's staff at Florida from 2005-10 and they earlier served together as assistants under Bob Davie at Notre Dame.
Beyond that, Meyer -- a CSU assistant even farther back in his career -- served as a deeply involved consultant in the Rams' coaching search that led to Addazio's hiring in Fort Collins.
Meyer worked with president Joyce McConnell and athletic director Joe Parker, and since several candidates had connections to Meyer, he essentially brought possibilities to the process as a one-man search firm.
He didn't make the hire.
He had a huge influence in assembling the pool and giving his input.
So when Addazio spoke with the media on a Zoom call Thursday to discuss the imminent opening of spring practice, I asked the CSU coach for his thoughts on Meyer stepping back into coaching and into the NFL with the Jacksonville Jaguars on January 14. Addazio hadn't spoken with the media since.
"Great," Addazio said. "I'm happy for him. I thought that it'll be a new challenge, something he hadn't done to do with his college legacy. (It's) a great opportunity there, given what they can do with their first pick and their cap space. I thought it was a great move for him. I'm happy for him and he'll do great things there."
We're among friends here. You all know the password is "swordfish." So I'll admit it was my intention to extend the question a bit, asking if there had been any dicussion -- even for a millisecond -- about Addazio going to the Jaguars as offensive line coach with Meyer.
Addazio's CSU contract started out at $1.5 million, with annual $50,000 raises, and although NFL assistant salaries have skyrocketed (even with, what?, 42 coaches on each staff), the easy answer focuses on the money. Deapite that, I should have asked, because it was natural to at least wonder about it -- and I was far from alone in doing so -- when Meyer was hired. Plus, it even could have given Addazio to swing at the slowpitch and declare he's where he wants to be ... and he isn't going anywhere. Meyer ended up retaining holdover offensive line coach George Warhop.
The call otherwise was interesting because of Addazio's somewhat surprising decisiveness about Todd Centeio, who played two seasons at Temple and graduated before transferring to CSU last year, is the starting quarterback heading into spring ball. There was no "open competition" hedging. It's Centeio's job to lose. The biggest conceern there is that Centeio wasn't very impressive in his limited appearances last season, including when he started ahead of Patrick O'Brien in the opener at Fresno State.
"We have a definitive starter going into spring," Addazio said. "That's Toddy. Toddy's our starter. We've got a group of some young guys and a couple of guys who have been around. We really was to have a great spring to evaluate where they're at, then also to elevate Toddy's game. We've got a new quarterbacks coach in (former Wisconsin quarterback and Badgers QB coach) in Jon Budmayr ... and I see Toddy making great strides. Toddy's a great leader. I'm really, really excited about watching his development and watching these other guys right now compete. We'e got to find out who our number two is."
O'Brien landed at Washington for his second senior season. That, too, was suprising to me, since I didn't think a big-time program would covet a quarterback who would be transferring for the second time and joining his third program. But the portal, especially in the pandemic times, is unpredictable. So second-year coach Jimmy Lake and the Huskies welcomed him, even if he turns out to be only a veteran insurance policy.
The situation isn't parallel, but CU last season talked Sam Noyer into returning to the program as a senior, and even when he was named the starter -- after not starting at QB since his senior year of high school -- it was reasonable to wonder if he was going to be a season-opening placeholder while he staff waited on true freshman Brendon Lewis, but Noyer was terrific for most of the Buffs' limited season. This fall, Centeio's major competition shapes up as coming from true freshmen Luke McAllister and Chance Harris, who both arrived in Fort Collins early and will participate in spring ball. So while Addazio's embrace of Centeio might be both pragmatic and far from a long-term commitment, the degree of his adamance was a bit surprising.
"To me, you've got to have 'it,'" Addazio said. "I've been around a bunch of guys that have 'it,' and I'm telling you that Toddy's got 'it.'" He noted, "Being a quarterback's not about throwing pretty balls. Being a quarterback is about winning, and we believe Toddy has those intangibles to lead and to win."
Addazio was part of a Florida staff making concessions and adjustments for an a quarterback who wasn't particularly acurate and was both athletic and charismatic -- Tim Tebow. I'm not saying Addazio believes Centeio can be anything close to as successful as Tebow, but it's important context for the CSU coach's remarks.
A year ago, I attended one of the Rams' final spring practices before the shutdown came seven workouts in. O'Brien had the starter's swagger and Addazio was just settling in. Now, after playing four games (going 1-3) and preparing for four others that were scrubbed at the last minute, the Rams are moving toward their second season under Mike Bobo's successor. It's fair to say Addazio hasn't been able to completely put his imprint on this program. He is convincing when he talks about missing the more extensive involvement in normal times with everyone from administrators, coaches, players, boosters and fans.
May those times return soon.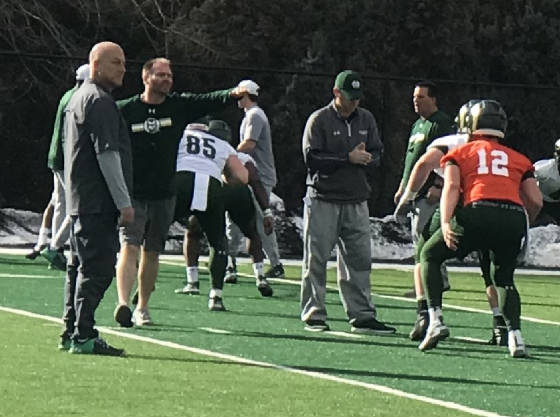 Steve Addazio (left) at one of the Rams' seven 2020 spring practices before the shutdown
in early March. That's the since-departed Patrick O'Brien at right.