October 14, 2020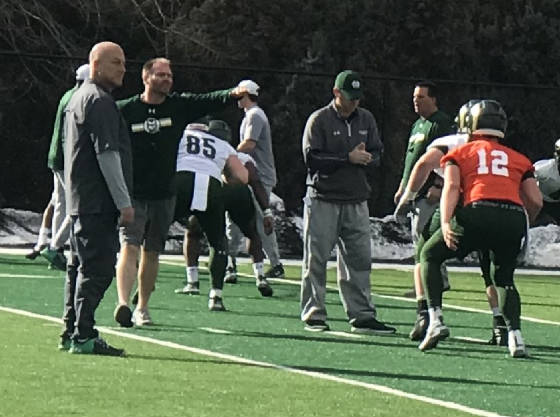 Steve Addazio, left, during spring practice. The Rams got in seven practices before the shutdown.
It is the most extraordinary of times, it is the worst of times.
This doesn't make any list of prioritized concerns, regardless of how long, but both under and because of those circumstances, Steve Addazio's first year as Colorado State's head coach already has been, well, challenging.
With reports and accusations of racial insensitivity within the athletic department and football program -- to be fair, much of it allegedly happening before his arrival -- and also of coaches pressuring at least one player to practice with COVID-19 symptoms, the transition at CSU has been even more bumpy than those for other schools going through coaching changes in these trying times for all.
One of the reactions to all of it has been a drop-the-curtain mentality.
On Wednesday, with only 10 days remaining before the Oct. 24 opener at home against New Mexico, Addazio appeared on a Microsoft Teams virtual news conference and answered media members' questions for the first time in the pre-season practice period.
Previously his comments and isolated quotes from players came in material provided by the sports information department, and coverage -- let's be honest here -- generally has been begrudging and limited. That's not media whining. The necessity to minimize or avoid contact with outsiders is paramount. I'm not a zealot, especially under these circumstances, about opening at least parts of practices for scribes to watch from respectful and safe distances, as some programs still are doing. But especially new coaches trying to establish rapport with the fan base should be out there -- at least on Teams or Zoom -- making their case.
The Teams session was well-attended and just the way these things work in the interest of passing around the right to unmute yourself and ask a question, follow-up or second questions were difficult. Because of that, Addazio wasn't pressed on key points, as when he noted that newspaper reports and independent investigation included "slanderous comments" and "inaccurate accusations" -- and wasn't directly asked if he cared to say what those were ... or what was true.
Plus, protocol is to at least pay homage to football issues in that environment, and I thought it was a warmup, rather than a softball, when I asked if Adazzio has been able to take stock of the situation and assess whether the Rams are in the same boat as their opponents in the on-again, off-again, on-again Mountain West schedule, or they're at a competitive disadvantage.
"I don't know each team's medical situation," Addazio said. "That's going to vary. It could be good for somebody right now, but could be poor for somebody else. You guys have seem through college and pro football, that can change in a hurry. I think we're kind of all in the same boat. I'll say to you, I think given the lack of (full) spring ball, the lack of consistency and everything, I do think it's a disadvantage for programs that are starting with new head coaches. There's not any established foundation to rely on. I think that teams that have been together in one system, in one scheme, with a standard of what the program is, I think those teams are at a definite disadvantage.
"But I think it's hardest -- and I want to make sure I say this right -- especially if you're coming into a program that you're trying to sort of rebound a little bit. If you inherit a program that has a lot of veteran players, I think you have a little better shot."
He then pointed out, though, that both of the Rams' first two opponents -- New Mexico and Fresno State on Oct. 29 -- also have first-year head coaches.
"Early on, certainly we're all on the same footing," Addazio said. "It's a little bit of the luck of the draw, where you're going to be health-wise. It's always been that way from injuries in camp. but now you add the other piece in there, it makes it that much crazier."
Scribe Sean Keeler addressed the elephants in the room, bringing up the turmoil of recent months and asking Addazio for his reaction to the dizzying events of the off-season transition. I can't speak for Sean, but it clearly was open-ended -- deliberately and savvily so -- and far more symathetic than prosecutorial. I took it as being designed to let Addazio take it where he wanted to go.
"I think when you become a head football coach, or you become a football coach, period, you develop thick skin, so to speak," Addazio said. "You've got to be able to handle criticism, kind of like the quarterback. The head coach, staff people, you have to handle criticism. I like to refer to the Teddy Roosevelt quote, it's the man in the arena. When you're in that position, you have to be able to handle what comes with it, whether you think that's fair or not. That's the world we live in today. That's where we are.
"So sometimes that can be intense, it can be unfair, it can be a lot of things. Fact of the mattter, people are going to do what they're going to do. They're going to say what they're going to say. They're going to write what they're going to write and don't necessarily let the truth get in the way. Relative to the investigation, the conclusions were investigated and the conclusions were made. And in the conclusions there was no justification for the slanderous comments or the innacurate accusations, on either front -- COVID or racial insensitivity. That was concluded in an investigation. So that's done, that's over, and you move forward."
Addazio went on the emphasize he has 125 players and more than 50 staff members, in many cases still getting to know one another. Many of those players publicly supported Addazio in the wake of the stories and investigation, and it was sincere. Both the stories and investigation relied heavily on unidentified sources, presumably with axes to grind, and a limited number of sources, period. That doesn't excuse assistant coaches, in many cases young, eager and fanatical, from going rogue and overboard. It happens, and they must be held accountable. But it happens.
Plus, one weakness of journalists covering sports is a naivete about the dynamic and even the language of meeting rooms, dressing rooms and fields in this no-secrets age. Unless football coaches can field 50-man starting lineups on both sides of the ball, it's going to be possible to find malcontents, whether through social media posts of other forms of expression. It can be immediate or in retrospect and, frankly, it bothers me when journalists are either naive about it or in search of "hot takes" don't care to portray the nuances. It even came into the CSU coach search, when former Indiana coach Kevin Wilson was the frontrunner at one point before the issue of former players' view of him came up. The same thing, to a lesser degree, happened with Addazio, the former Boston College and Temple head coach and Urban Meyer protege, as an assistant. But he was the choice.
The final questioner, a student journalist, more directly asked Addazio for comment on the investigation.
"When the investigation came out, I read the conclusions, and I moved forward," he said. "I coudn't really comment on it any more than that."
Actually, he already had.
The Rams weren't able to practice Wednesday because of the choking blanket of smoke from the Cameron Peak fire. Of more concern, of course, are those who had to evacuate Wednesday and fave the possible loss of homes and family treasures. But the lost day of practice again will set back the Rams. And that's the way this year is going.
Given the circumstances -- whether it's Adazzio at CSU or Karl Dorrell at CU -- the standard of success this season, especially for first-year coaches, isn't going to be entirely measurable by the standings. It will be about bringing a program together ... and keeping it together.