February 14, 2021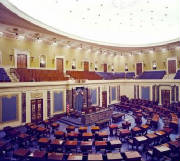 * * *
Previous related commentaries
* * *
As the roll call continued Saturday afternoon, I ignored the running overall vote tally on the screen and counted out loud each time a Republican senator voted guilty. That was the tally that mattered.
"One...
"Two ...
I made it up to 7. That's it.
The 7: Senators Richard M. Burr of North Carolina, Bill Cassidy of Louisiana, Susan Collins of Maine, Lisa Murkowski of Alaska, Mitt Romney of Utah, Ben Sasse of Nebraska and Patrick J. Toomey of Pennsylvania.
This doesn't diminish their votes or the courage it took to cast them, but they generally are planning to retire and not run for re-election, or don't have a campaign looming until 2026.
Donald Trump was acquitted.
The most ridiculous interpretation was to portray it as some sort of ringing affirmation of his "innocence."
This has been said so often over the past few days, it has been transformed into even more of a cliche: He lost in the court of public opinion. It was obvious going in that conviction was a longshot, but that wasn't the point. Everything in the House impeachment managers' presentation needed to be out there. And it is. To that extent, the trial was both necessary and successful.
But I'll append an asterisk: There also are signs that an alarming number of Americans who should know better, who saw and heard of Trump's disgusting actions,
still
seem unwilling to pull away from his spell.
His actions were entirely characteristic.
I cannot and will not ever understand loyalty to this man.
Beyond the mob action of January 6, I'm far more scared that decent human beings and intelligent people around all of us support Trump than I am scared that the guy with the horns did.
The argument that intelligence and Trump support are mutually exclusive is a glib intellectual copout that misses the point. It's also untrue.
There are decent and smart people who embrace him. They're our friends. Our neighbors. That's scary.
The cut-all-ties-with-them argument is an ugly one, too. I make no apology for saying I won't do that, either. Is it a coput to talk about the Nolan Arenado trade instead? Or COVID-19 vaccinations? Or "News of the World"? Or the need to get The Left Banke in the Rock and Roll Hall of Fame?
It's beyond politics and policy. If the GOP put up a decent human being of moderate views as a candidate, I would consider voting for him/her. (As I have before.) Especially if Democrats, in line with the liberal/progressive realm's Achilles', are afraid to say "no" or won't chide extremists among their ranks when it's appropriate and necessary.
But how .... can ... you .... support ... this man?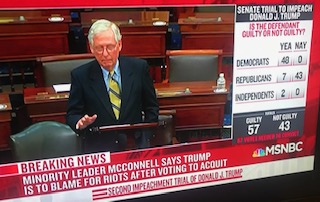 Mitch McConnell delivered his post-verdict speech Saturday,
then headed out to the parking lot to practice his tightope act.
GOP senators' rationalization that it is unconstitional to impeach after a president leaves office was lame, in part because those resorting to it clearly were reaching rather than reasoning. And they were participating in a textbook case of jury nullification. In this case, the textbooks will be history books. This sets a standard for ignominy.
Minority leader Mitch McConnell cited it near the end of his bizarre, want-it-both-ways post-verdict speech on the Senate floor. It mostly was a denunciation of the former president that could have been delivered from a legal pad left behind by an impeachment team manager.
Especially given who was speaking, it was more convincing than the eloquence of House members Jamie Raskin, Joe Neguse, Joaquin Castro, Stacey Plaskett, Diana DeGette or anyone else who spoke out against the former president -- at the trial or anywhere else.
We're told he told GOP senators to vote their consciences. If so, it came with a wink.
McConnell's procedural gamesmanship prevented the trial from being held before Inaguration Day. Moreover, the constitutional issue was supposed to have been settled in the February 9 Senate vote that allowed the trial to proceed, and the most convincing and credible arguments from scholars were that the
trial passed constiutional muster
.
Constitutionality was the issue the GOP senators could cite. This is not a news flash: The real reason was fear. Fear of retribution. From the party. From Trump's followers. (The degree to which the two overlap is the major story moving forward.)
I mentioned this in the run-up to the trial. I'm convinced it played out: Since it would have taken 10 additional votes for Trump to be convicted, the unspoken rationalization for other GOP senators was darker. A vote driven by conscience, rather than pragmatism, would have been a futile and perilous gesture.
Why put themselves and their families through that?
If McConnell's speech was supposed to be part of an attempt to reclaim the party, it rings hollow at this point because we've seen the amazing ability of GOP figures to temporarily come to their senses, denounce Trump actions, and then almost immediately return to toeing the Trump line. It's as if they have been given a nice little speech about collegiality and teamwork -- and maybe some other things. (See Rep. Kevin McCarthy and Sen. Lindsey Graham, among others.)
McCarthy ("Who the f--- do you think you're talking to?") and Tommy Tuberville voted to acquit despite having direct, personal knowledge of Trump's appalling lack of concern for the safety of his own vice president -- and all others on the job in the Capitol that day. That included, but wasn't limited to, House Speaker Nancy Pelosi. Anyone with a conscience, eyes, ears and a brain knew Trump almost got Pence and Pelosi killed. Yet McCarthy, the house minority leader, and Tuberville, the former football coach/freshman senator, didn't break ranks.
After the Sunday make-the-circuit shows, including with Graham saying the GOP needs Trump and he is eager to hit the trail with him, here's another question for Graham and other party standard bearers:
Do you want yourself and your party to be defined by an embrace of this man?
Apparently, despite McConnell's rebuke, the answer is yes.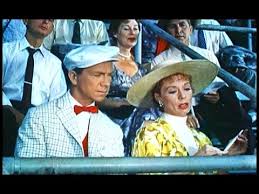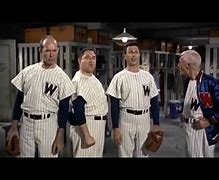 There already has been a best-selling book, Douglas Wallop's The Year the Yankees Lost the Pennant, adapted into a Broadway show and movie about an average Joe who sells his soul to the devil to become -- and presumably remain -- a Senator.

The best books and movies often are straight from the headlines. So I ask:

Is it time for a sequel?